Hackney protesters take the knee in solidarity with England footballers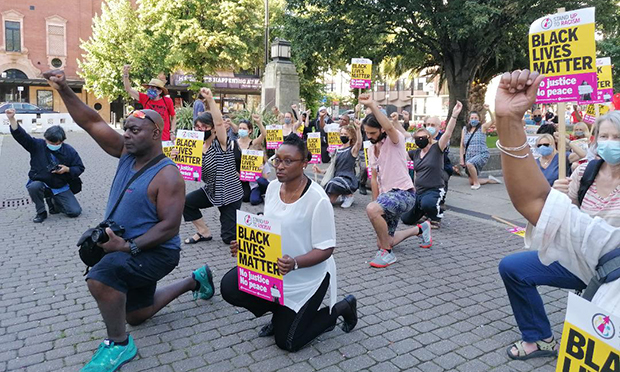 Around 50 protesters made their way to Hackney Town Hall last Friday to take the knee in a show of support for the England men's football team.
The vigil, organised by Hackney Stand Up To Racism, took place from 6pm and featured speeches by local activists and councillors, including Deputy Mayor Anntoinette Bramble.
It comes after England's narrow loss to Italy in the Euro 2020 final saw a surge of racial abuse directed at players Marcus Rashford, Bukayo Saka and Jadon Sancho.
Cllr Sophie Conway told the crowd: "This England team represented something I could both relate to and get behind. The team unashamedly stood for something. They came together to peacefully and publicly protest against racism, despite the boos and derision from fans and Tory politicians.
"I watched each match and saw how their performance, unmatched in 55 years, served to progressively quell the boos. Then came Sunday: the final.
"Rashford, Sancho and Saka were tasked not just with scoring goals under the immense pressure of winning the Euros for England, but scoring goals and winning the Euros for England and keeping the floodgates of racism from bursting open."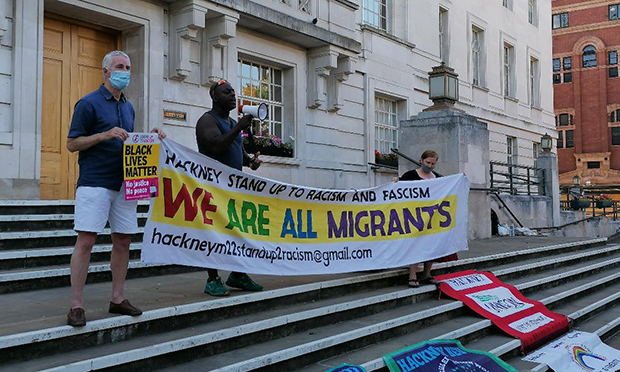 The team were booed by a section of their own fans when they chose to take the knee at the beginning of each match.
Prime minister Boris Johnson and home secretary Priti Patel did not condemn the reactions until recently, originally stating that fans had a right to boo.
When racist comments intensified after the final, on top of physical acts such as the vandalism of a mural to Marcus Rashford, many politicians, including Patel, came out to denounce the abuse.
Responding to a tweet from the home secretary, England defender Tyrone Mings wrote: "You don't get to stoke the fire at the beginning of the tournament by labelling our anti-racism message as 'Gesture Politics' and then pretend to be disgusted when the very thing we're campaigning against happens."
Hackney Stand Up To Racism protesters also argued that it was too little, too late.
Sasha Simic said: "Calling it out is very, very important. [The government] unequivocally needs to start condemning racism and acknowledging the racism that's in its own ranks.
"We as a movement are going to have to make them and say that this country isn't going to go down that path."