Schnitzel Forever, Stoke Newington, food review: 'It's as if Vienna flapped her wings and landed in Hackney'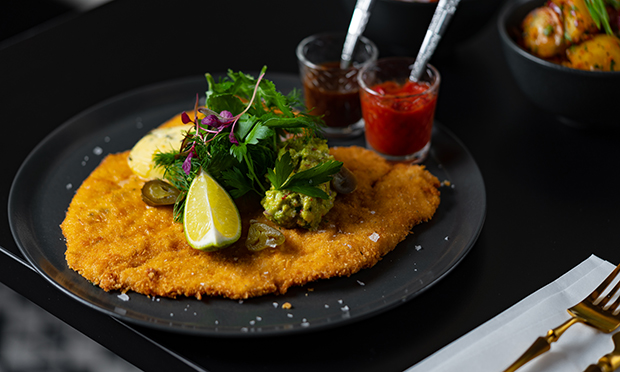 Are the cold winds of the world whipping around you? Do you need shelter? Warm reassuring food that will rejuvenate you? In a setting that still reminds you of your good taste without being overly pretentious? Well, have I got a joint for you.
Thrust out onto a corner plot on Stoke Newington Church Street sits a black-clad raven of a restaurant, Schnitzel Forever.
Inside, the petite little space is more luxury hotel, in tones of black, matte painted bricks, and a flattering, built-for-Instagram lightbox, with fronds of leaves pressed against it like ghostly green hands.
Little expensive details keep a continuity throughout, far away from the homely Bavarian and Austrian chalets of the schnitzel's homeland. It's as if Vienna, with her gold-topped rooves and easy elegance flapped her wings and settled in this quaint London borough.
With a pan-European approach to cuisine that mirrors the schnitzel's popularity across countries like Italy and Austria. Wherever you find a chef, you'll find people pounding meat (oh behave!).
Crispy squid chunks with lime and aioli land, and my partner exclaims that they are the best he has ever had, full stop. And here's me thinking I'm the dramatic one. We pair these with arancini and mushrooms, and a toasting tomato and basil sauce.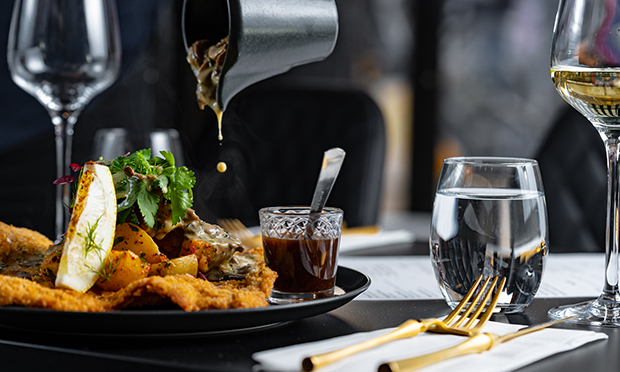 The restaurant offers schnitzel in almost any configuration your little greedy heart could think of, including halloumi for the herbivores – though veganism isn't mentioned.
There is pounded fish, pounded chicken, pounded beef and pounded sausage, so if you like tenderised meat, pull up a dainty little black chair.
My El Granjero schnitzel – chicken with crushed avocado, scattered jalapeno pickles, lime, aromatic butter, fresh herbs and demi-glace sauce – is a millennial's dream. If I lived closer to the restaurant, I would be spending my funds on just the flat and this fantastic dish.
Visually though, the Surf and Turf sits across from me, crowned with two erect (pre-peeled, clever) battered prawns standing up to attention like crustacean sentries. Mixed with veal, chicken, pork, coleslaws, and the divine demi-glace, it takes your breath away. Having said that, apart from the veal, it is hard to tell the difference between the pounded meats.
Stuffed and a little embarrassed we pick at the massive semicircles of meat and toppings, dipping, dousing, and driving at the dishes. A mushroom sauce is homemade heaven and the star of the condiments.
Finishing the evening with a delightful little black and white cheesecake, we smile at one another in that hazy glow of good food, good wine, and flattering lighting.
A mental chant accompanies us home in the wet evening drizzle: 'Schnitzel forever, schnitzel forever, schnitzel foreveeeeerrrr…..'