Sistah Space campaign accuses council of failure in equalities duty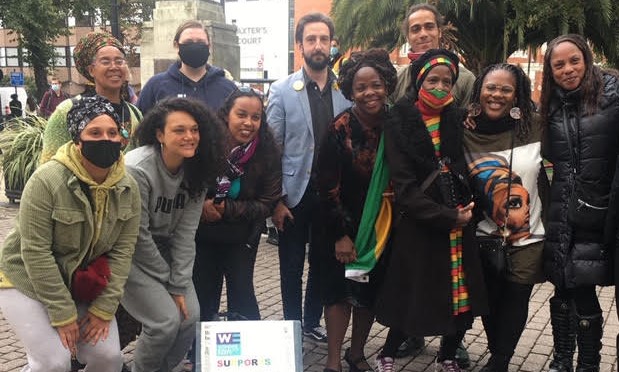 The cross-party campaign to support domestic violence charity Sistah Space in its dispute with Hackney Council has accused the Town Hall of a failure to fulfil its Public Sector Equality Duty (PSED) obligations as a result of the row.
The Save Sistah Space group, made up of the Liberal Democrat, Women's Equality and Green parties, have been calling for a long-term solution to the charity's uncertain future since a clash with the council over its premises saw protesters fill the Town Hall square last year.
The charity, which has seen demand for its services rise by nearly 500 per cent in the past twelve months, is seeking once more an extension of its licence to occupy commercial premises.
The council had asked it to return to its former shopfront, a venue which the Town Hall had refurbished for use by the group but which Sistah Space maintained was unsuitable and unsafe.
Sistah Space founder Ngozi Fulani said: "Instead of Hackney involving us as a resource, they just heap more pressure on us. It is ridiculous. Central government says stay put, so that is what we should be doing. E8 is among the highest levels of Covid, and they are still talking about moving our stuff out.
"This is in the midst of the worst case of Covid out there, yet money supersedes everything for Hackney Council. From our point of view, if central government says stay put, then local government cannot tell us to get out. They need to talk to each other and come up with something.
"My question to the council would be, 'Even though we are in the midst of the worst pandemic ever, you still want us to come out so that other people can come in? Is money more important than Black lives?'"
According to Fulani, two people who volunteered for the charity in the past have died from Covid, while users of the service who fear they have contracted the virus fear deportation more.
Sistah Space's two-year contract with the London Mayor's Office for Policing and Crime has now been extended for another two years, which pays for the salary of one member of staff, but Fulani said that staffing is under pressure at the charity as she is "bombarded with emails and requests for help". Around half the messages relate stories of unresolved historic abuse, and half call for aid while in ongoing danger.
She added: "What's tragic for us is that Hackney is a Labour council; most of us voted Labour, but Labour turned their back and have not gotten involved.
"We have had no support from any of the MPs or councillors from Hackney Council. These are people we've known very well for years.
"It's an eye-opener, because I know if I go into politics to make a change, nobody can muffle me. So where is everybody?"
Save Sistah Space has urged the council in the past to provide the organisation with 3,000 square feet of space, four rooms with a kitchenette, accessibility, and easy transport links, pointing out that Sistah Space has been on the waiting list for "suitable, safe" voluntary sector premises for five years.
The licence at its former temporary premises is set to expire on 17 January, with the charity currently working out of temporary and financially unsustainable premises.
The campaign argues in an open letter released this morning that the council has an obligation under PSED for people with protected characteristics, including Black and African-heritage women.
The letter goes on to state that the campaign believes the council has not carried out an equality impact assessment on its decision to ask Sistah Space to leave its temporary premises with the associated impact on its service users.
It quotes government guidance to the Equality Act: "In order to achieve full equality in practice, disadvantaged groups may actually require different treatment and equal treatment may perpetuate any disadvantage, because not all groups start off from the same position."
In response to calls for other premises to be made available to Sistah Space back in November, the Town Hall argued that it would be "inappropriate and unfair to the many other charities also there to support our diverse and marginalised communities in Hackney if there was not a fair and transparent letting process open to all voluntary and charity sector organisations".
Save Sistah Space's letter states: "As we have now entered nationwide lockdown Tier 5 with a major incident being declared in London, we are extremely concerned Hackney Council has still not taken any steps to secure and protect the future for this vital service which is now at risk of closure.
"While many enjoyed a period of respite over the recent festive period, demand for the vital services offered by Sistah Space increased as women in need reached out for potentially life-saving help and advice.
"As well as offering these vital services, Sistah Space also went above and beyond in supporting their community by providing Christmas presents for 100 Black and African-heritage women and girls suffering from domestic abuse.
"It is clear that Sistah Space's specialist services are needed now more than ever, and the charity clearly provides tangible value for the Hackney community. Therefore, safe and suitable premises need to be secured urgently in order for Sistah Space to continue to operate and support its service users, especially while in lockdown when cases of domestic abuse increase substantially."
Fulani added: "We will continue to support Black women, regardless. Every time we go out we risk our lives. We risk our lives, but we spend half of our time fighting off Hackney Council.
"I don't know why anybody can't see that there is something wrong. Race, class and gender play a massive role in our situation right now. It seems people don't want to use those words, but that is what it is.
"The pressure coming from the community is what is making them realise they cannot do this to people and get away with it. We are not going to just roll over and expire."
Hackney Council was approached for comment, but had not responded by time of going to press.