Hundreds turn out to support domestic violence charity at centre of premises row with Hackney Council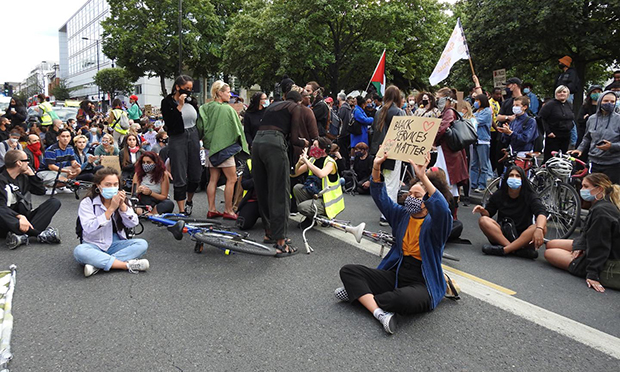 Around 500 protesters descended upon the Town Hall square last Friday in support of local domestic violence charity Sistah Space, which is locked in a dispute with the council over a return to former premises it says are unsafe.
Sistah Space is the only specialist organisation in London serving survivors of African and Caribbean heritage, and the protest's organisers, Sisters Uncut, London Renters Union and Black Lives Matter UK, fear the row is "putting Black women's live in danger".
Morgan Jones of Sisters Uncut said: "Black women survivors need Sistah Space's support and deserve a place of safety to recover and heal from violence."
The charity is being temporarily housed on Mare Street while its old home in Lower Clapton has undergone refurbishments, paid for by the council at what it says was Sistah Space's request.
The Town Hall says it has given Sistah Space until 31 July at the earliest to move back, after the charity voiced concerns at having to make the switch during the pandemic.
Ngozi Fulani, who runs Sistah Space, has previously accused the Town Hall of "not listening" after making clear that, having conducted a risk assessment, the refurbished site is still unsuitable for the charity's specific needs.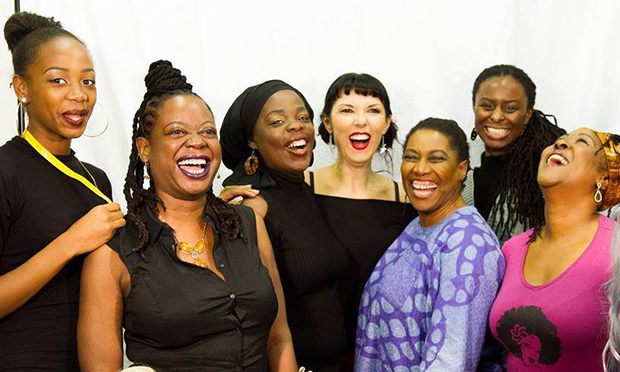 The row appears to be at an impasse, with both sides accusing the other of being unresponsive to emails and a number of claims in dispute, including whether or not Sistah Space agreed to allow its temporary home to be shown to potential commercial tenants, provided it had 48 hours' notice from the council – an issue the Town Hall says the charity was aware of and only raised concerns about last week.
Fulani told the Citizen: "People, strangers, have been coming in and out of the building, and we're a domestic violence charity. [The council] is saying it has invested £35,000 in us – it invested it in one of their properties that was semi-derelict. That is not investing in us."
She added: "First it was, 'We're going to get you somewhere, but while you're waiting, we're going to fix up the place'. Now we realise they want us to go back there so we can stay there. We've done our risk assessment. It's out of the way, the exit leads into a derelict area. They want our current premises back because of money.
"We're very transparent, and this [row] has caused major distress. It's meant we've had to shut the service down to a very minimum. We're only dealing with the cases we've got now. We can't take on anything new because we don't know where we're going to be in five minutes."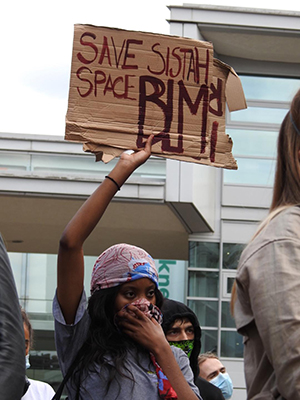 The charity has said that it is not asking to stay in its current premises "indefinitely", but instead that it not have to move until March of next year.
A petition calling on the council to grant such an extension has, at time of writing, been signed by more than 7,000 people.
The council says it provided Sistah Space with the original property in Lower Clapton and has refurbished it to the charity's specifications, with the temporary move to Mare Street arranged on a rent-free basis.
The Town Hall is understood to be unclear as to why the charity now feels the reworked Lower Clapton premises, which, according to the council, was agreed to beforehand, is unsafe.
Fulani has now received backing from local Liberal Democrats, Greens and the Women's Equality Party, which have co-signed a letter to the council expressing their concerns over the situation.
It reads: "We would like to seek assurances that arrangements are in place to ensure we avoid the loss of this essential service for African and Caribbean women suffering from domestic abuse across Hackney and London."
The parties go on to ask the council to set out its current position.
The Town Hall, which has strongly denied any allegation that it has discriminated against Sistah Space, referred the Citizen to a previous statement on the matter from Hackney Mayor Philip Glanville.
He said last month: "Sistah Space does incredible work to help communities of African heritage affected by domestic abuse, which is why we have consistently supported their work.
"That's also why we've invested £35,000 in refurbishing and modernising their premises in Lower Clapton Road at their request – providing safer, more secure and modernised facilities for staff and women seeking help. Like all council voluntary sector tenants, during this crisis, they have also had their rent waived.
"We've worked closely with them on shaping this investment. Their current temporary home in commercial workspace is also clearly unsuitable for such sensitive and important work, which is why we were keen for them to move back to their refurbished premises.
"We fully recognise the clear disproportionate impact of coronavirus on black, Asian and other communities with protected characteristics, and have called on the government to do more to investigate this. We have also ensured that all our domestic abuse services have had additional support.
"Sistah Space had agreed to move back to their new premises once refurbishment was complete, and this has never been an eviction process. However, we understand their concerns about moving at this time and have offered to extend their current temporary arrangements until at least the end of July. We'll continue to monitor this situation."