Town Hall strongly criticised by domestic violence charity Sistah Space in premises row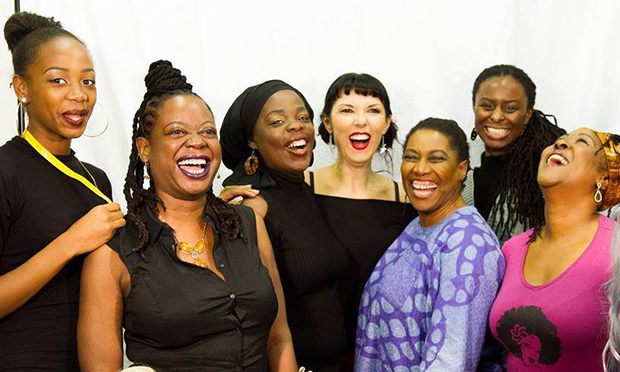 A domestic violence charity for women and girls of African and Caribbean heritage has strongly criticised Hackney Council in a dispute over its premises.
Sistah Space had originally been given until the middle of June to leave its current temporary premises on Mare Street for its old site in Lower Clapton, but which was extended until "at least the end of July" after the charity voiced its concerns at having to move during the pandemic.
Ngozi Fulani, who runs the charity, has accused the Town Hall of "not listening", making clear that having conducted a risk assessment of the site that it is not suitable for Sistah Space's specific needs.
Fulani said: "If people actually knew the story, Hackney would be very embarrassed. I hear them jumping up on everything talking about Black Lives Matter, and bigging up themselves over equality and diversity, but when it comes to African and Caribbean heritage groups their record is very poor.
"I've been writing to them for almost a month now and not getting any response, and it's only when the public are involved that they start to respond. The Mayor said that he was going to write a letter saying we can stay, but that he hadn't got round to it yet.
"For the last month, we haven't been able to do what we're supposed to do, because we're living on the edge. This couldn't have happened at a worse time.
"For three and a half years, we've been saying to the council, 'We can't use the premises'. The electricity is faulty, it's so cold that it's like a fridge, the door you could give it one good shove and it would open. There's no exit, and upstairs is a derelict community centre where squatters live, and behind the centre is where they do their drugs.
"We showed the council how the door can push open and that there was no exit, and they suggested that if we were frightened, we can lock ourselves in the building. I asked if they'd heard of Grenfell."
The council have pointed to an investment of £35,000 to refurbish and modernise the Lower Clapton Road premises which Sistah Space had occupied in what the charity describes as a "semi-derelict" state for five years, including a new front door, an internal partitioned room for private meetings, an emergency exit and an upgraded heating system.
However, Fulani has pointed out that the exit leads out into an out-of-sight area known for its antisocial behaviour and drug use, adding that asbestos had been found in the building during its renovation.
She added: "The money is not invested in us. It doesn't benefit us in the least. We'd have been better off taking that money and staying where we are now.
"They've done a lot of work on it, and invested £35,000 in the building, and it's very silly of them. Give it to another group that is not a domestic violence group. You've given us a shopfront. Every other unit is shops – a newspaper, a pub, an estate agents, all retail.
"They're not listening. We can't go back there. Now they've built us an office, there's no space for service users to come in. It's not suitable for us. These are decisions being made by white middle class men about black women in domestic violence. That's a major problem.
"When they talk about Black Lives Matter, we say you would never treat any of those other groups the way we've been treated. You would never expect them to take the stuff we've taken. It's discrimination against us by the council, based on our race and our gender."
The council has made clear that it disputes any claim of discrimination against Sistah Space.
The charity has said that it is not asking to stay in its current premises "indefinitely", but is asking not to have to move until March of next year.
Sistah Space, which has a contract to provide its services through the Mayor's Office of Policing and Crime (MOPAC), has been delivering 150 meals a week in daily deliveries to the community during the lockdown, with many of their service users highly at risk from Covid-19 as well as domestic violence, meaning they are unable to leave the house.
Fulani pointed to the problematic nature of ringfenced funding for Black, Asian and Minority Ethnic groups, arguing that it forces different groups to compete for the same pot of money.
A petition calling on Hackney Mayor Philip Glanville to halt Sistah Space's move says: "It is important that Sistah Space be allowed to remain in their current location until the Covid-19 virus has been totally eradicated. Black and minorities groups are identified as being at the highest risk of dying from the coronavirus. Hackney is among those with the highest death rates.
"In addition, women who are doubly at risk through race and gender are already traumatised by abuse which has increased significantly since the lockdown. Domestic violence victims should not be forced to seek support in an area that is notoriously dangerous.
"We believe that Sistah Space are being discriminated against because of their race and gender."
Mayor of Hackney Philip Glanville said: "Sistah Space does incredible work to help communities of African heritage affected by domestic abuse, which is why we have consistently supported their work.
"That's also why we've invested £35,000 in refurbishing and modernising their premises in Lower Clapton Road at their request – providing safer, more secure and modernised facilities for staff and women seeking help. Like all council voluntary sector tenants, during this crisis, they have also had their rent waived.
"We've worked closely with them on shaping this investment. Their current temporary home in commercial workspace is also clearly unsuitable for such sensitive and important work, which is why we were keen for them to move back to their refurbished premises.
"We fully recognise the clear disproportionate impact of coronavirus on black, Asian and other communities with protected characteristics, and have called on the government to do more to investigate this. We have also ensured that all our domestic abuse services have had additional support.
"Sistah Space had agreed to move back to their new premises once refurbishment was complete, and this has never been an eviction process. However, we understand their concerns about moving at this time and have offered to extend their current temporary arrangements until at least the end of July. We'll continue to monitor this situation."