Council announces review of statues and place names as calls go out for change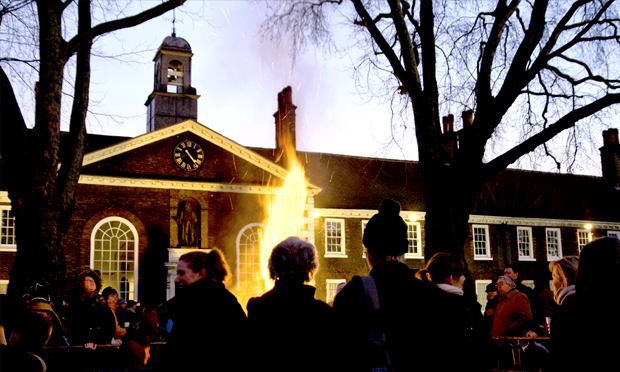 Calls have gone out across Hackney for changes of place names and the removal of statues harking back to Britain's colonial past and the slave trade, following a wave of anti-racism protests sparked by the death of George Floyd.
A petition to remove the statue of Sir Robert Geffrye, an English merchant involved with the slave trade, from the front of the Museum of the Home gathered over 1,000 signatures in under 24 hours, while human rights organisation Ligali called for slave trader Sir John Cass' name to be removed from public spaces in Hackney, including Cassland Road and Cassland Road Gardens.
Hackney Council announced today that it would be reviewing the role of statues, building and street names, parks and other public spaces will be reviewed to ensure they reflect the borough's diversity and anti-racist history, but community educator Toyin Agbetu of Pan-African human rights-centred organisation Ligali called on the Town Hall to move faster.
Addressing the council directly, Agbetu said: "With respect, a review is not good enough. Bristol reviewed the matter for years and the government reviewed "BAME" Covid-19 deaths.
"Now is the time to start acting for change and review together as we ride the social justice bus. Anything else is [the] grassroots sitting in the back as you steer."
Ahead of the review's announcement earlier today, Agbetu said: "We obviously need action now with a process that begins within the next few days, if we are not to see a repeat of what happened in Bristol after years of debate and stagnant reports.
"True understanding of the Black Lives Matter protests involves recognising that while meaningful acts of decolonising can start with symbolic change, the eradication of years of Afriphobia, racism and white supremacy requires institutional change that is sustainable. Anything less is just a fleeting act of political faddism.
"Likewise, it would help if the mainstream media were also better engaged with grassroots issues afflicting the daily lives of socio-politically vulnerable communities. It's a shame that it always seems to take acts of people powered transgression to show our elected leaders how to do the right thing."
London Metropolitan University took the decision to remove Cass' name from their Art, Architecture and Design School today, with vice-chancellor Professor Lynn Dobbs recognising that the use of his name "contributes to the redemption of a man without acknowledging the enormous pain he caused as a major figure in the early development of the slave trade, and the legacy of this pain".
Dobbs went on to apologise for "not taking the step before now".
The former Geffrye Museum, housed in almshouses built with money from Sir Robert Geffrye, a merchant involved with the slave trade, is set to reopen later this year as the Museum of the Home.
An independent charity runs the museum, and is understood to be "already actively debating" the future of Geffrye's statue, which will also be reviewed by the council, along with Cassland Road and Cassland Road Gardens.
A statement on the Museum's website says: "The source of Geffrye's wealth and the origins of the Museum buildings raise important and challenging questions about the legacy of Robert Geffrye.
"We are actively debating these questions and what his statue says about our commitment to anti-racism and representation.
"We strongly believe that museums should not be neutral. As a sector we have a responsibility to be inclusive and accessible. We are committed to anti-racism and equity, and to working harder to make our organisation and collection more representative.
"We must learn from history. We must address these questions; and work harder to ensure our staff, programmes and collection tell diverse stories and represent black voices, artists, visitors and communities."
The council's review is aimed at listening to the community about how to address the issue of public spaces named after slave and plantation owners, and pledges to listen to the public, institutions and historians on how and why spaces have been named and celebrated, in order that a "collective decision" may be reached.
The council also pointed to the soon-to-be-announced outcome of its commission to produce a permanent public artwork in Town Hall Square commemorating the contribution of the Windrush Generation.
Petitioners demanding that the statue should be removed said: "Robert Geffrye should be condemned to the history books so that we can learn from the shameful past.
"He should no longer be celebrated with a prominent statue. Take him off the front of the building perhaps stick it down in the basement of the museum as an exhibit where we can teach children about how horrible the slave trade was."
Hackney Mayor Philip Glanville, who applauded the speed with which the removal of slave trader Robert Milligan was removed in Tower Hamlets, said that despite Hackney's "proud tradition of fighting racism and intolerance", some public spaces in the borough "do not best reflect this".
The borough leader said that he was "pleased to respond to [the] challenge" of protests around the commemoration of figures who had been part of the slave trade by starting a review into the issue, adding: "This also isn't up to me – it's up to the people of Hackney."
Glanville said: "The Black Lives Matter protests – as well as the events in Bristol and elsewhere over the last few days – have caused many of us to reflect and reconsider those figures in our borough's history who made their fortune from the slave trade or exploitation and how they have been commemorated.
"Hackney was also home to inspirational slave abolitionists and campaigners, but their names and stories do not adorn our public spaces in the same way.
"This is not about trying to rewrite history – but we should question whether these statues, plaques, and building, park and street names belong in a museum to educate us about our past, rather than being celebrated into the future.
"It is on all of us to educate ourselves about our borough's history, which is why this review will build on the existing work of our museum and archives. It will also build on the work we already do to showcase black history.
"Our national curriculum must be updated to reflect these issues. In the meantime, our local curriculum will include enhanced educational materials on how black history has shaped Hackney – so that our children and young people get more opportunities to learn about these issues than many of us did when we were younger."
EDIT: This article was updated at 11:37 on 12 June 2020.