Councillors speak out for residents still 'impacted severely' by Finsbury Park floods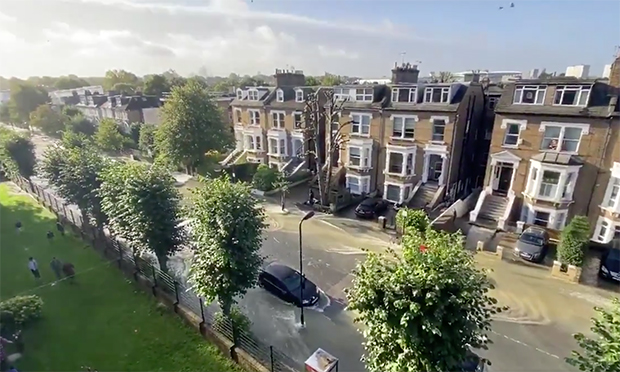 Councillors have spoken out on behalf of residents still suffering disruption to their lives following severe flooding caused by a burst water main in Finsbury Park this time last year.
At least 250 homes on the road were directly impacted when an over-100-year-old trunk main, used to move 50 to 60 million litres of water a day between reservoirs, split along its length, leaving thousands of others in the surrounding area without running water.
Hackney Mayor Philip Glanville spoke out in criticism at the time of private utility company Thames Water for the quality of its emergency response, leaving many without bottled water and taking hours to shut off valves which continued to release water into people's homes.
While a programme of reform within the company was presented to councillors last night, leading Living in Hackney scrutiny commission chair Cllr Sharon Patrick to remark that the company had appeared to take much of the council's criticism on board, Brownswood councillor Clare Potter revealed that many residents were still struggling following the burst.
Potter said: "I want to acknowledge the huge disruption those residents have had during the past year, and the fact that there is quite a significant number who are still not back in their homes.
"I've heard from residents when they have moved back to their homes and when their items have been returned, quite a lot of them have been missing. Some items have not been sufficiently cleaned and are mouldy and damaged, some valuable and sentimental items have been disposed without consultation.
"Some residents are very happy to be back in their homes, and their experience has been positive. Many others are finding this is not the case. There is damp returning, and this seems to be quite a feature of the feedback that I've got, with many residents feeling dryers were removed too quickly."
According to former Town Hall speaker Potter, disputes have also taken shape between residents and Thames over whether properties had existing damp proofing, with the company arguing that it would not be doing works that had not been there previously. Potter suggested that, due to so much plaster having been lost from residents' walls, the company could have found "a more generous approach."
The Brownswood councillor also said that many residents were unhappy with the insurance sums they had been offered, saying that some had said they had felt "treated like fools," and that while the quality of temporary accommodation offered had been good, that many people were given notice to return to their homes when they were still not ready, making it feel like "their hands were forced."
Some private tenants, Potter said, have become so "disheartened" with the process of returning that they moved on, with some describing having sent 400 emails to Thames Water, devoting so much of their lives to "micro-managing" the situation that their work and families suffered.
Potter added: "Often there was a lot of counterclaim and counterblame involved. It has just been an incredibly difficult process. One thing I do want to acknowledge is that the feedback from council and housing association tenants as opposed to leaseholders is much better as well.
"I get the sense that when an organisation has represented the residents on the property, the experience for the resident appears to be much better, but that of individual residents is very much the feedback – that it feels like a battle on every single point. That won't be the case for everybody, but it is for a significant group of people. Work needs to be done to address that."
83 properties had to be vacated for repairs to be carried out following the Queens Drive burst. According to Thames, 52 homes have now been repaired with their residents rehomed, while 19 households remain in alternative accommodation, with 12 impacted families having moved on from Queens Drive.
Thames Water shared plans with the committee to reduce leakages by 20 per cent within five years, as well as a 70 per cent reduction in interruptions to customers' supplies within that time.
Responding to the resident feedback presented by Cllr Potter, Thames operations director Steve Spencer said that it "was never our intention for people to have that difficulty," pledging that the company would speak with and give help to each affected case having received details from the councillor.
Spencer said: "It has been incredibly difficult for the residents. We have and still have a dedicated team working with the residents. We haven't walked away, the same people are available.
"Obviously all the snagging we want to understand, and they will be around to try and deal with all that snagging. The feedback is clearly something we need to take on board."
There are 68km of trunk main in Hackney, of which 60 per cent date back to the Victorian era.
Following last year's burst, the company told councillors that its incident management response has now been improved, with direct relationships now built with the borough, and a team of dedicated emergency planners now on call who would be able to swing into action when bursts occur.
It is understood there are two large risk areas for Hackney from Thames' point of view, Queens Drive and Seven Sisters, with work now commencing on both sites to re-line sections of Victorian cast-iron pipe.
A donation of £10,000 as a goodwill gesture has also been made by Thames Water to the council for the separate 2018 Lea Bridge flood, which will be split equally between Hackney Food Bank and a local playgroup in the ward hit by the floods.
Spencer added: "We have not seen many trunk main bursts on the scale that we saw in Queens Drive in our history. We have seen two occasions of a similar size since, the first outside Southwark tube station and the second on Staples Corner on the North Circular.
"In both cases, we were able to enact our new incident and response structures. We were able to respond quicker, and isolate the main very quickly. At Staples Corner it was in three minutes, it was fully isolated and people were back in water. At the Southwark burst, the London Fire Brigade said it was the best response they had seen from Thames Water on any large mains burst.
"I'm never going to say we are perfect, there are still things that we have got to learn and improve. We'll always be striving to get better and better and respond, but with the two bursts we have had since, there have been improvements. We would also like to build the relationships we have done with Hackney with other boroughs in London."