Thames Water admits Lea Bridge floods were 'too much' for it to handle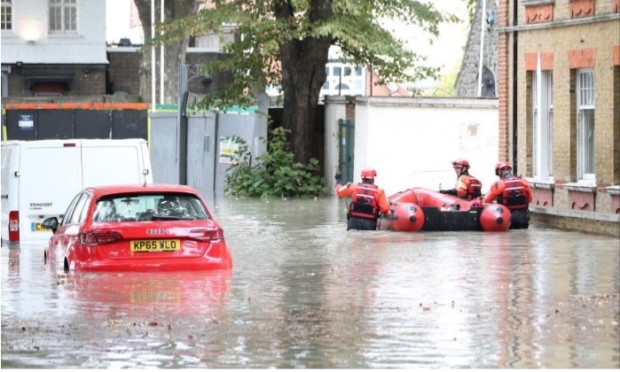 Thames Water has admitted a high level of unpreparedness in its ability to support residents affected by severe floods caused by a burst water main in October 2018.
Fourteen different branches of Hackney Council, as well as the fire service and police, had to be mobilised to provide assistance when a major water main burst in Waterworks Lane, leaving Thames Water to answer questions from residents on how long it took to address the crisis.
The water main took sixteen hours to isolate, in which time residents at Paradise Park suffered flooding and property damage.
Sean Walden, Thames Water's head of North London water networks, said: "The incident was too much for our customer service reps. This was not a localised flood of the 'I don't know where to put my garden furniture' type.
"If this was in another country, you would have had the Red Cross there, because it was that devastating.
"So in the future we won't be sending in people to help who are well-intentioned, but not necessarily trained in the best way to deal with these events.
"We don't want Thames to be in the public eye for events like this, not just because of pressure on our CEO, but because the people who work in Thames have a sense of pride and value in what happens to their customers."
Goodwill payments to all residents directly affected by the burst who responded to a letter from Thames have now been made, as the company continues to deal with residents' separate insurance claims, but remain without parking after five months.
Walden added that two errors were made in the response to the floods.
The first was that initially Thames Water thought it was dealing with a waste water flood, rather than a burst main, and that subsequently a message sent to request a flood response vehicle did not get through for unknown reasons.
The water giant now says it has invested in another large flood vehicle, as at the time they only had one, which was in South London, and has hired a new incidents and events manager specifically to deal with emergencies such as the Lea Bridge floods.
Flood vehicle pumps were not able to handle the sheer volume of water facing them when they arrived on 2 October, according to documents submitted to a 5 March meeting of the Living in Hackney scrutiny commission.
One resident at the meeting said: "Everyone's very sorry and things happen and all that, but we're now without parking for five months. Thames Water has not provided any compensation for that.
"Why doesn't the company provide a separate compensation to people who have lost their parking garage? Why is the burden on me, and why can't Thames Water make this as a goodwill payment?"
The meeting also heard from representatives of Chan Kong Monastery UK, who saved Lea Bridge's Grade II*-listed almshouse from conversion into luxury flats, only to see it wrecked by floodwater.
The monastery is understood to be considering legal action against Thames Water.
Cllr Sharon Patrick (Lab, Kings Park) said: "Thames Water have said that they are going to try to be helpful to residents. We hope they keep their word on that.
"We look forward to residents having their car park back, payments being made and it all sorted out, and of course we hope there are no more burst water mains in Hackney."