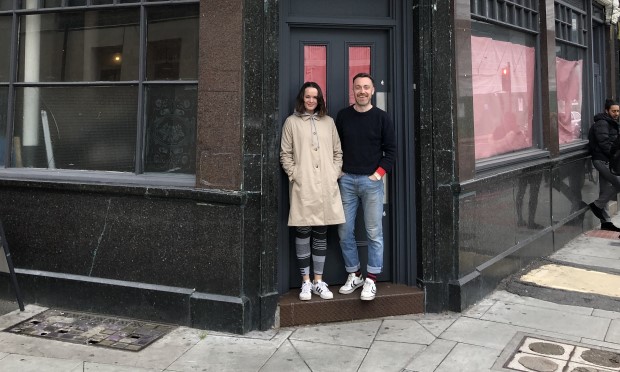 When's the last time you heard some good news about the pub industry?
Unless you're planning a night out, the only other time you hear the word 'pub' is often in the same sentence as the word 'gone'.
According to recent figures from the Office for National Statistics, more than a quarter of the UK's pubs have closed down since the start of the century, suffocated by financial pressures, business rates and rent rises, or changing consumer habits.
And they're often the smaller, independent ones.
So isn't it nice to hear that a couple of friends are taking on the challenge of opening – technically revamping, albeit pretty comprehensively – a new pub in Homerton?
Barber shop owner Emma Piggott and Jonathan Mercer were both in the midst of house-hunting with their partners when she had an epiphany.
"I didn't really have my heart in it," she told the Citizen. "I wanted to do something more exciting, so one day I suggested 'Why don't we buy a pub?'
"The look on Jonathan's face, honestly. But here we are!"
That was more than two years ago.
It took a while for the pair, both of whom live in Hackney, to find the right location.
"We didn't want to just buy a pub that was doing a decent trade and go in and run it. We wanted somewhere we could make a difference, somewhere unused and unloved, with a bit of a chequered past."
That's when they came across The Plough on the corner of Furrow Lane and Homerton High Street, an establishment that dates back to the 18th century but in recent years has opened and closed like a saloon door in a windstorm.
It's been shut since 2017 after the last occupants, craft beer chain BrewDog, upped sticks after just six months – after ripping out the beautiful Victorian-era bar, Emma says.
By her own admission, she and Jonathan have no experience of running a pub – "not even remotely" – but she thinks it could turn out to be an advantage.
Fittingly, they want to plough their own furrow, and do things a little differently.
Emma is acutely aware of the industry's recent struggles, and the challenges they face, but she reckons she has just the trick.
"Too many pubs are trying to be all things to all people – all bells and whistles. There are people who have been in the industry for such a long time that they don't try new ways of doing things. They stick to what they know, but maybe the ideas are a bit stale?
"And we don't need more gastropubs because we have fantastic chefs running amazing ones already – the Marksman is one example that strikes a perfect balance.
"But people never stop loving a good pub, and our USP…," she spits out the acronym like an irritating hair. "Our USP, if you like, is that we don't have one. No gimmicks, no angle – just fresh, simple, seasonal food and nice drinks."
The business partners have definitely picked a good spot.
Homerton is well-served by pubs, and very good ones at that – The Elderfield, The Chesham Arms, The Adam and Eve, The Kenton, The Spread Eagle, London's first vegan pub, to name a few.
Asked if she fears the competition, Emma has a simple answer: "We just want to be part of the pub crawl.
"Places like The Kenton and The Chesham Arms are fantastic, independent pubs, and we just want to be part of that community."
She means it. As well as the usual things you'd expect from a pub, like quizzes, sports, comedy nights and music – jazz bands every Sunday is the plan – the pair also want to do their bit for Hackney.
They will be involved in a scheme run by the Big Issue which sees the charity team up with businesses to help local homeless people find jobs.
The Plough's staff will also be sent out on secondment days with various charities to both learn about homelessness and to help raise awareness.
"It's a huge issue," Emma says. "And it's the root of a lot of other issues, whether that's addiction or ending up in prison.
"Me and Jonathan are both self-made and we see this as an opportunity to give a little bit back."
They will also pay their employees the London Living Wage, as well as offering benefits such as healthcare.
"They shouldn't have to scrimp and save," Emma explains.
When we spoke to her, she was just about to collect the keys, but she says the place is "still a bit of a building site".
Eighteen months of neglect left them with a lot of work, and left Homerton with a "black mark" on its high street, according to Emma.
"We're going to give this place a lot of love."
Part of that includes restoring a bar to match, as closely as possible, the over century-old one torn out by the previous owners.
The decision is both a nod to the rich history of The Plough, and a statement of intent.
"We want to be here for years and years and years," Emma says.
It remains to be seen if her house-hunting epiphany was a moment of madness or the seed of something great, but one thing's for certain, the UK needs more pubs, and more people willing to give the business a shot.
Excitingly, it won't be long before you can check out The Plough for yourselves.
A soft launch is planned for 29 March, with the pub to open fully a day later.
The Plough is at 23-25 Homerton High Street, E9 6JP
Update: this article was amended at 3.11pm on Friday 8 March to include some clarifications. The original article stated that the owners are restoring the bar ripped out by the previous landlords, when in fact they are rebuilding a bar to match the original one as closely as possible.