'Not good enough': Mayor hits out at Thames Water's response to Finsbury Park flooding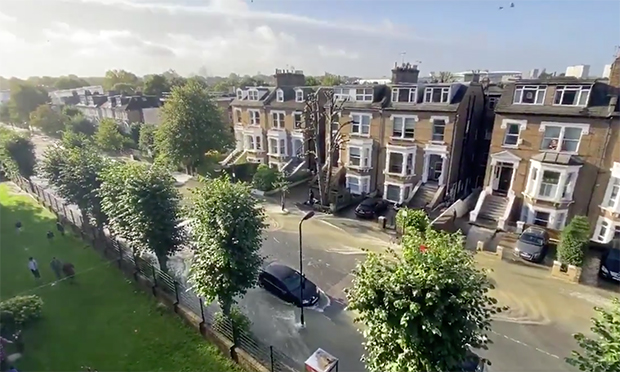 Mayor of Hackney Philip Glanville has condemned Thames Water's response to flooding in Finsbury Park caused by yesterday's burst water main.
At least 250 homes on Queen's Drive have been directly impacted, while thousands more in the surrounding area were left without running water – some are still without it today.
The Mayor praised firefighters and council staff who were on the scene to evacuate people and set up a rest centre for those unable to return home.
He also paid tribute to Thames Water's frontline workers and engineers, but, in a letter sent to the company's interim executive chairman Ian Marchant yesterday, added: "Unfortunately, beyond this, your organisation's response has not been good enough.
"Resources on the ground to help residents have not been proactive, and updates on social media have been vague and not timely.
"At the time of my visit there was not enough bottled water distributed at the major cordons, and the council's own rest centre […] was without running water and limited temporary supplies, but expecting some from your team.
"It also took your own engineers nine hours to shut off three valves, but even early evening there was one outstanding valve releasing water and continuing to cause damage to people's homes."
The Mayor recalled the previous two floods that have happened during his time in office, including one in Lea Bridge last year, after which Thames Water admitted its response had been "inadequate".
The Mayor continued: "I would have hoped lessons had been learned from these incidents and elsewhere in London."
He called on the firm to provide clear updates on where fresh water will be available, and what it is doing to support residents whose homes are so badly damaged that they cannot yet return to them.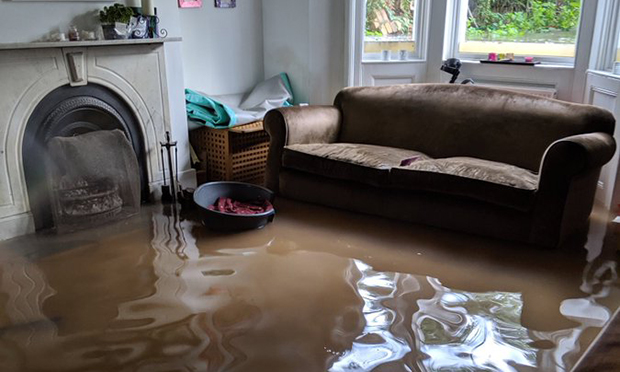 Shocking images posted on social media by residents show ground floors and basements submerged in water.
In an update posted this morning, Thames Water said: "Water supply for the majority of affected customers is now back to normal after yesterday's large mains burst at Queens Drive, London, N4.
"However a small number of customers are still without water due to air locks, particularly those in the immediate area of the burst, and we're working to resolve this as quickly as possible.
"If you're still struggling with no water or low pressure please let us know and we'll investigate. If you live above ground floor in a block of flats you could be affected by internal pump issues and should contact your managing agent or local authority as they may be able to assist.
"When your supply returns, don't worry if the water is cloudy or splutters at first, as air often gets trapped in the pipes while we're working. Just turn on your cold kitchen tap and the water should clear and flow freely after a couple of minutes."
The statement continues: "We've set up a station in the local area where we're handing out bottled water to support any customers still without water. Bottled water is available outside Parkwood Primary School, Queens Drive (junction of Somerfield Road), London, N4 2HQ – click here for map.
"We have teams on site who'll continue to help customers whose homes have been affected by the flood water.
"We've set up a support vehicle in the area so customers can easily find us and get advice and assistance – it's clearly visible from our bottled water station outside Parkwood Primary School."
The firm said its "specialist engineers continue to work hard to fix the broken pipe as quickly as possible".
An update from the Town Hall this morning reads: "The council worked through the night to support those affected by the flood in N4. 
"All of those displaced by the flood were provided with alternative accommodation by Thames Water, with support from the council, but the rest centre remained open for those who needed support or advice. 
"The rest centre will close this morning. Thames Water and Hackney Council have information vehicles set up at the scene on Queen's Drive, where residents can come for information and to speak to staff.
"Staff from the council's waste team worked over night and will continue working throughout the day, with additional capacity, to assess any damage and clean and clear the affected streets. 
"We understand that about 50 households are still affected by flood water. Thames Water are handling this and will begin assessing when people can return to their homes today.
"Nearly all homes now have water. Those who do not should refer to the Thames Water website for updates.
"Queens Drive, between Brownswood Road and Seven Sisters Road, remains closed but local buses are no longer on diversion.
"Woodberry Down Primary School remains closed but Parkwood Primary School is open today.
"Council staff in high vis jackets will be in the area today to answer questions and offer support and advice to those who need it. Officers will also be out this morning speaking to local businesses and offering support to those who may have been affected.
"Today Thames Water will continue to fix the main leak, clear gullies and begin the process of repairs to basements flats damaged by the flood water. There may be short periods where water will be turned off in small areas while the repairs continue.
"Anyone who needs further assistance contact Thames Water or visit the information vehicles on Queens' Drive."
For more information, visit Thames Water's help and advice page here