Stamford Hill charity shop delighted after Diane Abbott drops by to meet volunteers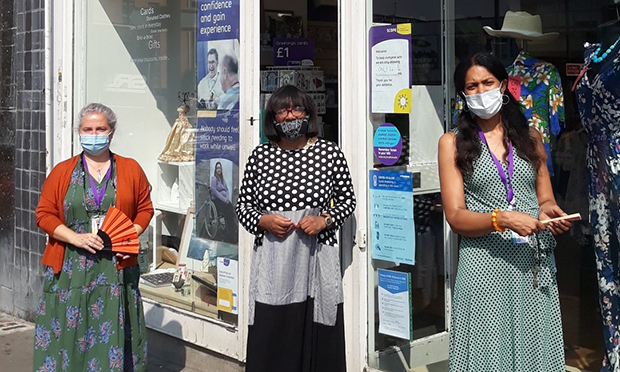 A Stamford Hill charity shop was full of praise for Diane Abbott after she stopped by to meet the team of volunteers.
Coral Ansah, manager of the local branch of Scope, which fights for equality for people with disabilities, sent an invite to the Hackney North MP, who turned up during the heatwave earlier this week.
Abbott spent time with the shop's volunteers as they carried out their usual duties, from sorting through bags of donations to helping customers looking for bargains among the clothes, books and more.
Ansah said: "To have such a high-profile member of the community come to meet the team, after this very difficult period and, in this heat, to support Scope achieve everyday equality for disabled people, is incredible. 
"I'd like to say a big thank you to all our loyal customers for supporting Scope in Stamford Hill since we've re-opened. We've received some amazing donations and have had such wonderful comments from the community. 
"I'd also like to thank the incredible team at Stamford Hill who have worked so hard to ensure customers and colleagues are safe in our shop."
Scope's charity shops offer anyone who can spare at least 16 hours of their time per week the opportunity to volunteer and gain a National Vocational Qualification.
Ansah added: "Our volunteers are extremely important and we wouldn't be able to run the shop effectively without their support.
"We are always in need of volunteers so if you have a few hours a week to spare, do pop in for a chat to see if you like to join our friendly, fun team."
The shop is located at 236 Stamford Hill, N16 6TT.
For more information about the charity's work, head to scope.org.uk