Co-living flats on Kingsland Basin approved despite 'totally unconvinced' councillors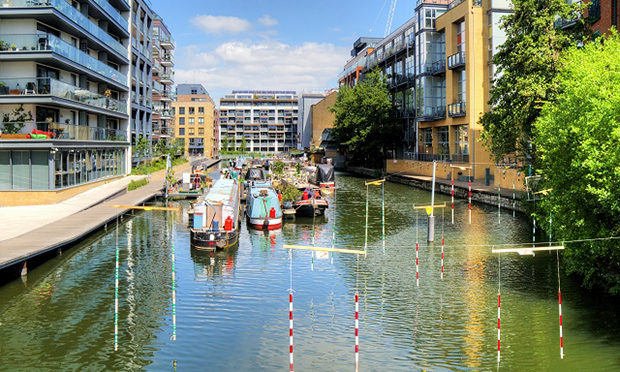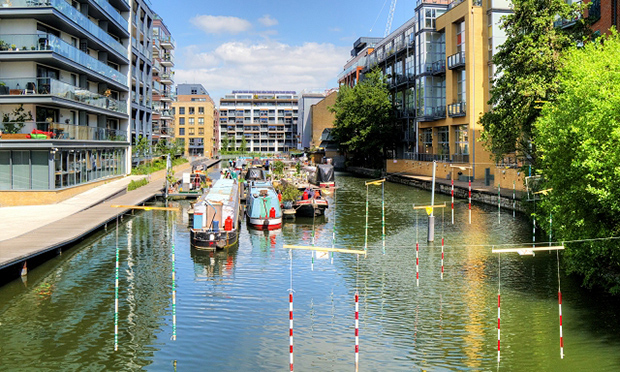 A controversial co-living development has received permission to be built on the shores of the Kingsland Basin, despite a majority of the council's planning committee either abstaining from approving it due to being "unconvinced" or rejecting it out of hand.
The building, which would see 121 private rooms of up to 24 square metres, has long been the focus of opposition from locals who have warned of the potential for noise from the scheme to turn their area into an "echo chamber" and for overshadowing to harm local fish and kingfisher populations.
Concerns have also been raised by the Hackney Society over the communal nature of the Benyon Estate's development, which is designed to provide an alternative to house or flat shares for private renters, in an era of coronavirus.
Cllr Katie Hanson, who voted against the scheme, said: "To me this development is clearly about maxing out the value on the site. The question for us as a committee is not what we think of co-living, because clearly it is a lawful form of development, whatever our personal views on it.
"But we do have to ask ourselves if the site qualifies for this exceptional type of development? I'm not against high-density development at all, but what I'm interested in is if this meets the housing needs of people in Hackney.
"My fundamental disquiet is to do with the space standards, because I do not think that a shared space really is a substitute for private space. I've lived in student accommodation and house shares, and this feels like both but not quite either."
Of the five councillors voting on the planning committee this week, Cllrs Brian Bell and Susan Fajana-Thomas abstained from the decision, saying they were "unconvinced", with committee chair Cllr Vincent Stops and Cllr Peter Snell voting through the scheme.
Bell said he was "totally unconvinced" that more affordable housing could not have been delivered onsite, while Fajana-Thomas voiced concerns at the impact of the potentially transient residents living in the building on the local area.
The scheme also attracted opposition from the Town Hall administration, with public realm chief Cllr Jon Burke saying: "Kingsland Basin has become a popular and valuable amenity where residents from neighbouring De Beauvoir Estate as well as the private and social housing around the Basin enjoy access to nature in an area with a deficit of open space.
"Lockdown taught us how valuable this is for people's wellbeing and the Basin was used by the whole community, and will play an important part in the green infrastructure plan and local nature recovery network as a refuge for and source of wildlife.
"This proposal threatens the very characteristics that have created this quiet, tucked-away refuge. If this is lost due to noise and disturbance, the wildlife will also be lost."
Council officers responded to the concerns by saying that development in areas such as the Basin and biodiversity could be "happy bedfellows".
Warnings over such a type of housing co-existing with the impact of Covid and lockdown were also dismissed by the Town Hall's planning officers, who replied that the impacts of Covid-19 are "likely to be limited to short- to medium-term and likely to be less than the lifetime of the development".
It was further argued that co-living could be a "preferable alternative" to shared housing for single people practising social distancing measures, with officers pointing to the large internal communal spaces and access to external areas.
The co-living development, one of only a handful in London and the only one of its kind in Hackney, would be targeted at single people who would otherwise be looking for homes in the private rented housing market.
Responding to the concerns over space, council planning officers pointed to data suggesting that the Kingsland Basin building would offer the residents of its private rooms up to nine sqm more per person than those sharing a three-bed flat, with the communal internal space and multiple roof terraces offering more floorspace than in a conventional house share.
Fajana-Thomas said: "It still remains a sort of accommodation that is not the type where people who are living are part of the community. With our housing policy, you need to establish a three-year connection to Hackney to be recognised as having a strong connection with the borough.
"People coming here for six months, to me there is still an issue. In Hackney we want to build a community where people have attachment to it, rather than people that are passing through. This is a concern."
Charles Moran, representing the Benyon Estate, reassured councillors that while tenants would be able to sign up to live in one of the rooms for six months, that people would have the opportunity to sign up for up to three years with the developer hoping residents would stay "for as long as possible".
Officers explained that the lack of any affordable housing in the development was due to local policy dictating it be employment-led, with an independent consultant reporting that the scheme could not be viable with affordable housing, saying: "It certainly doesn't meet housing need in terms of affordable housing, but it does add to the mix of accomodation and meets the needs of certain people that are not that well-served by current provision."
Cllr Vincent Stops, who chaired the committee, voiced his understanding that the development could take pressure off a specific sector of the housing market locally, with Moran pointing to data showing sharing households in Haggerston currently account for 42 per cent of private rented accommodation in the area.
The scheme will deliver affordable employment space as well as supporting 200 jobs and is predicted to contribute £750,000 each year in spending for the local economy.
In an effort to prevent the development transforming into AirBnB or hotel accommodation, committee chair Cllr Stops sought a "copper-bottomed" agreement to keep the scheme as advertised, a commitment which developers said they were "happy" to meet.
Moran said: "People have been sharing houses and flats for decades, but the accommodation is not specifically designed for multiple adults for share, so there are often shortcomings such as different-sized bedrooms, not enough bathrooms, limited or no communal space, or lack of privacy.
"Within the proposed accommodation, each occupant has their own private room that includes a sleeping area, private bathroom, living area and compact kitchen facilities, with access to communal facilities.
"The current pandemic has highlighted the importance of our living environments, and the proposed accommodation will provide larger private space than the traditional house share, managed communal spaces that will be regularly cleaned, and access to onsite co-working and homeworking spaces that are likely to become increasingly important in the future.
"The private rented sector is currently dominated by non-professional absentee landlords and there are a number of well-documented issues with private rented flats and housing.
"We're all well aware of the housing challenge that we face in Hackney and across London, and we need to find new ways of tackling this problem, including providing accommodation which is designed to meet the needs of its occupiers.
"We are conscious that this is not a form of development the committee has seen before, so it is right that it has been robustly scrutinised."