'Geffrye must fall': Stand Up To Racism protest calls on museum to remove statue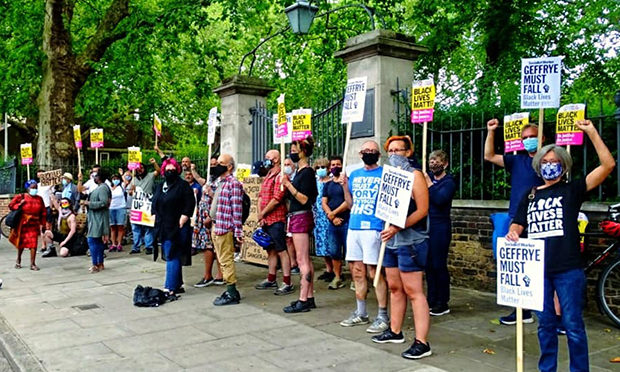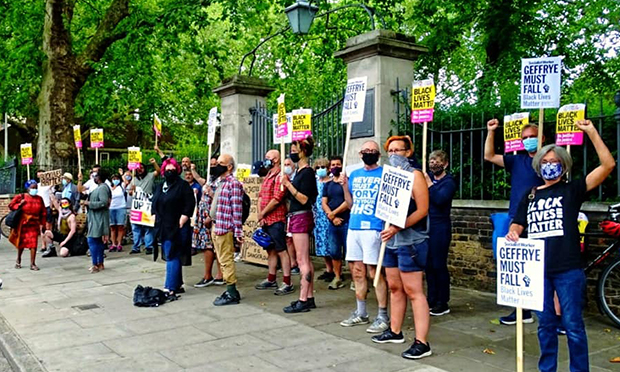 Chants of 'Take it down' and 'Geffrye must fall' rang out at the gates of the Museum of the Home (MotH) on Saturday, as the backlash continued over its board's decision to keep the statue of Sir Robert Geffrye, who made money from the enforced labour and trade of enslaved African people.
Leading Hackney councillors made their own anger felt at the protest, after Mayor of Hackney Philip Glanville voiced his own "disappointment" in the museum for keeping Geffrye in place, despite a consultation in which the majority of respondents were in favour of taking the statue down.
The demonstration, organised by Hackney Stand Up To Racism & Fascism, saw a banner with the phrase 'We Are All Migrants' draped across the museum's gates, as campaigners pointed to the recent dropping of the name of slave trader Sir John Cass from multiple buildings and organisations.
Dean Ryan of Hackney Stand Up To Racism said: "The old symbols of the past and oppression must fall. We saw that for years in Bristol protesters had petitioned, written letters to their MPs, and had said for year after year that the symbol of Edward Colston was a travesty, something that reminded Black people of racism and oppression.
"Robert Geffrye made his money from slave-trading. I urged people to go onto the council's website, and urged people to vote to take [his statue] down. People overwhelmingly voted to take it down, but the museum's board has said that that they are going to keep it up, because things are complex.
"We understand the issues very well. I did a history degree and studied Caribbean history. Britain was built on the slave trade.
"Black slaves were put in the depths of ships, and had a journey of months across the ocean, where they would be lying from head to toe in their own faeces, urine and blood. Sometimes when the slaves died, you would have rotting corpses.
"This is what people like Robert Geffrye are responsible for, and why museums like this are built, off the profits of slaves. Hackney is a multicultural borough where Black and white people live together, and our unity is our strength. We do not want reminders of oppression. We are here to say, Geffrye must fall."
Whilst accepting its responsibility to "acknowledge the legacy of colonialism and slavery within our history", MotH explained in a statement that it would be "reinterpreting and contextualising the statue where it is, to create a powerful platform for debate about the connection between the buildings and transatlantic slavery".
The institution pledged to continue to make its own workforce, creative partners, content and programming more representative and inclusive.
Cllr Carole Williams, who leads on equalities for the council, held up a sign reading 'Black And Tired' as she spoke at the protest: "This year, more than any year, I'm Black, I'm sick, and I'm tired. I'm tired of the same fight. I'm tired of the same lazy excuses. I'm tired that we're told we cannot when we can.
"We've got to have change. I don't want another decade to pass of my life, I don't want even another year to pass, where we hear the same excuses. We've got to change, and we have to change this now, for future generations.
"Black people like me should not walk round the streets of any city Black and tired. I'm tired of this, it needs to change, and it needs to change now."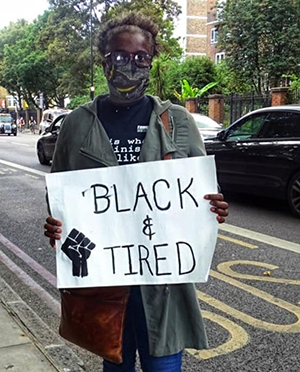 The consultation run by MotH in partnership with the council showed an overall response in favour of its removal, with MotH adding that "feedback showed that what to do with the statue is a complex debate, full of nuance and different opinions".
Also in attendance was Dalston councillor Soraya Adejare, who accused the museum of "disrespect" for deciding to keep the image of Geffrye having heard the majority views of the public in its consultation, and pointed to the review of public space currently being undertaken in the borough to "tear down the elements of the slave trade that are represented in our community".
Adejare added: "We are standing in front of the former Geffrye Museum, in front of the Geffrye statue.
"Every person of African descent when looking at that statue knows what it symbolises and feels the effect of what it symbolises. I don't need my child to go into a museum and have to be told, 'We feel it is in your best interests to have to look up at a statue of somebody that oppressed your community'.
"I hope the museum is listening. It needs to come down."
Cllr Yvonne Maxwell, mayoral advisor on older people, also condemned keeping "a statue of the slave trade in prime position", while linking the protests to the long-running row over the circumstances of outsourced workers at the Homerton Hospital.
Maxwell said: "If you're talking about clapping all our key workers, you're talking about Black Lives Matter. You're now putting out to contract the lowest paid workers, 80 per cent ethnic minority staff, a number of them older people and a lot of them women.
"We have won a victory that they will get proper sick pay from day one, but they are still outsourced. We are still giving money to a private business, so the campaign will continue. We will make sure at each meeting of the council of governors to hold them to account and make sure it does not get pushed under the carpet.
"It's great that we're talking about pulling down a statue, but we also have to stay focused on the daily lives of the lowest-paid workers and the impact on them. We also need to be making sure that the people who clean our hospitals have the same agenda for change conditions as the chief exec and the highest-paid doctors."
The Museum of the Home was approached for comment, but had not responded by time of going to press.