Hackney councillor offers clothes alteration service for donations to local food bank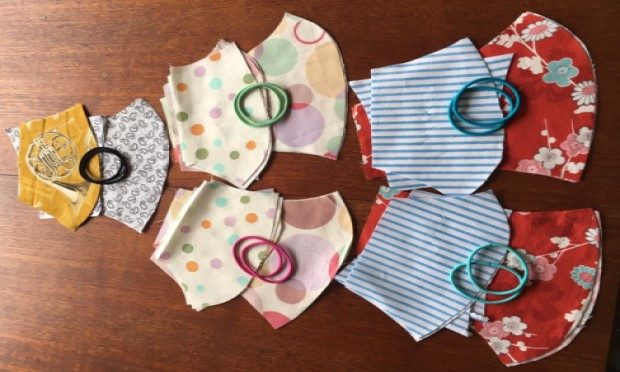 If you live in Victoria ward and need some clothes altering, you would not usually think to turn to your local councillor for assistance.
However, during lockdown, Cllr Katie Hanson has so far taken up three pairs of trousers, added waist darts to a loose dress, darned a cardigan and repaired two dresses in exchange for voluntary donations to Hackney Food Bank.
The Victoria rep, who also oversees development on the borough's planning committee, has also turned her hand to masks made from different fabrics, with Hoxton councillor Steve Race getting a blue mask with a French horn interior, and Hackney Mayor Philip Glanville receiving two for informal wear, one with a dinosaur design and another with a bear motif.
Hanson said: "I offered this to neighbours and it got picked up. It started by offering a favour for a neighbour and grew from there.
"I'm not bad at this stuff, but I don't normally have any time. My mother and grandmother taught me to sew, and I've always knitted because you can carry it around with you.
"My neighbour is a bus driver and he was issued with a new pair of trousers for work that were four inches too long, but the dry cleaners had closed. I altered them for him, and when he asked if he could get me some beers, I said, 'Why don't you make a donation to the Food Bank?'
"It's so nice to do something that is not my day job, but is socially useful and productive. It feels like doing a benefit concert where you're giving your skills, and I'm completely in favour of repairing things rather than throwing them away.
"What I said to people is, 'It's up to you how much you want to donate. I can tell you how long the repair took, and then if you want to make a donation that reflects that, that's up to you'.
"But if people don't have much money, they can give the Food Bank a pound or something, or nothing at all. I don't police it in any way."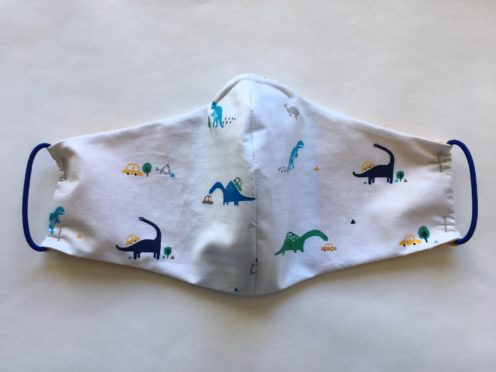 Hanson is now experimenting with Japanese visible mending technique boro, making socially distanced collections on her bike.
The Food Bank, which fed just over 1,000 people in April, 349 of whom were children, said at the end of June that it was "bracing itself" for a long-term effort in helping get much-needed supplies to residents as demand for its services continues to rise.
The Foodbank's business and development director Melanie Rochford said at the time that it is raising money for a new van in order to deal with the "massive quantities" of food they are having to deliver.
You can donate to Hackney Foodbank here.