Homerton Hospital cleaners 'stabbed in the back' over new five-year pay deal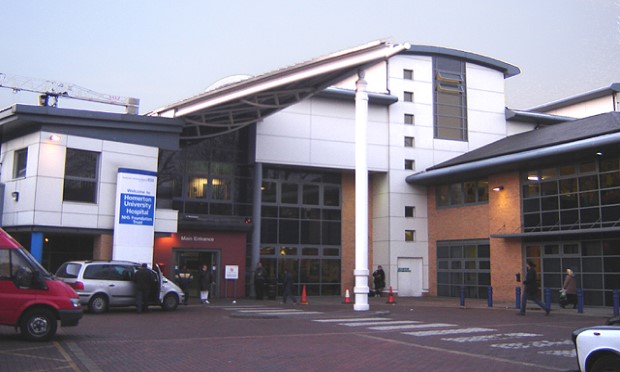 Homerton Hospital staff employed through services giant ISS in a range of roles, including cleaners, porters and security, are voicing their outrage over plans to renew a contract which keeps them on "miserly" pay.
Trade unions Unison and the GMB have made calls for ISS staff to be brought in-house and paid on the same terms as NHS staff by the Homerton in a well-publicised campaign.
It follows national headlines about some ISS staff who said they were left with no choice but to come into work ill due to the level of their statutory sick pay terms.
The public campaign was paused as a result of the coronavirus outbreak, but on Friday unions voiced their "horror" at signals from the Homerton that a renewed full five-year contract with ISS could be signed in October, despite hospital chief executive Tracey Fletcher not ruling out bringing services in-house "in the fullness of time" back in January.
One cleaner at the hospital said: "We've been working ourselves to the bone during the pandemic, and Homerton Trust has rewarded us by keeping us on terrible pay for another five years.
"Morale is already low and I am worried this will push people over the edge. People are scared to speak up, and feel stabbed in the back. Enough with the clapping – we just want fair pay for a hard day's work."
Another said: "The worst thing is I'm not surprised. We've been ignored and undervalued for years. Before Covid-19 we were protesting all the time and pushing hard to be given equal treatment with our NHS colleagues. It seems as soon as we stopped the bad publicity for them, they pulled a fast one.
"Neither ISS nor the Trust will support us so we continue to turn up to work, risking taking Covid-19 home to our loved ones, just to be treated like we don't matter. It's a mug's game."
The GMB has now entered a formal dispute with the Homerton and ISS on the issue, according to the union's NHS organiser Lola McEvoy, while Unison has voiced its outrage over its battle to keep staff on the London Living Wage going back to 2015, with the union saying the company consistently failed to update staff pay with inflation.
McEvoy said: "To lock their lowest paid staff into five more years of rock bottom terms and conditions, when the campaign was paused, without consultation and amid an ongoing global pandemic, is the ultimate disrespect.
"The utter contempt shown to these key workers shows a serious error of judgement by the Trust. These NHS cleaners and porters are facing the maximum risk for the minimum reward and to do this deal behind their back, knowing what they've been through, without a single improvement to their current contract, is a real slap in the face."
Unison see the five-year extension as the worst possible option the Trust could pursue, with some questioning why the hospital would not sign a one or two-year extension while exploring how services could be brought under one roof.
Statutory sick pay amounts to £95.85 per week, with Unison saying that ISS are continuing to refuse to honour the agreement to pay London Living Wage reached in April 2020 or to offer staff backdated pay. The company posted profits of £167m in 2019, according to Statista figures.
Unison regional organiser Carol Shorter said: "These workers are on the frontline in the war against Covid-19 – cleaning Covid wards, transporting patients and keeping the hospital secure. They have stepped up during unprecedented times, and risked their lives for poverty pay.
"If they are truly 'health heroes', they deserve the same pay and terms and conditions as their NHS colleagues. We're calling on the Trust to reconsider the contract extension and to show these workers the respect that they deserve."
Both unions are now calling on the Homerton to consult with staff and not extend the contract, as the hospital says that it has "sought assurances" over a number of issues, including the payment of the London Living Wage, adding that some of the ISS staff remain on NHS terms and conditions, having been transferred from a previous inhouse employment.
The hospital has stressed that ISS staff are "part of the Homerton family", in maintaining the workplace's high standards of cleanliness, serving healthy food to patients, and providing "exceptional" security to staff and patients, while recognising the "massive effort" made by staff in supporting frontline clinicians in the fight against Covid.
A spokesperson for the Homerton Hospital said: "Homerton's facilities services have been managed by an approved contractor for over 15 years and the Trust has always negotiated terms with the contractors which have ensured a financial benefit for the local NHS, whilst maintaining a high quality of service for our patients. ISS staff currently provide these services which support our clinical staff in caring for our patients 24/7, 365 days a year.
"The Trust has undertaken significant engagement and dialogue with
staff representatives over the past six months. There has been no extension of any contract, however the Trust has signalled an intention to sign a new contract from October. Discussions about the possible contract continue with ISS, including issues around sick pay arrangements."
A spokesperson for ISS said: "ISS is a fair and responsible employer, committed to the wellbeing of our employees. We greatly value our employees and the service that they provide to our customers.
"Employees across ISS Healthcare receive at least full statutory sick pay in line with the government scheme and industry practice."