'All we're asking for is equality': Homerton Hospital chief quizzed over cleaners' sick pay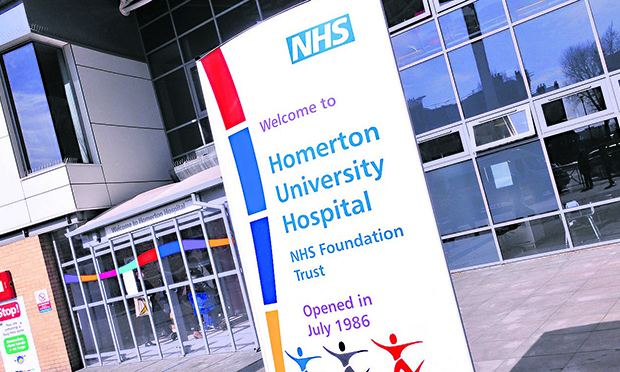 Councillors quizzed Homerton Hospital chief executive Tracey Fletcher last night as the row over sick pay for its outsourced cleaners, porters and catering assistants rumbled on.
The issue hit the headlines in December, after workers employed through facility services company ISS revealed they do not receive pay for the first three days of sickness, forcing them to go to work while ill.
Trade unions are now putting pressure on the Homerton to resolve the issue with ISS, with the GMB calling on Fletcher to meet with the employees directly and bring the services currently on a £45m contract with the company back in-house.
Speaking through the GMB, one ISS member of staff at the Homerton said: "I do long hours, but I love my job. I care deeply about the patients I help and try really hard to keep the hospital running smoothly.
"All we're asking for is the same terms and conditions that other NHS staff get and to meet with those who can make it a reality to tell them why it matters to us.
"I really hope that Homerton bosses will change their mind and show us the respect of a face to face meeting."
Speaking at a council meeting, Fletcher confirmed that the Homerton would be "challenging ISS on some of their practices", while making clear that bringing the jobs back in-house was not something that could happen overnight.
A spokesperson later confirmed that, while the ISS staff are considered "part of the Homerton family", hospital bosses would not meet with them "at this stage… as we recognise and respect that these staff are employees of ISS", while not ruling out the possibility of a meeting "at a later point if appropriate".
Fletcher said: "We're following up with ISS on a number of the issues that have been raised with us.
"One of the things we need to try and ascertain is clear examples and evidence of some of this, in order that we can then use the routes that we have to challenge ISS on some of their practices.
"The question around insourcing is something we should be considering in a number of services. At this moment in time, we do not believe we are in a position to insource that service.
"It's not a process we've been through to analyse how that would work, what the potential costs or savings of that would be. Practically, we are not geared up to be able to manage that process successfully.
"It doesn't rule out in the fullness of time that being something that we should be considering in the future, and we need to make sure we have the ability and depth within our organisation to be able to consider that properly."
It is understood that ISS have agreed to start paying their employees the London Living Wage (LLW), though Unison rep Lorna Solomon called out the company as "appalling" for already advertising itself as doing so.
Solomon added: "In terms of starting to consider bringing services in-house, we have had no real response. When will that work start happening? We appreciate it's not something you can do just like that, but if you start now, it might put a little pressure on ISS."
When pressed by councillors and trade union reps at the meeting, Ms Fletcher was unable to commit to the hospital itself becoming an LLW employer, stressing that such an announcement would have to be a collective decision made by the board.
GMB London Organiser Lola McEvoy said: "It's a real shame that Homerton execs have taken this approach. They're denying those who clean their hospital the basic dignity of having their voices heard.
"We understand their need to hear all sides but wish they'd been as considerate to the cleaning staff when they gave away their sick pay, overtime rates and pensions to the lowest bidder.
"We welcome their pledge to investigate the issues we've raised, but our members deserve more. We urge the trust to meet with our members, the Mayor of Hackney and community leaders to work together to bring the staff back in-house and ensure everyone working at the Homerton gets sick pay."
The GMB has also raised concerns over frequent shorting of pay, a lack of written contracts, absence of training and induction processes, allegations of bullying and intimidation and excessive use of zero-hour contracts.
ISS was approached for comment but had not responded by time of going to press.
The Homerton faced questions at the Health in Hackney scrutiny commission last night over whether there were any requirements for LLW or sick pay when the contract was initiated in 2015.
Councillors asked to hear back from Ms Fletcher in three months on what progress had been made on the issues raised.
Cllr Yvonne Maxwell (Lab, Hoxton West) said: "The contract is ISS' terms and conditions, but as a hospital it's about setting an example that as a community that we are paying LLW, that staff, whether they're outsourced or insourced, have good terms and conditions.
"Things like not being paid three days' sick pay means you can be coming into work not well, and still working."
Responding to questions on ISS' sick pay policy, a spokesperson for the Homerton said: "You will be aware that this policy is in line with legal and statutory requirements. Nonetheless this will be an area of discussion with ISS in the coming weeks."
It is not yet known whether the company will offer back pay for the years its employees were not receiving LLW, but it is understood that the Homerton will "seek assurances" from the company that pay will be backdated.
A spokesperson for the Homerton said: "We have been talking to ISS and will seek detailed and documented assurance from ISS that they are meeting the legal requirements and employment good practice in relation to the issues raised by the unions.
"Where that assurance cannot be provided or is not sufficiently robust we would consider this serious and would require ISS to immediately address this and evidence this to the Trust.
"We have also sought evidence and assurance from ISS about the management of ISS staff concerns raised with their managers."