Town Hall tests out digital noticeboards and new signs for Hackney's estates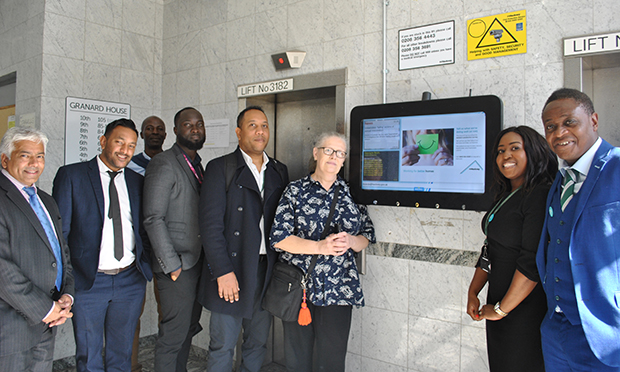 Hackney Council has unveiled digital noticeboards and new signage for estates as part of a pilot aimed at modernising the way it communicates with residents and improving the look of its housing blocks.
Screens showing live updates on repairs, events and meetings, as well as information from residents' groups and council officers, have gone up in selected estates around Homerton and Hoxton.
The Town Hall says the move will result in faster, targeted and more responsive information for estates, and hopes it will create a closer relationship between residents and housing staff.
It also predicts it will save the money currently spent on printed materials, as well declutter communal areas.
Senior housing staff were joined by local residents on a recent visit to Gascoyne Estate in Homerton to see one of the noticeboards in action.
Housing services chief Cllr Clayeon McKenzie said: "We are committed to using innovative methods to modernise the way we communicate and engage with our residents.
"The new noticeboards will improve the look of our estates and build up closer relationships between residents and key housing officers who are responsible for their estates.
"We look forward to hearing residents' feedback and thoughts on this exciting project."
The council is also updating signage and branding for estate and block names and maps.
The Town Hall has worked with residents to develop the new signs, eventually opting for what it describes as a clean and timeless design with consistent lettering, fonts and colours. 
The signs are being piloted on seven estates, and the council will ask for feedback from residents as part of a consultation. Once that is complete, the project is expected to be rolled out to all estates as part of planned building and maintenance programmes.