Arrest made over Harry Zeital Way blaze as residents still without answers on fire safety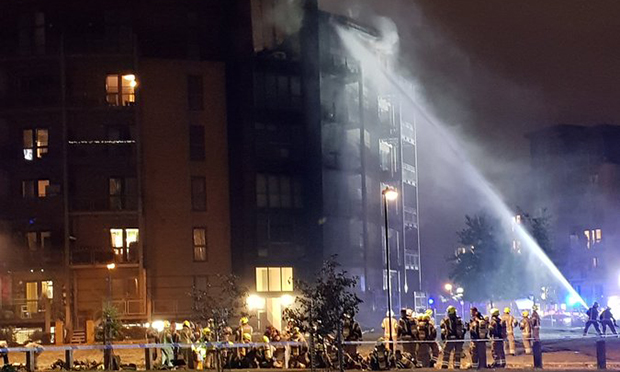 Police say they have made an arrest in relation to the serious fire which climbed up the outside of a block on Harry Zeital Way within minutes on 16 September.
Residents of Latham's Yard estate gave hair-raising accounts of the night at a 16 October council-led meeting, expressing serious and repeated concerns over the fire safety of the block and others like it.
Property managers RMG have now agreed to attend an urgent meeting of the block's residents' association within the next few weeks, as calls were made for an investigation to take place into whether the ThermoWood cladding on the building contributed to the fire spreading.
One resident who preferred not to be named said: "I was in the top-floor flat, with two small children on my own.
"A fire got from the ground floor to my fifth floor flat in two and a half minutes […] and destroyed the wall of my daughter's bedroom. I think I have a right to be concerned about that.
"I'm concerned that we're saying 'Let's wait for another meeting' to say that we are going to investigate that.
"I think this is one of the biggest questions for us, and for people who watched the fires and were in similar blocks. We need to pay attention to that, and think about that seriously, and fast."
Another said: "When I discovered the fire, it was small enough that I could have tackled it with a hosepipe.
"I ran back into my house to get a bucket of water, and by the time it took me to run in and come back out, it had already spread to the next balcony. It was that fast."
Concerns over the cladding used on the exterior of the building were raised throughout the meeting, with one resident saying that the sale of her flat had fallen through before the fire but that the mortgage was rejected because of the cladding.
Representatives of the London Fire Brigade (LFB), who told residents fire engines were on the scene within four minutes of the first call at 10.40pm, added that while the interior of the building "responded as it should do", they were unable to release any details as to the building's exterior, as this was a matter regarding building regulations.
The LFB added: "We've got to be very careful where we put the blame. I'd imagine there were a lot of combustible items on balconies that also assisted in feeding the fire.
"It was obviously a large fire at ground level that spread right up the building. That is under investigation, and it's all I can tell you at the moment.
"It would be inappropriate if I said anything else when the police have it under investigation."
RMG's London's Operations Director Jas Sidhu said to residents: "We are taking on board what you say. We have been told by [builders] Taylor Wimpey that they are satisfied that the building was compliant at the time it was built.
"If we want to do any more than that, which clearly people are saying that they want to do that, then we need to have that discussion. At the moment our priority is reinstatement, which is what we're doing.
"Alongside that, we are happy to talk about what residents' concerns and see how we move things forward."
Taylor Wimpey commissioned London Fire Consultants to look at the development earlier in June, who according to RMG said they were "satisfied the building met regulations at the time they built it".
A chartered surveyor acting for RMG said that what was "top of his agenda" was how the external cladding was classified, suggesting that a report held by Taylor Wimpey would be useful for this information.
The surveyor added: "Taylor Wimpey have previously said they are not releasing it, but post-fire I think they should be revisiting that decision quite quickly."
However, RMG told residents that Taylor Wimpey would not share the report with them.
No representative of Taylor Wimpey was present.
Hackney Council's planning department are understood to be checking for any reports lodged with them.
The chairman of the estate's residents' association said: "As residents we have been in tune with what's going on. Cladding has been an ongoing issue and we've tried desperately to get reports over a number of years. This ended in a report we did get which said the cladding was safe.
"But we agreed recently that we wouldn't put the blame on the cladding without actually knowing, and would have liked to have heard from the fire brigade whether they thought it was a contributing factor.
"If they're not going to give that information, that changes the situation, and we'll put much more emphasis on getting it looked at and if necessary having it replaced."
Cllr Ian Rathbone (Lab, Lea Bridge) said: "Because of Grenfell, the regulations have changed. Now if those flats had been built, they would not be allowed to have that cladding.
"Prevention of future fires can surely be part of another discussion for [RMG] to meet residents and discuss that with them. I understand there's been an ongoing discussion about it for some time.
"I watched those buildings being built, and I know it's a told-you-so situation, but we thought the buildings were badly built, and illegally built by Taylor Wimpey, as they built more flats than they should have done for which they got retrospective planning permission."
The fire is still under investigation by police, who are appealing for any witnesses who were near Limehouse Lodge between 10pm and 10.40pm.
Anybody who may have seen the start of the fire between 10pm and 10.40pm is asked to call the police on 07776668124.
Taylor Wimpey has been approached for comment.