Public health expert warns Town Hall could 'come to regret' vape store partnership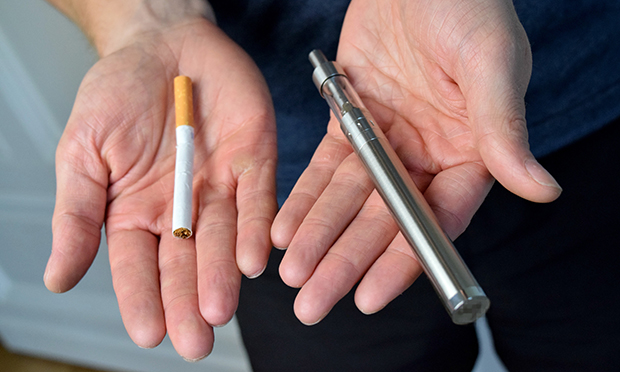 Hackney Council has been warned it could 'come to regret' a promotional partnership with vape stores in the borough by a leading expert in the field.
The Town Hall is offering a 15 per cent discount for vape starter kits through its Stop Smoking Service as part of a promotional push for Stoptober.
However, Professor Martin McKee, a professor of European public health at the London School of Hygiene and Tropical Medicine, expressed disbelief at the Town Hall's active promotion of the alternative tobacco products, the long-term health impacts of which are not known.
Professor McKee said: "I find these things completely incredible to be perfectly honest. I just don't know what's going on.
"E-cigarettes are not a game-changer the way they're saying. Most people who use them end up as dual users.
"This means they get the nicotine from both but they get the tar from cigarettes and the flavourings from e-cigarettes, so actually they're worse off.
"It's not true that vaping is the quickest and most effective way for people to stop smoking. If these things were so wonderfully effective, we would have had trials showing how fantastic they were.
"Hackney Council may come to regret this decision."
Public Health England (PHE) estimates that vaping is 95 per cent safer than smoking, while underlining that the long-term health impacts of using e-cigarettes are not currently known.
The organisation has pointed to a study appearing in the New England Journal of Medicine pitting e-cigarettes against other nicotine replacement therapies, which found that, when combined with face-to-face support, they are up to twice as effective for quitting smoking as other products such as patches or gum.
However, Professor McKee criticises PHE for being "completely out of touch with the rest of the world", slamming its '95 per cent safer' advice as "completely implausible".
He pointed to a recent summary of studies in the British Medical Journal which concludes that there is not currently enough evidence to show that e-cigarettes' respiratory effects are less harmful than those of smoking.
The 30 September clinical review, carried out by the University of California San Francisco, Duke University and Yale School of Medicine among others, states: "We reiterate that, to date, no long term vaping toxicological/safety studies have been done in humans; without these data, saying with certainty that e-cigarettes are safer than combustible cigarettes is impossible."
Alison Keating, PHE London's head of tobacco, said:"PHE has always been clear that vaping is not without risks – if you don't smoke don't vape. But if you're a smoker, quit now and consider using an e-cigarette to help you.
"Our advice remains that e-cigarettes are a fraction of the risk of smoking, and using one makes it much more likely you'll quit successfully than relying on willpower alone.
"But it's important to use UK-regulated e-liquids and never risk vaping home-made or illicit e-liquids or adding substances, any of which could be harmful."
A PHE London spokesperson added that local Stop Smoking Services should do more to encourage and support smokers who want to quit with the help of an e-cigarette, but that it is up to the local authority to choose how to do this.
While many London councils reflect PHE's advice on the comparatively lower risks of e-cigarettes to smoking, Hackney appears to be the only one running an active promotional campaign with local vape stores.
Professor McKee also warned of the as-yet unknown long-term effect of inhaling flavourings, which he points out are regulated through the Medicines and Healthcare Products Regulatory Agency (MHRA) as food additives, rather than inhalants.
The Town Hall is partnered with six vape stores in the borough in order to "help drive smokers who want to quit with vape into Smokefree Hackney", according to a spokesperson.
All six businesses have trained up their staff in smoking cessation advice, have pledged to signpost smokers to the Smokefree Hackney service, and have also promised to abide by trading standards advice.
The individual partnership with Hackney's Vape Superstore goes deeper, with the business supplying wholesale e-cigarettes and free e-liquid to six participants in the Pause programme, for women who have had multiple children removed from their care.
As part of a "harm reduction intervention", women interested in cutting down their smoking would receive a vape and e-liquids in return for agreeing to regular calls on their progress, completing surveys and coming together at the beginning and the end of the pilot to discuss the experience.
Another partner vape store, Cigara, also provided a staff member to talk about vaping, who a Town Hall spokesperson said was there to "answer any questions and concerns and explain how to vape".
In a Vape Superstore press release, Smokefree Hackney's senior public health strategist Miranda Eeles said: "Vaping has become the most popular quitting aid which is something we can't ignore.
"Therefore, to maximise support to smokers who want to quit with a vape, the Hackney Stop Smoking Service has developed a partnership with Vape Superstore in the borough in order to increase their chances of quitting."
The Superstore also said that "due to this partnership, Vape Superstore have gained access to some eye-opening statistics on the correlation between smoking and poverty".
The Town Hall has underlined that the data referred to is publicly available, adding: "Smokefree Hackney does not share any data on individual residents with our vape store partners."
Out of 2,115 clients who set a quit date with Smokefree Hackney between 1/10/18 and 1/10/19, three opted exclusively for e-cigarettes over other treatments such as nicotine replacement therapy like patches and gum, or stop smoking medicines like Champix tablets or Zyban.
A Town Hall spokesperson said: "Vape Superstore is one of six carefully selected vape stores in Hackney working in partnership with Smokefree Hackney, the council's stop smoking service.
"The purpose of the partnership is to help drive smokers who want to quit with a vape into Smokefree Hackney. This is because face to face support with medication and/or a vape has proven to be the most effective way to quit.
"The long term health effects of e-cigarettes/vapes are not yet known because they are relatively new products. However, they do not contain the tar, carbon monoxide or levels of toxic carcinogenic substances which are harmful to human health that cigarettes do.
"According to Public Health England's e-cigarette evidence review that was updated in February this year, e-cigarettes are at least 95 per cent safer than smoking cigarettes. So while they may not be risk-free, the evidence points to them being much less harmful than cigarettes.
"Over recent years, electronic cigarettes (e-cigarettes) have become a very popular stop smoking aid in the UK and many people have found them useful for quitting smoking.
"Smokefree Hackney follows PHE's guidance by supporting clients who want to use an e-cigarette to help them quit smoking, and welcomes smokers considering using an e-cigarette to come to the service for behavioural support.
"The Royal College of Physicians, the charity Action on Smoking and Health (ASH) and many other highly respected organisations also endorse this approach."
EDIT: This article was amended at 14:54 on 16/10/19. Based on background information from Hackney Council, the previous version stated that the Town Hall were "funding" the 15 per cent discount through vape stores. The council is not funding this discount.