Campaigners to hold Marian Court 'protest party' over threats of intentional homelessness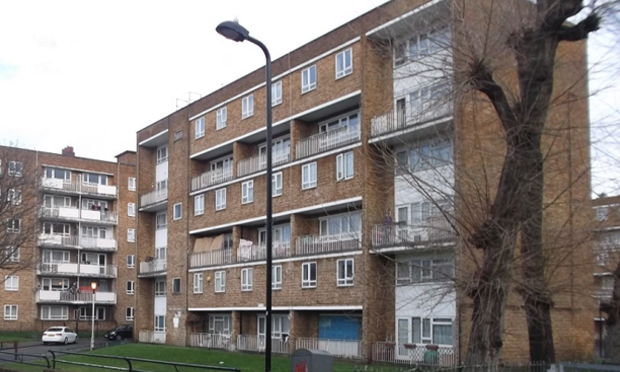 An up-for-demolition council block in Homerton, which still houses two families who have not yet been found somewhere else to live, will play host to a 'protest party' by campaigners.
East End Sisters Uncut (EESU) have championed the causes of  Shahbana Bibi and Margaret Mongan, both parents and carers for other members of their family, the final Marian Court residents whose housing situations remain unresolved.
Both Mongan and Bibi's cases have seen controversy erupt around them, Mongan most recently offered a property viewing in the same estate as her violently abusive ex-partner, and Bibi made an offer on a flat which had been targeted for vandalism.
Solidarity with Mongan and Bibi is understood to be at the heart of EESU's protest party, which is also attempting to raise awareness of the practice of residents being threatened with being deemed 'intentionally homeless'.
EESU member Cat Houlton said: "Margaret and Shahbana are two of the most impressive, courageous women I have ever met in my life.
"They have been through so much and fought for so long just for the basic right to a safe home.
"The way Hackney Council is treating them is disgraceful – but we are putting on this protest to show that the community stands behind them 100 per cent."
Bibi added: "The vulnerable should not be treated like lower class citizens.
"Equality and safety from any danger should be the universal code for everyone."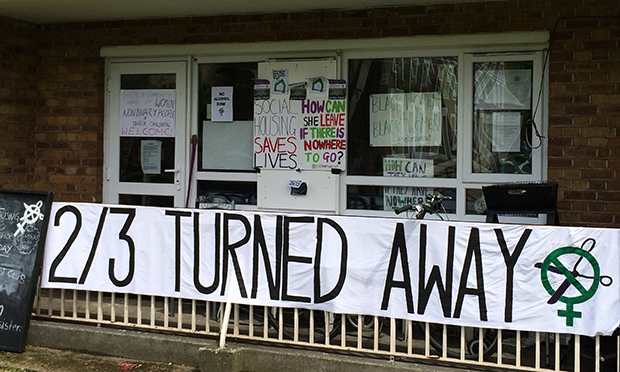 Sisters Uncut occupied one of the empty flats in Marian Court for nine weeks in summer 2016.
It has been confirmed that a number of security guards employed by the Town Hall, accompanied by dogs, have been posted to the block in advance of the protest party as a 'precautionary' measure.
EESU have made clear that the protest is planned as a family event with speeches, food and music, advertised as running between 6:30 and 8:30pm at Marian Court on 1 August.
The group is aiming to highlight the practice of classifying residents as 'intentionally homeless', which EESU says is aimed at "bullying them into accepting unsafe and substandard accommodation, and to forcibly move low-income, marginalised people around the country in what can only be described as social cleansing".
Jess was recently reported to have been given 24 hours to move great distances or face intentional homelessness by the Town Hall. She was seven months pregnant at the time.
According to government data, 13 households in Hackney were deemed intentionally homeless between April and December 2018, which is just over one per cent of the 985 households approaching the Town Hall for assistance in the same period. Figures from Shelter put that at 32 households for the entire year.
The practice is by no means confined to Hackney, with the Town Hall pointing out that the figures for April-December 2018 make the borough the fourth lowest of the 14 inner London boroughs as a proportion of homeless applicants over the same period.
EESU adds: "The people put in this position do not have the time and resources to spend years trying to fight their cases through the courts on their own – we need to stand up together as a community and say it loud: safe housing is a right, not a privilege.
"Reasons people have been found 'intentionally homeless' include rent arrears due to austerity-driven benefits cuts, not being able to provide "evidence" of domestic abuse, or refusing to move miles away from their family and support networks.
"It is a dangerous lie to claim that people become homeless by 'choice'. The only ones exercising choice are the governments – local and national – who are allowing homelessness and housing precarity to flourish in the fifth richest country in the world."
Mayor of Hackney Philip Glanville said: "Nobody chooses to be homeless, and it is offensive and completely untrue to suggest that we would bully vulnerable families with threats of 'intentional homelessness' – a legal term defined not by the council but by government legislation on how councils should support those seeking help to find somewhere to live.
"Despite the government's continued failure to address the homelessness crisis in places like Hackney, we are doing everything we can to help those who need it most, from delivering one of the most ambitious building programmes of new council homes in the UK to bringing hundreds of empty properties back into use as temporary accommodation.
"But with a 40 per cent increase in families coming to us for help with homelessness since 2018, and more than 3,000 families now in hostels or temporary accommodation, finding suitable housing for the growing number of people who need it is a huge challenge.
"While we recognise we don't get things right every time, we always work with homeless families to offer the best accommodation we can. However the increasing demand on available housing means we often have no choice but to ensure that families in urgent need of somewhere to live do not reject suitable homes when realistic alternatives simply do not exist.
"The numbers of people deemed intentionally homeless in Hackney remain low, particularly compared to other boroughs facing similar housing pressures, and we have a responsibility to advise families on homelessness legislation – including the rules on intentional homelessness – so that they can make a fully informed decision."
More information on EESU's planned protest can be found here.