Campaigners and council to scrutinise plans for Bishopsgate Goodsyard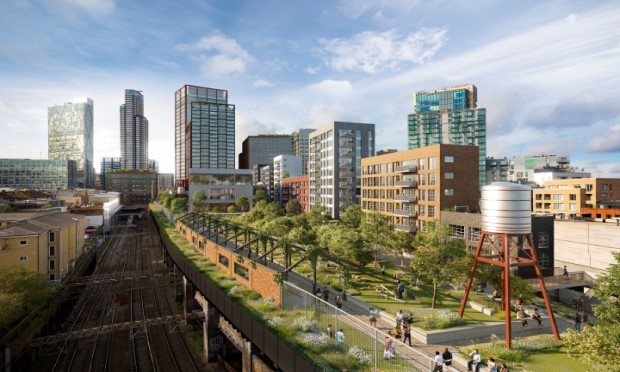 Local campaigners and Hackney Council have both promised to closely scrutinise updated developer plans for the hotly contested Bishopsgate Goodsyard project.
Hammerson/Ballymore recently submitted revised plans to the Greater London Authority (GLA), promising that the scheme will include 250 'affordable' homes, "one of the largest contributions of affordable workspace of any London development", and an elevated garden which is attracting comparisons with New York's High Line.
David Donoghue, who headed up the More Light More Power group in opposition to the overbearing nature of the tower blocks planned in 2016, is now promising that campaigners will be going through the newly amended plans with a fine tooth comb.
Donoghue and others had called for the inclusion of a cultural centre in the project "to rival the Barbican," though it is not known whether this will be taken forward by the developers, and said that the level of 'affordable' homes in the development remained "far too low".
Donoghue said: "The developers are an exercise in bad practice, and have an inclination to submit applications at awkward times for normal people, that is at Christmas time or in the summer holidays.
"They have done the proper thing and consulted again, and come back and explained what their revisions are broadly, but none of us have actually seen what the application is.
"The amendments they suggested they were going to do were very much big improvements, but we don't know they've done it yet. They cut down the height of some buildings and had better massing, but there are a lot more issues about this.
"This was publicly-owned land, and once it goes private, that's it. You never get it back. It's very important that there is extra caution about how it's going to be used, as it's a loss to the public. Our job will be to go through it forensically and pick out those things that should be improved."
The original proposals as submitted were for 1,350 flats in 46-storey tower blocks which were thrown out by then-London Mayor Boris Johnson, with both Hackney and Tower Hamlets councils calling for greater weight to be placed on the provision of affordable housing.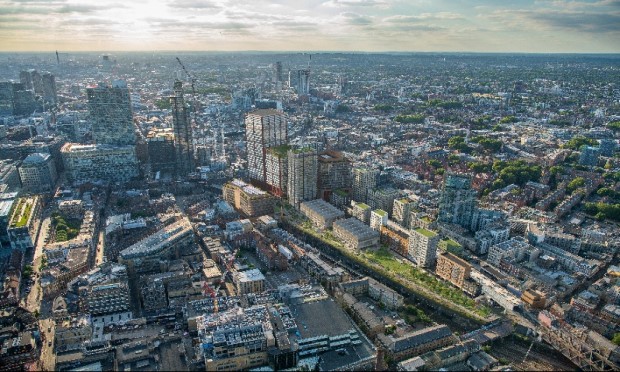 Hackney Mayor Philip Glanville has confirmed that significant work has gone on behind the scenes on the Town Hall's part to address concerns over the levels of affordable homes and workspace, with Hammerson and Ballymore stating there has now been a reduction in height and scale of the buildings, with residential blocks along Sclater Street "significantly reduced".
Mayor Glanville said: "Hackney Council campaigned hard against the previous scheme which was submitted in 2015, one which would have had a negative impact on Shoreditch, caused unacceptable loss of light for nearby residents and businesses, didn't offer enough affordable homes or appropriate workspace, was of poor architectural quality and reduced air quality.
"Since work started on revised proposals we've been working collaboratively with the developers, the GLA and Tower Hamlets Council, to help ensure the scheme strikes a better balance between the need for new homes – including, crucially, genuinely affordable homes – business premises and affordable workspace, and protecting the area's culture, heritage, existing businesses and nearby residents.
"We have offered critical challenge where necessary, and ensured that the developers engage fully with all local stakeholders."
The Mayor added that the new proposals "seemed far more ambitious", and that the Town Hall would be going into the detail of the application on the specifics of the offer of 'affordability'.
Hammerson/Ballymore have said that the revised plans provide for 500 homes in total, with 50 per cent of those 'affordable', an increase on the 15 per cent 'affordable' homes proposed back in 2014.
Also planned is 1.4 million square feet of workspace, of which 10 per cent is also promised to be 'affordable', with a "high-line style" public park with a series of connected gardens, terraces and walkways.
A "significant contribution" of jobs is also promised by the scheme, which is predicted to support over 8,300 jobs worth over £600m.
The listed Braithwaite Viaduct arches will also be opened to the public, with the Oriel Gate restored to become the 'gateway' entrance to the site from Shoreditch High Street.
The developers also promise a "destination building for cultural space" for Brick Lane, on which the joint venture is understood to be planning to continue to consult with the local community on its delivery and potential users.
It is understood to be possible that the GLA could reject the changes as amendments, forcing Hammerson and Ballymore to resubmit the scheme as an entirely new proposal.
Nicola Zech-Behrens, senior development manager at Ballymore, said: "Bishopsgate Goodsyard is a highly challenging site with a large number of constraints but offers an incredible opportunity.
"We have listened very carefully to feedback on our original application and aspirations of the local community and our revised plans provide for a more balanced development that preserves and showcases the site's heritage."
Tony Coughlan, development manager at Hammerson added: "We are excited to bring forward these revisions to our plans, which promote a more sensitive scale of development for this strategically important site.
"These revisions include a focus on the delivery of a wide range of new workspace opportunities, including one of the largest ever provisions of affordable workspace in London."
Donoghue promised that campaigners would be "very much holding [developers] to account" on viewing the final plans.
He said: "What I don't want to do is predetermine it until we've seen it, and that takes some time.
"Judging by their last application, this one should be about 3,000 pages long, bigger than both Testaments of the Bible and the complete works of Shakespeare combined. We need to take time out and look at it forensically.
"They've got their job to do, they've got shareholders who annually want to buy another yacht or swimming pool, and we've got people who want to move into social housing."
"It might be that we will campaign for the scheme to go back to the boroughs, that is, Hackney and Tower Hamlets, but we won't know until we've seen the detail.
"We're going to be taking a critical view, and we want to make sure that this isn't an opportunity lost for generations."