Toxic caterpillar outbreak on Dalston estate being 'taken seriously' amid concern from residents
An infestation of toxic caterpillars on an estate in Dalston is being 'taken seriously' amid concern from residents, according to Peabody housing association.
In early June, brown-tail moths, a species native to Britain, were first spotted at Atkins Square, an estate on Dalston Lane managed by Peabody.
The moths spend around nine months in the larvae stage, as hairy caterpillars with red and white markings.
According to the Royal Horticultural Society, the hairs can cause breathing difficulties and irritation if they come into contact with skin.
Atkins Square resident Sienna Murdoch told the Citizen that concerned locals have been asking Peabody to "make this plague of caterpillars a priority, but they don't seem to take any notice".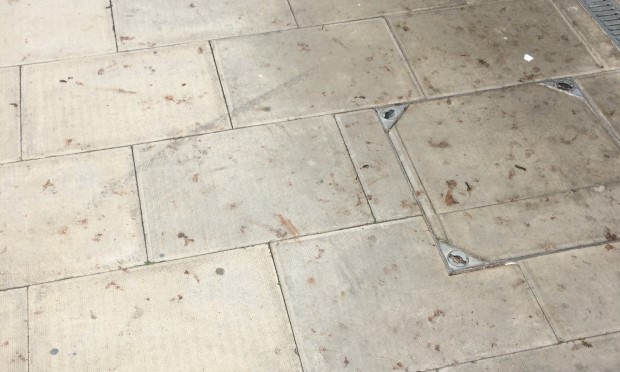 A Peabody spokesperson said it is "making every effort" to deal with the problem without resorting to chemicals that would be "detrimental to other wildlife".
They added that experts have advised that the caterpillars "pose an extremely low risk".
Murdoch said: "Trampled caterpillar blood can be seen staining the pavement.
"Many of the plants have been savaged and left to die and it's putting people at risk that use the [local] facilities, including nursery children."
She says the infestation appears to be "escalating" and "could spread to a wider area if Peabody doesn't act".
Photos taken by Murdoch last week show a number of caterpillars on the estate, as well as outside the entrances to Co-Op, More Yoga and Pembury Pre-School.
It is understood that a pest control team was on the estate over the weekend, and a staff member at the nursery confirmed that the infestation is being treated.
Nora, who works for More Yoga, told the Citizen that a further visit from pest control is planned for 27 June, after which locals are expected to know more about how the problem will be handled in the longer term.
A Peabody spokesperson said: "We're aware of a small number of moths that may be causing some concern to people.
"They are not unusual in the UK and all of the professional advice is that they pose an extremely low risk.
"Our estate teams and landscape experts are on hand to offer advice to people and are making every effort to manage the situation.
"We want to avoid using chemicals to control the insects because that would be detrimental to other wildlife and pollinators in the area."