Hackney schoolchildren perform at annual Tower of London arts festival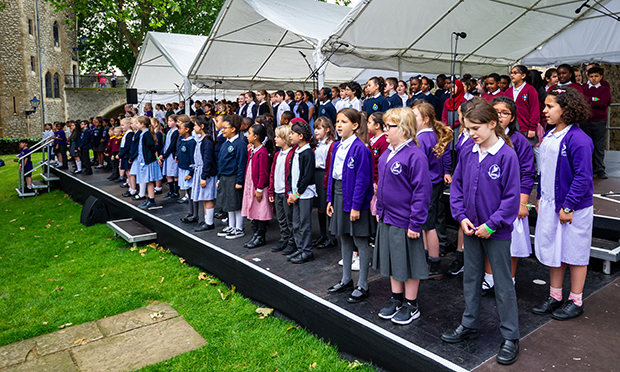 Budding musicians from a primary school in Hackney put on a special performance at the Tower of London for the iconic landmark's annual arts festival.
Children from Benthal Primary School in Hackney Downs were invited to the famous fortress to sing at Water City Music 2019, which took place last week.
Inspired by the place's history, they performed both existing pieces and their own compositions for an audience of tourists and Beefeaters – as the Tower's legendary ravens watched on.
The festival is organised by Historic Royal Palaces, the independent charity that cares for the Tower, in partnership with charity Water City Music.
It is intended to help pupils across London build their confidence as performers in iconic surroundings and with a unique audience.
This year saw over 1,000 primary and secondary school students treat visitors to an eclectic mix of styles including jazz and funk-rock.
Lucie Parkes, learning manager at Historic Royal Palaces, said: "Music is a powerful tool to breathe life into historical figures and events, making it feel relevant for today's young people. 
"Despite being so local, many of the students who performed at the event have never visited the Tower before."
Parkes says the festival is a "brilliant" way to connect children to both their local community and to their home city's past.
She added: "Many of the schools taking part come from London boroughs where the child poverty rate is amongst the highest in the country and so, ultimately, we hope the event has a lasting effect on pupil's self-confidence, sense of belonging and motivation to practice and perform music."
For more information about Water City Music at the Tower, head to hrp.org.uk