Two pedestrian crossings in Hackney get a rainbow remake for Pride
Two pedestrian crossings in Hackney have been given a rainbow makeover for Pride month to celebrate the local LGBTQI+ community.
The annual Pride festival kicked off this month and colourful new crossings have been popping up all over the capital.
The borough's pair have been painted in areas with historical links to east London's LGBTQI+ communities – one on Hackney Road on the border with Tower Hamlets, and the other in the heart of Shoreditch on East Road.
They were launched this week by borough leader Philip Glanville and his Tower Hamlets counterpart John Biggs.
Hackney's equality chief Cllr Carole Williams and local councillors Steve Race and Katie Hanson were also in attendance, alongside Tower Hamlets councillor Kevin Brady.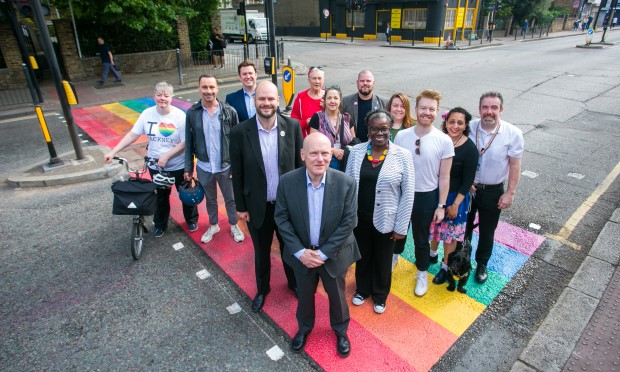 Mayor Glanville said: "These crossings provide a powerful visual reminder of our commitment to equality, with one linking two boroughs that clearly stand-up for diversity and tolerance.
"They are placed at the centre of the historically radical LGBTQI+ community of East London, which has contributed so much to the freedoms we have and enjoy today, but are also still here, taking part in the ongoing fight against prejudice that still exists.
"I'm proud to be unveiling these rainbow crossings, with colleagues, council staff and residents, joining others across the world this Pride month, standing with the LGBTQI+ community, not only in our borough, but around the world."

The crossings are part of the council's Hackney Pride 365 initiative, which aims to celebrate and support the borough's LGBTQI+ community all year round.
They will be in place for the next few months, coinciding with the Pride in London festival, and will greet visitors attending UK Black Pride's celebration in Haggerston Park on 7 July.
The Pride parade through London takes place on 6 July.