Town Hall discount on Brownlow Road service charge leaves residents 'unimpressed'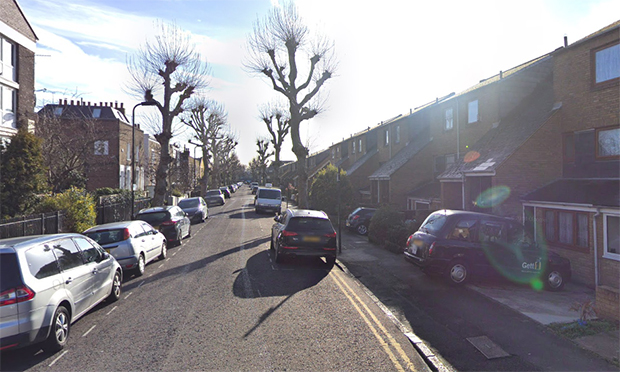 The Town Hall has moved to reduce freeholders' bills on a Hackney estate by just over £100 each after the Citizen reported that concerns over the annual service charge had been continuing for years.
Some residents on Brownlow Road revealed last week that the payments were pushing them into debt, two years after a deputation led by Anthony Burton raised concerns over "Rolls-Royce prices", including £17,000 for the installation of decorative panels on bins.
Now the Town Hall has reduced each freeholder's annual costs from £355.93 to £250 as a "goodwill gesture", with Hackney Mayor Philip Glanville offering a meeting and asking officers to look again at their concerns.
Reacting to the news, Burton said the reduction still leaves him in the dark about what residents are paying for, with requests for a breakdown left unanswered, and he questioned why estimated costs for works differed from their final charge.
The Town Hall has said that the increase in residents' charges had included the costs of updating a CCTV system. In a statement, the council said it recognised that it would have been "good practice" to forewarn freeholders of the improvements to allow them to prepare for the expense, despite this not being a legal requirement.
Burton said: "If that's just for the CCTV, let's say for argument's sake 200 of us are freeholders and leaseholders, how much does it cost to update them? It must have cost a fortune.
"It's ridiculous. Where do they get these prices from? Yes, it would have been good practice to forewarn us. We've never at any stage since I've lived here, even as a tenant, had a consultation.
"How do they expect people to all of a sudden now pay their estimated service charges? They want people to put their hand in their pocket and find £250. Where do I find it from?
"If you go to work and you take home £200 a week wages, you can't spend £230. I keep asking them, 'Why do you estimate the service charge but not the council tax?' I know exactly where I stand with council tax.
"I'm not impressed. Imagine you take your car in for a basic service and somebody says £200. Then you go round at 5pm and you're told it's £600, because I noticed that and that and that."
Speaking directly to the council's discount on costs, Burton added: "There's no such thing as a goodwill gesture. If I was to walk down my street and a car's windscreen was smashed, I'm going to carry on walking. I'm not going to say, 'I'll pay for that as a goodwill gesture'. What you are admitting is guilt, because you have made a mistake.
"If someone in your office lost an expensive pen, you're not going to contribute towards it unless you took it. Then you'd say, let's have a whip round as a goodwill gesture. You're admitting guilt.
"They have charged us all this money. I think they have realised, 'Hang on, this is a hell of a lot of money, we can't charge them all that'. Where do they want us to get this £250 from? I'm still waiting for the total breakdown of charges for the year.
"We are still being ripped off. Again, there is no consultation, which they have said they should have done. But what they should have done and what they do, they never actually do. It's a disgrace.
"If you're going to start going round spending £10,000 on CCTV, we need to be told."
The bus driver went on to express his hope that the reduction sets a precedent for consultation in the future, pointing to other inexplicably high expenses including up to £6,000 for the installation of notice boards.
The council's leaseholder services are understood to be offering Brownlow Road residents payment plans for clearing arrears, with details on how to discuss financial concerns.
A Hackney Council spokesperson said: "We are sorry that the freeholders of Brownlow Road are unhappy with their service charges.
"Residents first publicly challenged the fees at a full Council meeting in February 2019 and the Council responded at the time.
"Our calculation of the charges has been judged fair and reasonable by an independent body responsible for deciding on landlord/leaseholder disputed matters. The council also conducted a review, involving detailed checks of internal and external property records and visited the estate to verify accuracy. Consequently, the council was satisfied that costs were appropriate.
"The increase in charges include covering the costs of updating the CCTV system for the safety of the residents. The council recognises that although not a legal requirement, it would have been good practice to forewarn freeholders of these improvements so they can prepare for the expense.
"Therefore, on this occasion, the council has reduced each freeholder's [annual] costs from £355.93 to £250 as a goodwill gesture and we will write to them shortly to inform them of this decision.
"The Mayor also recently wrote to residents offering a meeting to discuss their concerns and we hope that this will take place in due course. In the meantime he has asked officers to look again at any other concerns."