Help choose a new name for Cassland Road Gardens as four options revealed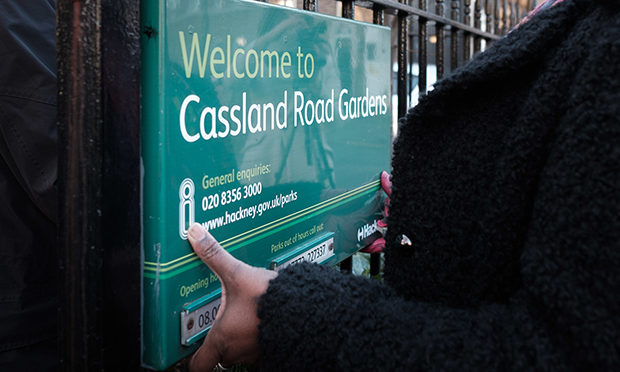 The Town Hall has revealed a shortlist of four names to replace Cassland Road Gardens, with residents invited to choose their favourite.
The gardens are being renamed as part of the council's review of local landmarks, streets, buildings and public spaces, launched last year following the global anti-racism reckoning sparked by the killing of George Floyd in America.
The aim of the Review, Rename, Reclaim project is to make sure Hackney's history of diversity is better reflected in the public realm, and Cassland Road Gardens, named after slave trader John Cass, is first on the list.
Since July last year, residents have been submitting names, and the community steering group involved in the review, alongside Hackney Mayor Philip Glanville and local councillors, have whittled those down to four options: Celestine, Crowley, Owuasu or Straker Gardens.
S.J. Celestine Edwards was a Dominican-born social justice activist and lecturer who studied theology at King's College and medicine at the Royal London Hospital and lived in Hackney from 1891.
Kathleen 'Kit' Crowley (1918-2018) was a Cassland Road resident who helped the Second World War effort as a railway porter. She spent 32 years working at Wentworth Nursery and has been described as a role model for the children of the Windrush generation on the Gascoyne Estate.
Francis 'Frank' Owuasu, who also died in 2018, came to Hackney in 1967 from Nigeria as a political refugee. He founded the African Community School with his wife Kome in response to help reverse educational underachievement among children of African and African-Caribbean heritage.
Ralph Adolphus Straker (1936 – 2013) was an influential campaigner for racial equality. He moved to London from Barbados in 1956 as a recruit for London Transport and worked to change the "sub normal" educational classification given to many Caribbean children at the time.
Residents have until 11 April to take part in the public vote.
In a joint statement, Mayor Glanville and Town Hall equalities boss Cllr Carole Williams said: "Since the launch of Review, Rename, Reclaim, we have been on an insightful journey into the often hidden history of Hackney. Suggestions from local residents, and strong direction from our community steering group, have been enlightening and educational and we are grateful to everyone who's taken part.
"This is the first location to be renamed as part of the review and it already feels like a step in the right direction as we make our public places more inclusive to the community who live here today. We look forward to seeing who Hackney decides to name their garden after."
The Mayor and Cllr Williams were joined by members of the community steering group last December to witness the Cassland Road Gardens sign being removed. The sign now lives at Hackney Museum as an educational artifact.
Cast your vote for a new name here
To find out more about Review, Rename, Reclaim visit hackney.gov.uk/naming-review
Residents are invited to suggest names for future renaming projects via the new Hackney Naming Hub at hackneynaminghub.commonplace.is or by calling 020 8356 4501 or emailing NamingHub@hackney.gov.uk