Young composers! Compete for a chance to see your music played at London Baroque Festival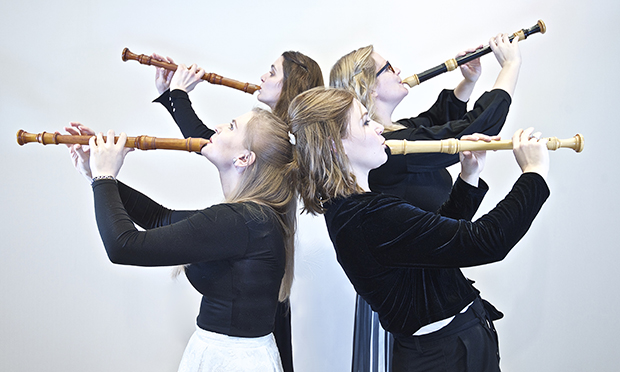 East London recorder quartet Palisander first hit the headlines in 2016 after successfully raising thousands of pounds for a six-foot tall contrabass recorder, before self-releasing their debut album a year later to wide critical acclaim.
The foursome have since performed all over the world, but, like many musicians, have had their wings clipped by the Covid pandemic.
To keep busy, the band has been working behind the scenes on various projects, one of which has seen them announced as the partner ensemble for the National Centre for Early Music's (NCEM) prestigious Young Composers Award 2021.
Young musicians from across the country are invited to compose a piece inspired by a dance from any era or culture for any of Palisander's recorders, which range from six inches in length to the aforementioned six-foot goliath.
One of the quartet, Lydia Gosnell, is a proud Hackney resident. Like a wholesome version of the Pied Piper of Hamelin, Gosnell wants Palisander's magical pipe music to lead young people from her borough all the way to York for an awards ceremony, where two winners will be announced.
The successful composers will see their pieces performed by the quartet at the London Baroque Festival and hear them broadcast on BBC Radio 3.
Gosnell told the Citizen: "I have always lived in Hackney and as a child had lessons at the Hackney Saturday Music School. I'm now proud that my teaching includes working for Hackney Music Service.
"I would really encourage young musicians in the borough to take advantage of this exciting opportunity. The recorder is such a fascinating instrument, full of surprises! You can play beautiful soaring melodies on the higher recorders, funky bass lines on the larger ones and it has a whole load of sound effects, or extended techniques, too."
For would-be composers looking for helpful tips, Gosnell pointed to the NCEM website and recommended watching videos of Palisander on YouTube and Facebook.
She added: "We're looking forward to working with the musicians whose compositions are shortlisted and, of course, I would be thrilled if young musicians from Hackney were represented. It'll be a really unique opportunity for the winners to hear their pieces performed by Palisander in St John's Smith Square and broadcast on BBC Radio 3."
The competition is split into two age categories – under-18 and 19-25. Entrants whose work is shortlisted will be invited to the awards ceremony at NCEM in York on 13 May, when the pieces will be presented by Palisander in a day-long workshop led by composer Christopher Fox.
In the evening, the quartet will perform each work for a panel of judges, who will pick a winner in each category. Those winners will hear their compositions performed during Palisander's concert at St John's Smith Square and on BBC Radio 3 as part of London Baroque Festival on 20 May.
The deadline for registration is tomorrow, 19 February, and the deadline for submissions is 19 March, so sign up and get writing!
As for what's coming up for Palisander, Gosnell said: "The Covid-19 crisis has been very difficult for us and we're now sadly seeing concerts which were postponed from 2020 delayed for a second time. But through the EEEmerging scheme, we've benefitted from lots of online opportunities, where we've shared ideas and experiences with other ensembles in Europe and have used the time to devise new projects.
"One of the most exciting aspects of playing in Palisander is the opportunity to travel and perform in new places. We're crossing our fingers that travel will be possible and safe soon – we have concerts around the UK, Germany, France, Latvia, Italy and the Czech Republic that we're so looking forward to."
For more information on the awards, including how to apply, head to youngcomposeraward.co.uk/2021
Find out more about Palisander at palisanderrecorders.com