'Catastrophic underfunding' made protecting rough sleepers from Covid harder, says Town Hall manager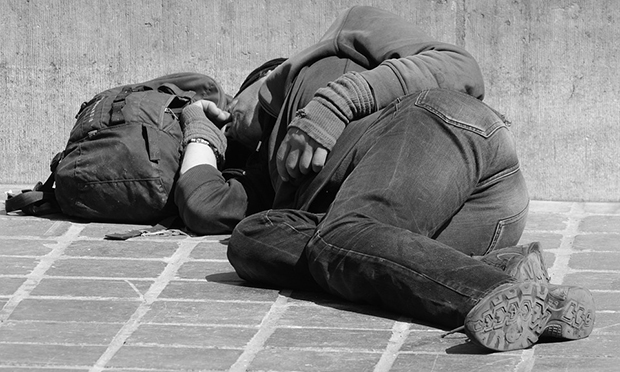 Town Hall officers have revealed that "a number of years of catastrophic underfunding" from central government made the challenging task of housing rough sleepers during the pandemic all the harder.
The council initially housed 219 people within 11 different hotels, providing accommodation as well as security, hot food, clothing, and health, drug and alcohol support, with the borough moving to bring rough sleepers indoors ahead of the government's call to do so.
Hackney has now moved to an 'In for Good' footing, with 80 people now housed at the end of last week. People with less complex needs are being moved into the private rented sector, and those with medium to high requirements are transferring into supported accommodation.
Sabrina Pathan, the council's rough sleeping manager, said: "We had been watching the situation quite carefully, and prior to government ever shouting for 'Everyone In,' we decided to start booking up hotel rooms based on a hunch.
"I'm so glad we did, as our neighbouring boroughs then started to look to book them up, which sounds really awful and a bit sharp-elbowed, but that's how we had to do it unfortunately.
"At some point we all remembered you can't just put people into hotels without support attached to it. It's unsafe and is not a nice environment for people, so we found one really large setting, the Pembury and Central Park complex in Finsbury Park.
"We put the support in partly because it is good practice and for safety, but also because we want to look after people. These are individuals who often we will make offers to and they will turn them down for various reasons that will make perfect sense to them and to me, to be fair.
"The getting people in took a bit of time, but within about a week we managed to find all of our really prolific famous-face rough sleepers and a number of other individuals who were vulnerably housed."
According to Pathan, "catastrophic underfunding" of her sector made staffing the push to bring people indoors a challenge, with her team first relying on redeployed council employees, a position which was "unsustainable" as they had their own roles to return to, with the council moving to commission the Single Homeless Project for further support.
Pathan added: "It's not that no-one wants to do it, but to build those skills take time. You can't just fashion a social worker in 20 minutes. It takes five to ten years of experience."
In a presentation this week, the rough sleeping manager detailed the challenges of the initial steps of the Everyone In effort, with two-hour discharge turnaround times from hospitals seeing officers personally wheel residents from Homerton Hospital down the road into warm and safe accommodation.
Pathan spoke of the transformation effected by the move, with one rough sleeper with severe psoriasis beginning to undertake self-care. Another man, who officers would have struggled to connect with prior to the crisis, began to speak openly about his aspirations for the future.
She added: "It is really easy to whittle this down to numbers, but there are human stories here of people who have had really difficult lives who came in and we were able to do some really meaningful work with. It was a mammoth effort, but I don't regret a minute of it.
"When I think back to what we have done for people to give them that sense of self-respect back that they can do and be things that are more than they could see within themselves, I think as a borough we should all feel proud that this is what we did.
"I'm not going to paint too rosy a picture as the underlying issues that have created this have not really gone anywhere, and while I want to say we have got it under control, what I have to say is we have got it as under control as we can with what we've got.
"What we can't change is a political and policy landscape that can feel unkind to people at times."
According to a council report, at the beginning of the crisis there was no clear supply chain for PPE or equipment, with in particular no access to water for people sleeping on the streets with the parks shuts, with solutions having to be worked out hour by hour.
The Town Hall is also providing accommodation for 33 non-EU nationals and seven EU nationals who have no recourse to public funds (NRPF), with officers warning that while the Town Hall has adopted a rights-based approach, not every case will have the potential for resolution and will not be able to continue to accommodate them indefinitely.
Referring to NRPF, part of the government's hostile environment immigration policy, Sab said: "We are limited in what the law will allow us to do. I am obsessed with a rights-based approach, which facilitates people's rights to a statehood, to a nationality, to a regularised status.
"When we call it NRPF, it almost makes it sound other. What we are actually looking at is human destitution, it is really distressing. As a council we are so stymied and limited in what we can do."
Officers have said that Hackney "really struggles" for provision of accommodation, receiving funding for one of the three schemes suggested to the government. It is projected that the cost to the borough related to emergency provision is over £3.2m.
A council report on the issue cautions that the main drivers of homelessness pre-date the coronavirus crisis and will still exist once it is over, with a surge in approaches to the Town Hall's services expected when the evictions freeze is lifted and the easements in the local housing allowance restrictions are withdrawn, as well as the impact from the economic impact of Covid and Brexit.
Town Hall housing needs chief Cllr Rebecca Rennison said: "People are somehow congratulating themselves on somehow ending rough sleeping. The point I always make in Hackney is that at the height of a global pandemic, we could still not convince six people to come in.
"There is this almost Victorian notion that you bring people in, give them a bed, and problem solved. We've put in a funding bid for proper wraparound support, and basically the government just seems to be interested in the number of beds.
"If we just put people in unsupported accommodation, they'll be back on the streets in six months time. If I hear one more thing about how 'Everyone In' has ended rough sleeping, I really feel sorry for the next person that asks me."