'Jawdropping': Concerns raised over council proposal to remove thousands from housing list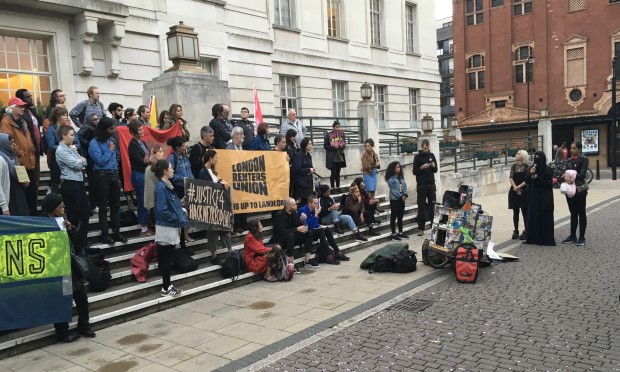 Concerns are being raised by campaigners and housing professionals over proposed changes to the borough's oversubscribed waiting list for a council home, which could see up to 7,000 households removed.
The plans were announced this week by housing needs boss and deputy mayor Rebecca Rennison, who has said that the changes are being made in order to divert council resources currently spent on managing the over 13,000 on the list to more targeted housing support.
Rennison also spoke of a desire to be more upfront with residents in lower priority bands who are unlikely to ever secure a place under the current system.
However, the proposals were swiftly questioned by both the London Renters Union (LRU) and Hackney Community Law Centre (HCLC), with Labour councillors sitting on the borough's Living in Hackney scrutiny commission also predicting that they will cause "a lot of heartache".
An LRU spokesperson said: "The Renters Union has as one of its fundamental demands that anyone who should have access to social housing should be able to access it, which of course is a million miles away from where we are now. But on that basis, we would definitely oppose any measures taken by the council that involve throwing thousands of people off the housing list.
"One thing that seems quite jawdropping is this attempt to construct this as if it is simply in the interests of tenants. You have a situation where people are having choices taken away from them and this is being defined as if it were in their interests.
"The council should let people make their own decisions on a property that is offered to them. Just declaring that they don't have as many choices anymore, and therefore threatening them with potential intentional homelessness, is not a way of preventing people from missing out.
"The way that we want the council to prevent people from missing out is by doing everything in its power to increase the amount of social housing that is available.
"Everyone knows the national climate is inhospitable, but this is a political issue, and we want the council to swim against the current if necessary, rather than just declaring that this is the way the wind is blowing and there is nothing they can do about it."
The new scheme to be consulted upon would see applicants split into three new bands:
Band A – Households with an emergency need for housing, who instead of being able to bid as currently, would receive one direct offer of housing.
Band B – Households with a significant need for housing, who would either bid for properties through the lettings system or receive a single direct offer of accommodation.
Band C – Households with a specific need for a restricted type of accommodation, such as sheltered or older persons accommodation.
The single direct offer route in Band A would be for people who lose their homes due to fire or flood, those being discharged from hospital, or in witness protection schemes, with the council saying this reflects the low numbers of properties that become available.
Under the current allocations scheme, households can refuse up to three offers of a suitable home. The Town Hall's proposals would reduce this number from three times to two. A single offer is to be made to homeless households if a direct offer is made, provoking warnings that this increases the chances of people being declared intentionally homeless.
Government subsidies to the council to put towards each new council home it builds are currently restricted to a third of the cost, leaving the Town Hall to cover the remaining cost itself. Over 1,000 homes have been completed since the programme began in 2011, with over half for social rent, living rent or shared ownership.
In a recent interview, Rennison said that delivery of projects under the council's housing supply programme has masked the true picture of the falling number of lets the Town Hall is able to offer, with just over 600 properties becoming available this year – a sharp drop from previous years in which around 1,200 lets were achieved.
The LRU added: "As a union whose membership is mostly in the private sector, [our view] is that people want to get on the council housing waiting list because the private sector is insecure and unaffordable.
"People make this choice because they are trying to get away from the private sector, so directing them back towards it, because the council has made a decision on tenants' behalf that they will wait for too long, represents a complete misunderstanding of why people go on the list in the first place."
When Cllr Sharon Patrick, who chairs the Living in Hackney scrutiny commission, noted the inhospitable conditions offered by the private rented sector to residents in Hackney, housing needs director Jennifer Wynter responded that they are finding landlords who have undergone a "complete U-turn" in preferring tenants who receive housing benefit as a more sustainable option than those in work.
Cllr Penny Wrout, who pointed out to Wynter that such a U-turn could return to the original status quo just as quickly, said: "This is not grasping a nettle, it is grasping a bouquet of nettles really. It is really sad to see people waiting for social housing and then not getting it.
"They can spend their whole lives waiting for something they're not going to have, and that is not a good place for anybody to be in. So it is good and right that we should be having an honest conversation with people about why social housing is not there and what their chances of getting it are.
"I think you are going to have quite a lot of hostility with the consultation, because people know they are going to get knocked off the list. I can see a lot of heartache coming out of this, for all of us, as we are all sympathetic to people's situations."
The Town Hall is proposing to focus its efforts on the households in the greatest need, namely people whose accommodation leaves them housebound or has a pronounced impact on their wellbeing due to medical reasons; being in significant social need where a person's life is threatened by remaining where they are; or being overcrowded to the point of lacking two or more rooms.
Housing solicitor Nathaniel Mathews said that the naming of this last cohort is "extremely worrying", with people having to be particularly severely overcrowded to qualify under the new system.
The Town Hall has said that these changes are part of the overall focus to prioritise only those in the very highest need under the new system, arguing that it will not in practice change how homes are allocated as the council already focuses on the most severely overcrowded.
The plans are aimed at retasking officers who are currently focused on enquiries, new applicants, complaints and requests to more practical support, including personalised housing advice, an enhanced mutual exchange and tenant support scheme, officers dedicated to help residents downsize, and support to access the private rented sector.
Mathews added: "On the one hand, what the council are saying is that there are simply unrealistic expectations among those 7,000 people, that they will never get anything, and there is some sense in that. 
"But someone who is missing a bedroom, who is overcrowded, they are entitled to an expectation that perhaps they might be rehoused. It is in the legislation, and by removing those people from the list, you are in some senses removing it as a visible problem that is being acknowledged. 
"I'm thinking of the desperation of the people who suddenly have a form saying you have to reapply. It used to be the case that people would get a letter every year saying, 'We're taking you off the list unless you fill this form out again'. That created all sorts of disputes about whether or not they had ever had the letter. 
"This will be 9,000 to 10,000 people all at once, and they will all be desperate if they know what's going on, trying to get anyone to advise them about this, and if they get taken off they'll be doing the same thing. 
"As a pragmatic step, what they are effectively doing is redefining whether someone needs something on medical grounds or on whether the accommodation is unsatisfactory or for their welfare. A lot of people are in effect losing legal recognition.
"The furore on medical assessments alone is going to be deafening, because it is such a drawn-out process, because the local authority is flooded. They are going to have to have that entire round of disputes all over again. It's going to be stressful for everybody, for the people on the list plus anybody in the advice sector."
The administrative shift involved in forming the new register would see everyone except those in temporary accommodation having to reapply, with the Town Hall saying that this is standard practice when amending such policies, with help and support to be offered, in line with the proposed changes' aims, to work with residents to address housing need.
The council has further argued that the current system already causes stress and frustration through giving applicants false expectations, predicting that doing nothing would see this status quo get worse.
Deputy Mayor Rennison said: "Our aspiration to provide a genuinely affordable council home for every person who needs it has not changed – we are already delivering one of the most ambitious programmes of new council housing in the country through our pioneering approach to housebuilding, and this will only step up in the years ahead.
"But our housing register has always had qualifying criteria to balance demand with the number of homes available. With government restrictions and the lack of proper funding making it harder than ever to meet the growing need in Hackney, we have to be honest with our residents about how we can provide the best support for them.
"Making the case for social housing is not the same as arguing to keep people on a list they stand no chance of benefiting from. I would encourage those concerned about these changes to join me in fighting the underlying issues that mean they are needed at all – the government's lack of investment in social housing over more than a decade and the restrictions that limit our capacity to build more council homes."