Homerton Hospital begins preparations for second wave of coronavirus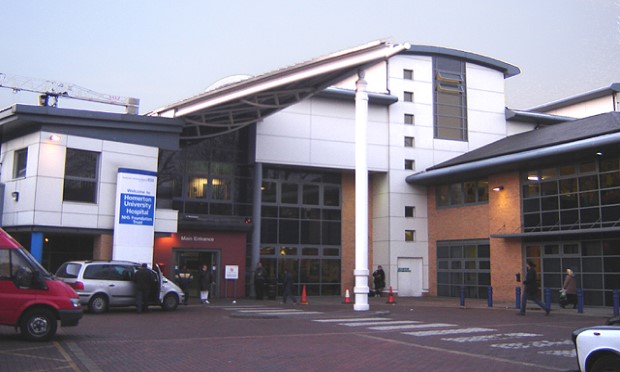 The Homerton Hospital has begun reorganising in order to prepare for a second wave of coronavirus cases.
Up until recently, the steady rise in infections had not been seen in accompanying hospital admissions, with the Homerton still reporting no Covid cases on its wards up until last week.
However, four patients are now in hospital with Covid locally – seven with Covid symptoms waiting for their tests to come back. One patient is in intensive care.
Quizzed by councillors on how the hospital will manage the anticipated rise in cases, particularly in its approach to discharges to care homes in the borough, hospital chief executive Tracey Fletcher said: "We aren't seeing the same level of increase that Barking, Havering and Redbridge are reporting. We have seen a very small increase and it will be interesting to see how those seven tests come back.
"One of the key factors in how we manage discharges to care homes is how we work with care home staff to make sure that there is as much minimisation of any sort of transmission as far as possible.
"We test patients throughout their admission and before they go. It is almost more risky for patients to wait in hospital than it was to transfer to care homes. One of the things we have got to be absolutely clear about is making sure the infection control procedures in care homes is as good as possible, because they are possibly safer there than they would be staying in hospital."
Fletcher added that the Homerton and Hackney Council will be sharing data on a more regular basis, with Town Hall health lead Cllr Chris Kennedy revealing that testing rates in London are continuing to fall.
Cllr Kennedy said: "Just as an indication of how drastically the testing has fallen in London, in mid-August London we were testing 90,000 residents a week. By mid-September, we were down to 65,000. That is a huge reallocation of testing away from London, just at the time it looked like we needed it most.
"So the testing drops off, the £500 for people who have to self-isolate comes on, but one of the conditions is that you have to have a positive test. You couldn't make it up, really, could you?"
In a briefing to councillors, the Town Hall's deputy director of public health Chris Lovitt was concerned that the number of people being tested continues to drop locally, with the proportion of people testing positive continuing to rise.
According to the most recently available figures, 3,758 tests for Covid have been carried out in City of London and Hackney in the fortnight leading up to 21 September, down from 5,046 the fortnight before.
The percentage of positive tests has also jumped to 4.1 per cent from 2.2 per cent in the same period.
Councillors also raised "serious worries" over data supplied to the council by Public Health England, showing that while positivity rates are "significantly higher" among Black and Asian people locally in comparison to white people, ethnicity data remains unavailable in about half of recorded cases.
Dalston councillor Peter Snell said: "That is seriously worrying in a borough like Hackney when we know that Black and minority ethnic communities have been disproportionately affected by Covid.
"Why is that so low and what are we doing to try and improve it?"
According to the most recent Public Health England data for City & Hackney, 10.8 per cent of tests were positive among Black people and 5.7 per cent for Asian people, compared to 3.6 per cent for white people.
The deputy public health boss said Snell was right to highlight the importance of "poor record-keeping", meaning that any conclusions drawn by his team had to be "cautious" due to the incompleteness of the data, committing to send the message back to the government or private company Serco to stress the importance of having "good data entry and capture".
Lovitt, presenting figures showing that positive cases are increasingly being seen in the 20-50 age bracket, said: "The success rates for Test and Trace in Hackney are not where they should be, and we are not alone. It's very often around deprivation, English not as a first language, and generally suspicion about some of the public/private partnerships, and the involvement of organisations that do not necessarily have the track record that you would want to put the NHS brand onto.
"I'm sure everybody heard that in the summertime, the increase in cases was predominantly among the younger population. We are now seeing that change, and a shift with more of the older population getting Covid who have been able to get tested.
"This is obviously going to have ongoing issues, as people who are older tend to have more complications with Covid.
"The issue around compliance of local businesses is about communicating what needs to happen. If we are getting intelligence, and we are, about any businesses that are not complying, there will be an escalating approach from informing, to visit, to enforce and ultimately to fine or potentially close a premises down.
"There are a number of visits we have planned with environmental health colleagues in response to issues that have been raised."
Public health officials in City of London and Hackney recently launched a local system to fill gaps in the national test and trace programme.
Lovitt's team will be supplying details of people they have been unable to contact to Town Hall staff, who will attempt to use council records to track them down.
According to the public health professional, in a couple of weeks all contacts who have not been reached will be audited to establish whether a data-sharing partnership with the NHS would have reached more people to prevent the spread of the virus more effectively.
Speaking in July, Dr Sandra Husbands, who leads on public health for the Town Hall, revealed that the centrally-established Test and Trace programme gave up trying to contact people to warn them they may have come in contact with the virus after 48 hours.
Lovitt added: "Our contact centre staff are very used to contacting our residents, and so far there has been really good uptake and feedback from residents when we have contacted them to get their details.
"It is a really important and successful development that we have developed this in Hackney, and it should, I very much hope, start to increase the number of people that were identified as Covid-positive that we can make contact with."