Homerton Hospital appeal to residents: 'Don't come here for a Covid test'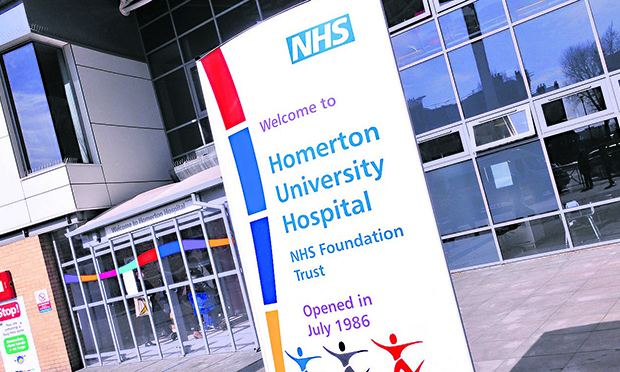 The Homerton Hospital has put out a direct appeal to local people not to come to its A&E department to request a Covid test, as well as to schools and businesses to stop referring their parents and employees.
The appeal comes as the Homerton works with other NHS Trusts to get its services back on track, with the hospital warning that if people with Covid symptoms start coming in for tests, the risk of cross-infection within the building could lead to parts of it having to close down once again.
Hackney Council has hit out at the government in recent weeks for the "shambolic" nature of the test and trace programme, which has seen locals directed across the country and permanent sites which had been expected to accept walk-up appointments unable to deliver them due to a lack of capacity.
Dr Emma Rowland, lead clinician for the Homerton's Emergency Department (ED) said: "Whilst we appreciate that local people are having difficulties in obtaining a test, we would urge them not to come to the hospital A&E department seeking a test.
"Our A&E and children's A&E have remained open at all times during the pandemic, but our team is currently extremely busy in the department dealing with patients requiring urgent medical treatment and for patients that do not require admission to hospital, COVID-19 tests will not be performed.
"If you arrive in the ED and it is felt by staff that your needs may be better met elsewhere (such as pharmacy, dressing clinics or your GP), you may be redirected away from the ED to this alternative service.
"Our aim is to ensure that the right patient is seen in the right service in a timely fashion, whilst also maintaining infection control safety for patients, relatives and staff within the ED. If you do need to attend the ED, it is likely that your relatives will be asked to wait outside of the department (excluding exceptional circumstances) in order to reduce the potential infection risk caused by crowding."
Rowland added that if locals feel unwell or require medical advice, that they should 111, their GP, or 999 in an emergency, and should call 119 if they require a Covid test.
The number of tests being carried out in the borough is continuing to decrease, dropping from 5,543 tests in the fortnight leading up to 30 August, to their most recently recorded two-weekly level of 4,720. 134 positive cases were recorded in the same period, with the level of positive cases also seeing a steady rise, currently sitting at 3 per cent, up from 2.3 per cent.
Such rises have not been reflected in hospital admissions to the Homerton, which has not seen somebody admitted with Covid for weeks.
The health system in the borough continues to tackle a sharp rise in cases, with the incidence rate in Hackney doubling in a week at the beginning of the month, from 15 cases per 100,000 between 21 and 27 August, to 30 cases per 100,000 the week afterward.
According to the London Covid-19 Containment and Escalation Framework, a 7-day incidence of between 25 and 50 cases per 100,000 should see a reintroduction of epidemic controls, the closure of settings driving the epidemic, mandatory masks, and the restriction of social contacts and religious gatherings.
Local lockdowns and targeted interventions are to be considered at over 50 weekly cases per 100,000.
The distribution of cases locally has also changed in a similar timeframe; while concern over the outbreak had begun with a number of household clusters in the north of the borough, new areas of "high incidence" in Shacklewell, Hackney Wick, Hoxton East and Shoreditch were seen leading up to the 5 September, according to a council report, with the majority now individual cases rather than clustered in households.
Chief Nurse Catherine Pelley said: "We are working very closely with our public health colleagues in the community to ensure the public are aware of the situation relating to testing and treatment.
"We appeal to local schools in particular not to encourage parents to bring their children to the hospital for testing.
"People attending our A&E creates a potential risk of cross infection which may have a detrimental impact on our current efforts to treat many of the people who have been waiting for operations and procedures which were cancelled due to the Covid emergency."
You can find local coronavirus data here.