Hackney Mayor condemns culture secretary for Geffrye statue lobbying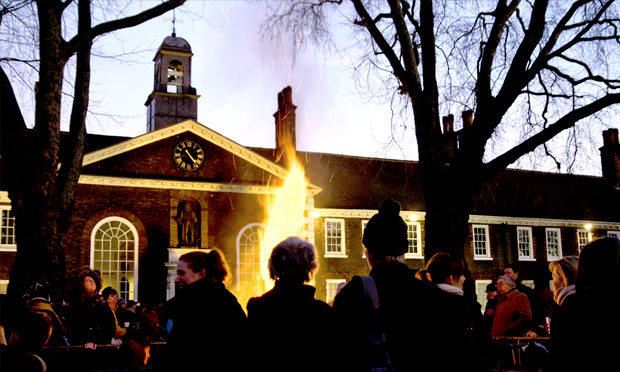 Hackney Mayor Philip Glanville and equalities chief Cllr Carole Williams have jointly hit out at Secretary of State for Culture, Media & Sport Oliver Dowden for the pressure brought to bear on the Museum of the Home (MotH) to retain the statue of slave trader Sir Robert Geffrye.
In a letter to Dowden this week, Glanville and Williams accuse the Conservative minister of "overreaching his position", following the release of correspondence showing Dowden telling the museum the removal of the statue was "not the right approach."
Geffrye was part-owner of the slave ship China Merchant, invested in the forced labour and trade of enslaved African people, and, according to the Museum, very likely derived the majority of his profits from his involvement in the East India Company and Royal African Company.
In their letter, Glanville and Williams said: "Far from being a similar situation to the scenes we saw in Bristol in June this year, the Museum of the Home sought to engage its community and the Council in a democratic fashion on the statue of a former slave trader, and our communities engaged in good faith.
"You used your position to wade into a matter of local democracy, and suggested that the Museum should be 'mindful' of its position 'as a government-funded organisation.'
"This is a shameful threat on a local organisation that puts unfair pressure on them and their Board before the results of a community conversation were known, and represents an overreach of your position and your department.
"It has also undermined community confidence in the process and led to anger from those who entered this process in good faith. Information about this pressure also only came to light following FOIs from local residents who were concerned about your involvement."
The two local politicians also pointed to comments from Home Secretary Priti Patel in June, saying that "democratic processes" should be followed when deciding whether statues should be taken down, which Glanville and Williams point out is "exactly what Hackney Council, working with the Museum, has been trying to facilitate."
Both asked that Dowden apologise to the Museum, everyone involved in the process and Hackney residents, and called for a commitment not to interfere in future consultations "that ultimately impact local communities and independent institutions, not national departments in Whitehall."
The decision taken by MotH's board of trustees to retain the statue created a swift backlash locally, with multiple protests held outside the museum's gates by Stand Up To Racism campaigners.
MotH had no new comment to make on Glanville and Williams' condemnation of Dowden's intervention, but pointed again to the board's decision to "reflect further" on whether to remove the statue or not as a result of the response to its retention.
The correspondence, brought to light by FOI requests by local youth worker Luke Billingham, also showed that the Department for Digital, Culture, Media & Sport (DCMS) blocked the museum from releasing the fact that they had considered the views of the culture secretary, "in order to avoid suggesting that the Secretary of State or Department was involved in the decision directly", while stressing that the final choice lay in MotH's hands.
The culture secretary's letter to board of trustees chair Dr Samir Shah reads: "You play a crucial role in conserving our heritage assets, caring for our national collections, providing access to knowledge and leading efforts to offer cultural education to all. I am aware that the issues of contested heritage provoke strongly held views, and that right now these issues will be in the forefront of your minds. I therefore wanted to share with you the government's position on these issues.
"The government believes that it is always legitimate to examine and debate Britain's history, but that removing statues, artwork and other historical objects is not the right approach.
"Confronting our past may be difficult at times but, as the Prime Minister has stated, we cannot pretend to have a different history. Historical objects were created by previous generations, who often had different perspectives and different understandings of right and wrong. But though we may now disagree with those who created them or who they represent, they play an important role in teaching us about our past, with all its faults.
"I understand that as national organisations you have an important role to play in facilitating and contributing to these timely debates. As a government-funded organisation, I would expect you to be mindful of the above approach, which has been agreed with Historic England. If you plan to make any statements or actions in relation to this issue, please contact DCMS in advance of doing so."
The correspondence also shows that Dowden wrote to other government-funded cultural arms-length bodies.
The DCMS when approached for comment pointed to Historic England guidance stating: "Removing difficult and contentious parts of the historic environment would risk harming our understanding of our collective past."
It is understood that decisions to remove statues from listed buildings such MotH would require local authority approval, and could also be called in for review by the Ministry of Housing, Communities and Local Government.
A government spokesperson said: "The government supports the Museum of the Home's decision. Whilst it is always legitimate to examine Britain's history, removing statues and other historical objects is not the right approach. Instead, we should aim to use heritage to educate people about all aspects of Britain's complex past, both good and bad.
"Publicly funded museums must not remove statues that form part of a listed building or other heritage objects in their care for political or campaigning purposes. They must be seen to be acting impartially, in line with their publicly funded status."