Historic Hoxton pub in battle for survival in face of economic crisis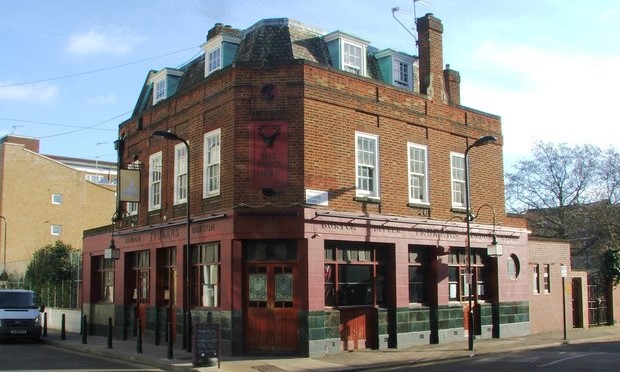 A historic Grade II-listed pub in Hoxton has spoken out on its battle to keep its doors open as the impact of the economic crisis continues to bite.
The Stag's Head has existed in its present building since 1936, and was a popular haunt at the time for workers on the Regent's Canal and the nearby Player's cigarette factory, with a pub of the same name standing on the site going back to the 1850s.
However, current business owner Admir Hyka says that its future, along with that of many other hospitality businesses, is now looking more uncertain, with a widespread cancellation in bookings as a result of this week's 'rule of 6' Covid restrictions, suffering a 60 per cent drop in sales since reopening.
Addressing a council licensing committee yesterday, Hyka said: "The pandemic has devastated the economy, and has hit hard in particular the hospitality business. Like most Central London hospitality businesses, our business has seen a significant drop over the summer in comparison to last year.
"Covid-19 has forced us to adapt to new ways of running our business. We cannot have live music, we cannot take bookings for the function room as we used to take them, we cannot have events for the music school across the street.
"The British Pub Association announced yesterday that the hospitality industry will see a spike in redundancies once the furlough scheme is over. We are trying to do everything we can do to save our business and stop the Stag's Head closing down."
Hyka was presenting his case to Hackney councillors to extend the opening hours of the Stag's Head's outdoor space by one more hour to midnight, with customers currently leaving en masse when the garden closes at 11pm.
Appearing with premises supervisor Zsuszanna Hatvani, both stressed the all-important safety precautions in place to protect both customers and staff from transmitting the virus, including keeping a register of visitors, protective visors for staff, and widely spaced tables.
Hatvani added: "I believe we are an important part of the local community. The pub has been here for over 150 years. We have won a lot of awards.
"We are asking for this because we need it for our survival, unfortunately, With the new restrictions and the regulations, we are very much struggling to keep the pub open and alive, and our employees employed.
"We really hope that we can get this granted, as it would be really important for us."
While a decision has not yet been taken by the council on whether opening hours could be extended till midnight, police officers present at the meeting voiced their objection to the plans, pointing to a visit in mid-July in which a DJ, who usually would have been performing indoors, had been found to be playing loud music in the outdoor space.
Hyka had apologised for the incident, saying that the DJ had been banned from his venue as a result, with councillors hearing that the pub has had a sound operating record since management had taken over in 2013.
According to management, when they took over in 2013 a "meticulous restoration" took place to bring back its original features, with the venue now boasting two working fireplaces and vinyl flooring "unseen since the 1930s," and in pre-Covid times had a full programme of live music, hog roasts, and film screenings.
PC Kerrie Ryan added: "I think midnight is very late, as there are residential premises all around it, some that look over the garden.
"The applicants have also asked for an extension till when restrictions are lifted, so we would need some kind of date or agreement as to when that would be lifted.
"As it stands, police would not support opening in the garden until midnight."
Planning chief Cllr Guy Nicholson spoke in July of the challenges faced by the borough, its businesses and residents through the easing of lockdown, predicting a clash in balancing the two "legitimate interests" of businesses and neighbourhoods as venues sought to survive by moving their trade outdoors.
Council officers suggested an extension of the Stag's Head's garden's opening hours in line with the 'emergency period' defined under the Coronavirus Act, with a fixed period of a year also discussed, though police would not be drawn on whether they would find this acceptable.
Councillors also suggested whether off-licensing and takeaway arrangements had been tried by the Stag's Head to help ease its predicament, but both have been tried by the pub already and, according to Hyka, "did not work out."
Licensing officer David Tuitt said: "[Midnight] is a generous ask. We are of course very sympathetic with the applicant's situation, and all licensed premises operators in Hackney and across the country.
"But we do have the licensing objectives to promote. That is the fundamental basis for our decision."
Committee chair Cllr Peter Snell said: "It would be a big change, and we recognise the Stag's Head's reputation, but given that it already has permission to use the garden beyond our current policy, it's a big ask you're putting before us.
"[The licensing committee] aren't here as business support, though we try to do everything we can to be sympathetic to business. Do make sure you're on the council's business support network and make sure you get all the support you can from that.
"Because we do like our hospitality business, it's a hugely important local business, and we don't want to see anyone being driven out of business. It's very sad, as a lot of places are operating reduced hours.
"But we are where we are, and ultimately we have to make our decisions guided by the licensing policy."
A decision is expected in the coming days.
You can find out more about the Stag's Head's history here.
You can find out more about Hackney Council's business network here.