'Arrears are not our fault': Hackney renters picket courthouse to demand cancellation of Covid-related debt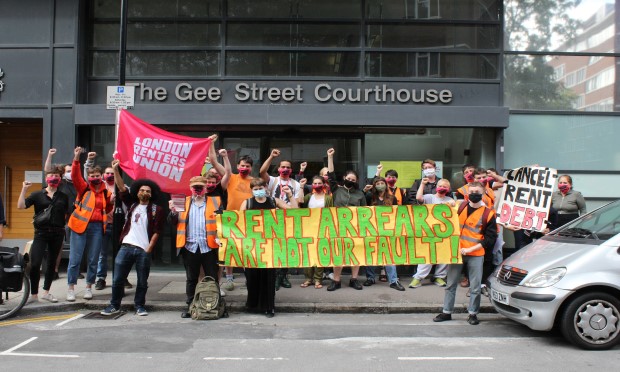 The entrance of Clerkenwell and Shoreditch County Court saw a demonstration for renters' rights this week, in the wake of a government U-turn extending the eviction ban for another four weeks.
The peaceful protesters, including London Renters Union members, Green Party activists, and Ridley Road and Somerford Grove campaigners, heard speeches from those facing eviction and displayed banners demanding a write-off of Covid-related rent debt.
The day of action was planned as part of the union's Can't Pay, Won't Pay campaign, which, since the beginning of the crisis, has called for rent suspensions, the cancellation of Covid-related rent debt, the introduction of rent controls and a permanent ban on Section 21 'no fault' evictions.
Freelance theatre writer, performer and director Patrizia Paolini said: "On 17 March I lost all the work that I'd lined up for the year ahead. I had two UK tours, several gigs in London and England, commissioned projects, theatre festivals, and regular showing of my work at Hoxton Hall: all gone [due to] Covid-19.
"On 27 May I received an eviction notice! It says I am due to leave on the 31 August. I have been living in my current address since October 2009, almost 11 years. When I opened that envelope and read through Section 21 of the Housing Act, I cried. Fear, anxiety, worry and, somehow, a sense of getting robbed is what have been going on in my head and heart since.
"After 23 years of living in London, fifteen of them in Hackney, I am quite determined to remain in Hackney. I've joined the London Renters Union as I feel this the time to be brave and aim for changes. I welcome every awakening and rebalancing in society because who decides what's acceptable and not?"
Paolini is now being helped Hackney Council to find a new home, though has been informed that the high rent levels in the borough will limit her offers to relocations to the north of England, with continuing 'No DSS' discrimination in the private rented sector an additional obstacle as she relies on Universal Credit.
Paolini added: "That the housing market is a very profitable business is not new to anyone.
"However, the right to have a place that can be called home is a universal need and a value that defines a civilised society."
The union welcomed the government's U-turn, while warning that without a permanent ban on eviction and the forgiveness of rent debt, that the government was "kicking the can down the road", with the series of short-term extensions causing "enormous misery and stress" for renters.
The LRU's Danny Hayward said: "The changes are good, as far as they go. It's certainly a good thing that there has been a further extension, but it is by no means long enough, and it is a good thing that this six-month notice period has been introduced too, though there is still no definite clarification on what that means for people issued with Section 21s in March or April, for example.
"Shelter's research suggests that the number of tenants in rent arrears has doubled this year relative to the same time last year. That's a massive increase in the hundreds of thousands, and it is all going to be people who have lost income because of Covid. There is no other reason for why that would be the case.
"It's clearly not tenants' fault, and given their economic precariousness they shouldn't be responsible for it."
Hayward called on Labour to support the cancellation of Covid-related rent debt, adding: "I can't see why there would be any reason not to get behind that demand, on the grounds of social justice."
When quizzed on the issue during his visit in support of the Somerford Grove Renters, Deputy Mayor for Housing Tom Copley pointed to Sadiq Khan's proposed 'triple lock' of the abolition of no-fault eviction, giving judges the discretion not to evict tenants as a result of Covid-related arrears, and to up benefits in order that they cover both the rent and arrears of anyone affected by Covid-19.
Cllr Sem Moema, Hackney's mayoral adviser for private renting, said: "The coronavirus crisis has shone a light on issues that Hackney's 34,000 private renters have long had no choice but to accept – poor conditions, mistreatment from landlords, unstable tenancies and extortionate rents, all caused by a lack of action from government.
"As we work to rebuild a fairer Hackney, we urgently need long-term, ongoing support for private renters affected financially by coronavirus, a final end to no fault evictions, and a benefit system that matches the real cost of housing.
"While we make the case for this, we're here to help renters in Hackney – whether it's signposting to financial support, giving advice around evictions, or dealing with rogue landlords who think they can get away with allowing unsuitable conditions or mistreating their tenants."
You can find out more about the London Renters Union here.
If you're renting and in need of support, find out more on how to access help from the council here.