'Only one Ridley Road': Campaigners fighting to safeguard market release five-point manifesto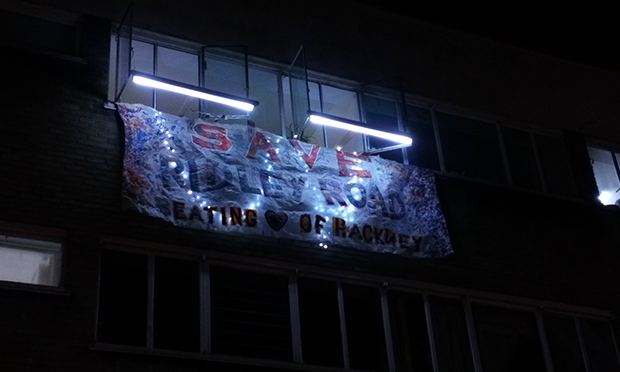 The Save Ridley Road campaign has released a manifesto aimed at safeguarding the future of the road's market and shopping village.
The manifesto was launched at an outdoor not-for-profit screening of Alfredo Broccolo's film Ridley Road 2020: A Street Market Under Threat, which was projected onto the shopping village for an audiences of more than a hundred last week, according to organisers.
The historic Dalston hub has been at the centre of impassioned debate for years, both around a council consultation on updated terms and conditions for market traders and a planning application from an offshore private developer to convert the indoor shopping village into flats, retail and employment space.
Campaigners say the development would threaten the futures of the independent businesses, artists' studios and market traders' storage in the building.
Their five-point plan includes calls to view Ridley Road as a whole, including the street market, the shops on both sides of the street, the shopping village and shops on St Mark's Rise, adding: "A threat to one is a threat to all."
It also urges protection for artists' studio space in the shopping village, as well as the extension of the village's recently-granted status as an asset of community value (ACV) to encompass all of Ridley Road.
Local solicitor Bill Parry-Davies, who collaborated with artist and photographer Tamara Stoll on the film as well as composing the music with his son Adam, said: "We had a good turn-out with over 100 people. We projected advice about keeping safe, keeping distance and wearing masks. I think it sets a good precedent to have screenings like that in open space.
"It's a complex story, so it's difficult to get a story like that across in a simple way, but I think we've achieved it in this film. It is not on general release yet because we're hoping to get it on television to reach a wider audience. The story has a universal message.
"This sort of thing is happening all over the world. It's all about gentrification, and the loss of culture and diversity, which these sorts of schemes cause. We've been here before 10 years ago when they developed Dalston Square into a totally soulless environment where before it was vibrant."
Parry-Davies went on to argue that, with the shopping village having ACV status, any outcome that would see the artists have to leave or reduce retail units or storage for the street market would represent "tremendous damage to the value of the things that make it an ACV".
A council release in February of this year said: "Dalston might be changing but Ridley Road Market is here to stay. Hackney Council is proud to operate the outdoor market and we have no intention of closing Ridley Road Market down – or changing its character.
"We want it to continue to be successful, bringing people from different backgrounds together at the heart of the community.
"[The Shopping Village,] a neighbouring indoor market, is operated by a private company and we do not own or control it. The owners have submitted a planning application to convert and extend this building into new homes, retail and employment space, but it has not yet been considered by the council's planning committee.
"The council's independent planning team will continue to scrutinise the owners' planning application as part of the planning process, to ensure it complies with the borough's planning rules. The application will be considered by the council's planning committee later this year."
More screenings of the film are understood to be planned, and you can contact info@opendalston.net for more information