Hackney police commander 'sorry that the community hurts' as effort launched to defuse tensions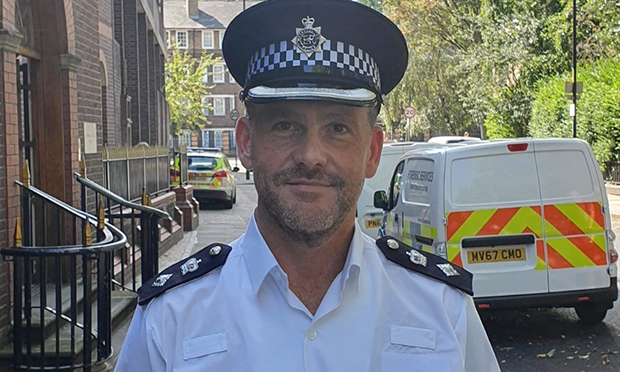 The police officer in charge of Hackney and Tower Hamlets has said that he is "sorry that the community hurts" in an interview addressing tensions in the community as well as the "unprecedented" events of the past 12 weeks.
Borough Commander Marcus Barnett was speaking in the wake of the fatal shooting of 21-year-old Oluwamayowa Adeymi, as well as an attack on two of his officers that has now resulted in four arrests, and against the background of a widespread national reckoning around systemic racism, Britain's colonial and imperialist past, and the slave trade.
At a vigil for George Floyd earlier this week, local MP Diane Abbott said she had seen improvements in policing during her time in office, but called on those listening to remember the history of deaths in police custody at Stoke Newington without prosecution or disciplinary action.
And at a recent meeting of local voluntary sector groups, Hackney CVS chief Jake Ferguson said that an apology from the Metropolitan Police for past injustices "would go a long way".
When quizzed on these issues, Barnett condemned Floyd's death in the strongest terms as "horrific".
He said: "Although I don't completely understand as I am not a member of the Black, Asian and Minority Ethnic community, I absolutely get that tensions are running high and that there is anger.
"What that does is bring into sharp focus all of the issues that have gone before us, where there have been racial inequalities, tensions in the communities because of actions and tragic murders that have taken place.
"We never go out of our way as a police service to do something wrong in the community. We are out there to protect and look after people. Unfortunately, sometimes there are tragedies, and it is not for me to comment on the wrongs of the past, as that was not my passage of time.
"We are sorry that the community hurts. We are sorry that there is pain, and we are sorry that there is division.
"We as an organisation are very clear that we want to do everything we can, and I think in the 27 years I've been in policing, it's night and day compared to where we were. Have we got work to do? Yes we have. Are there still bridges to repair and build? Yes.
"I am sorry that there is division in the community, and I am sorry that there have been issues in the past which have pulled communities and police apart when we should have been pulling together."
Hackney's top cop added that he views policing simply: "People looking after people."
It is a view, he says, which includes apologising when the force has done things wrong or made mistakes.
He signalled his intention to look to the future in how policing is done locally, which he stressed would not include changing the style of policing, but how the Met explains what is doing.
He admitted that poor communication on policing tactics exacerbates division, and that the force "haven't been as good at trying to really get to the grassroots of understanding what our young people see and feel".
Barnett added: "I think where we often leave people wondering is because we haven't properly explained. We need to do more about understanding what it is that our public and our communities are saying they aren't sure about, happy about, or don't understand, and for us to go back and explain.
"[We have] to make sure that when we are stopping and searching, handcuffing somebody and they haven't been arrested, we're explaining why. Maybe they fit the profile, maybe they fit the description, maybe we suspect they're the person who has a machete down their trousers, or whatever it might be.
"Even down to when we stop and search somebody. Explain why we're doing it, who we are, the grounds, how they can go about finding the details and rationale, and treat people in a personal way.
"We're telling them it's intelligence-led, and why we're doing stuff. The fact that we don't always get that right causes division."
Barnett's officers recently released an image of a damaged Volvo estate, recovered by police on Saturday on Cowper Road, near Highbury, which they believe is connected to those responsible for Adeymi's death.
Local resident Adeymi, known as Samson, was found with gunshot injuries by police and the London Ambulance Service outside an address he had just left, after officers were called at around 11.30pm on Friday 5 June to reports of shots fired in Brackenfield Close, E5.
Barnett offered his condolences to Adeymi's parents and family, adding: "It is not cheap words. We're human beings. A 21-year-old man being shot on the streets of London is an absolutely horrific tragedy.
"I went to see the family – they are hurting, and they want justice. We do have the best investigators in the world, and the best are investigating it. We have every expectation, as we will not stop, to find those who are responsible and bring them to justice.
"It brings into sharp focus the challenges there are in our society, where people are prepared to use guns and knives and issue out violence seemingly completely blatantly and frenziedly on occasion."
The borough commander pointed to knife crime rates now being at their lowest level for under-25s for seven years, and said that while Covid has seen a drop in the crime rate, the police's new violence suppression unit continues to work night and day with around 100 people across his borough command unit (BCU) to suppress drugs, violence and gang crime.
Barnett was speaking the day after footage emerged of two of his officers struggling with a group in the street, with both receiving minor injuries, after they attended a routine report of an alleged assault only to suffer a "horrific attack".
The borough chief said: "Thank God they weren't seriously injured. They came away with cuts and bruises, and showed incredible restraint. They used the force that was necessary. They are well trained.
"Attacking police officers goes against the grain of what society still stands for, that we are by and large a law-abiding society that wants to live together and root out crime.
"It makes me sick to the stomach when I see my cops, because we are a family and a team, seeing them attacked the way that they were. But the thing that has given me heart and hope is when I see the comments that have come out on social media.
"Tens of thousands of people have written positive comments that it can never be accepted, is abhorrent and horrific, and it shows us that by and large society wants to live in peace and harmony, that we want policing, and we still police by consent."
Two people were arrested on 10 June on suspicion of assaulting a police officer, with two more subsequently taken into custody.
Barnett, who started by working a beat in Soho and Mayfair, took up his post as commander just under a year ago, and is now in charge as Black Lives Matter protests across the country and the world call for change and inclusivity, an end to injustice and to the public glorification of former slavers.
The commander, while avoiding making a "political statement" around the removal of statues, with that of Sir Robert Geffrye at the Museum of the Home attracting calls for its removal, voiced his understanding for the "anguish, harm, hurt and pain" behind the protests.
He said: "Those that protest under the banner of Black Lives Matter and then commit violent crime, huge amounts of disorder, destruction, attack police officers, there is absolutely no place for that. That is no way to protest, and will never be something I agree with or sign up to.
"In terms of the statues, it's about society looking about for where there is division, and what we can do to repair and build bridges.
"I completely understand why people will want to protest and air their anger and frustration. That is the democracy we live in, and it is our right.
"There is of course an issue about coronavirus about protesting and breaching legislation, and people need to find a way at the moment of protesting without gathering in huge numbers, as that is against Public Health England advice.
"I understand why Black Lives Matter has picked up pace and the sentiment behind it, what it is seeking to achieve, of course. That is why I am in the police.
"I joined 27 years ago because I wanted to make the world a better place, which includes removing racism, hate crime, inequality, and all those things which frankly just divide communities.
"I promise I will be here until such time that people decide it is no longer a job for me, but I hope that's not for the long term. I love it here, and I hope I can continue to work with the community and our partners and do whatever I can to keep driving crime down and making things better."