Treasure Island, National Theatre Live, stage review: 'All the childhood terror of the book'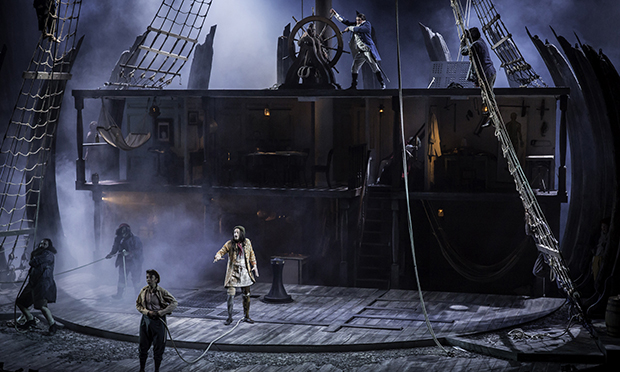 We are back again. This time, the dog and I are joined by my boyfriend – a real family theatre trip. Off we go to Neverland!
Well, actually the darker, far bloodier, but still apparently child-friendly version, Treasure Island, based on the book by Peter Pan creator J. M. Barrie's friend, Robert Louis Stevenson. 
The story has been adapted lovingly for stage by Bryony Lavery.
Interestingly, I saw this in the flesh – such an outdated concept now – when it was on in 2014. But the thrill was just as potent the second time around, which is telling.
The production is endearing in its balancing of the swashbuckling treasure hunt with deeper hints of humour, meaning, and complexity.
Visually astounding and keeping all the childhood terror that the book instills – anyone else still haunted by a seafaring gentleman with one leg? No? Just me? – this is Polly Findlay's masterful direction and the National's resources in impressive harmony.
One of the most astounding things about this piece is Lizzie Clachan's set, which has stayed in my memory for almost six years. It is one of the best, most versatile and enchanting sets I have seen in my many years watching and writing about theatre.
A massive skeletal semi-circle of pointed whale bones surrounds a spinning wooden circle, like Les Mis but nautical.
If that is not enough, whole wooden compartments of seemingly unending variety rise from the floor as if by magic.
We get a two-storey galley – the famous Hispaniola – the old Benbow Inn and Treasure Island itself complete with massive, moving mushrooms and a tunnel system.
Also, as if to just show off, a star-gazing section illuminates the ceiling of the Olivier into the astronomical heavens. It would be vulgar if it weren't so good.
This mythical approach to design is mirrored in the use of a selection of old theatre tricks, thanks to the help of trained magician Chris Fisher.
Falling just short of the original Pepper's ghost illusion, this piece is sleight-of-hand on a dramatic scale.
Every time another huge piece rises or falls into the wooden decking, the gasps from the audience is audible – in both the live and recorded versions.
Patsy Ferran as Jim Hawkins is an engaging and passionate narrator, and so much of the piece hangs on her swift understanding of an adult and very violent world. Ferran pulls it off spectacularly.
Arthur Darvill's deliciously maniacal Long John Silver never falls into Captain Jack Sparrow territory, thank goodness. Believable and evil to the core, he is frightening in his unpredictability.
Joshua James's depiction of the insane Ben Gun should be comic relief but, like with so much in the book and the play, it exposes a harder and sadder truth.
Perfectly encapsulating the brutality of life in the 19th century, the feeling of blood mixed with sand ties the piece faithfully to the book in the important points.
Interesting make-up choices, along with stereotype-avoiding costumes, are lit with panache by Bruno Poet.
Roger Wilson's shanty-singing and fiddle-playing helps the cast pull together to create an energetic, if at times slightly shouty, rendition of the boisterous tale.
You feel the salt spray on your face and the rush of adventure as Jim is dunked into the cruel life of a pirate.
With all the humour, trickery, and technology, my childhood recollections of this fantastic book are surpassed!
This is escapism, pure and simple, and who doesn't need to feel the winds of change blowing a gail at the moment? It's a pirate's life for me!
Treasure Island is no longer available on National Theatre Live's YouTube channel, which is instead showing Twelfth Night until tomorrow – you can read our review of that here.
Keep an eye out this weekend for our review of Frankenstein, starring Benedict Cumberbatch and Jonny Lee Miller, which is available to watch from tomorrow.
To support the theatre through the coronavirus crisis, donate at nationaltheatre.org.uk or text NTATHOME 10 to 70085 to give £10