'Help is out there': Town Hall publishes mental health support map for lockdown
A support chart for anyone in need of mental health support during the lockdown has been published by Hackney Council, in collaboration with the borough's three NHS trusts.
Last week, Deputy Mayor Anntoinette Bramble spoke of the urgency of prioritising mental wellbeing as well as physical safety amid the pandemic, with many feeling frustrated, bored, lonely or stressed while self-isolating.
She said the lockdown could be "particularly difficult" for those with pre-existing mental health conditions.
Today, health chief Cllr Chris Kennedy announced a three-step chart laying out the support available for residents, including for specific communities such as Derman, providing talking therapy for Turkish speakers, and Bikur Cholim, which provides the same service for the Charedi community.
Cllr Kennedy said: "The coronavirus pandemic can be scary and challenging, especially as normal life is halted, and this can affect our mental health.
"If you are experiencing stress, anxiety or other mental health conditions during this time, there is help out there.
"Don't be afraid to ask for help or use this information to support your friends and family. It's important to take care of yourself and do what you can to manage your wellbeing."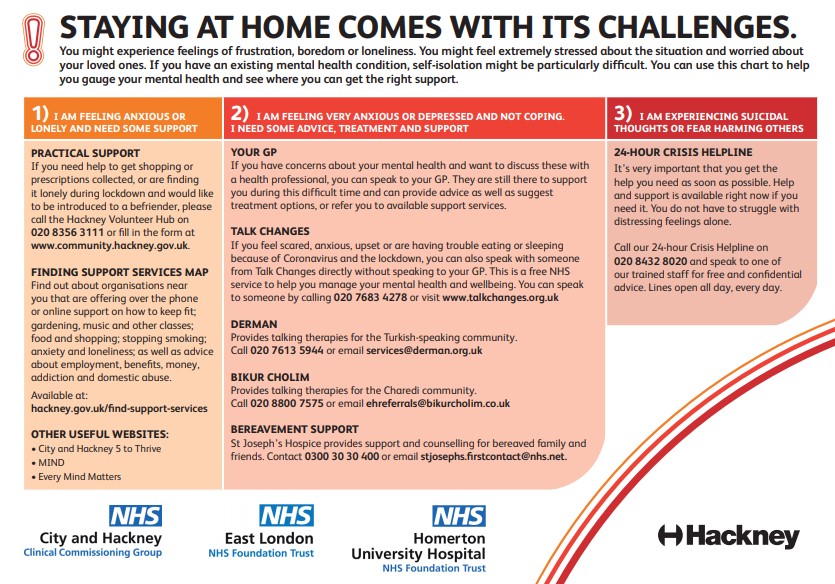 A larger version of the council's chart can be found here.
More information on mental health support is available on the Hackney Council website.
Ten-minute workouts can be found on the NHS website – https://www.nhs.uk/live-well/exercise/10-minute-workouts/