Food charity puts out call for volunteers in Hackney after £20k funding boost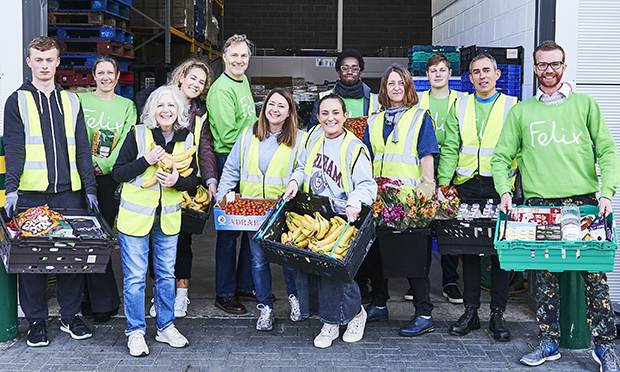 A charity that rescues food for good causes across London is on the lookout for volunteers in Hackney after winning a £20,000 grant from the People's Postcode Lottery.
The Felix Project will use the cash to train up over-16s who are not in employment or education to help it safely collect, sort and deliver food to charities and primary schools – free of charge.
The aim is to diversify and strengthen its 400-strong volunteer base of students, retirees and people in full- or part-time employment.
This year, The Felix Project expects to distribute nutritious grub that cannot be sold, or would otherwise go to waste, to 310 organisations – enough to make almost 6.5 million meals.
Eight charities in Hackney already benefit from the deliveries, including Hackney Quest (HQ), which was set up in 1988 to support locals.
It runs a weekly Monday Munch in a church hall – offering the young and elderly alike a chance to share a good meal and socialise.
HQ's Polly Mann said: "This week a new guest attended the meal. It was the first time she has come out since her husband died a month ago. She was brought along by her neighbour who is a cooking volunteer.
"The lady felt welcomed, supported and encouraged to eat a healthy meal. She said she felt normal again.
"Many of our guests need to feel looked after and fed because no-one else is doing this for them."
Polly added: "If we didn't receive food from The Felix Project, we would look for another supplier, but we would struggle to find the lovely food and support we now receive.
"If we couldn't find another supplier, we'd have to close."
The Felix Project's new funding will allow it to recruit volunteers for one or two shifts a week over a five- to eight-month period, working in roles that develop experience in depot operations, logistics and health and safety.
The charity's CEO Mark Curtin said: "Volunteers are at the heart of The Felix Project's work to stop good food from being wasted and get it to charities that tackle hunger.
"We're very grateful for the support from players of People's Postcode Lottery, which will help us recruit more young volunteers who've been out of work for a while.
"Through training and work experience we'll help them to build their CVs in a rewarding and fun environment."
He added: "Volunteering with us will build transferable skills at the start of their career and help build confidence, improve well-being and develop emotional resilience.
"There's the double benefit that boosting our volunteer numbers will help us collect more food from suppliers and deliver to more charity partners."
Organisations working with young people who would benefit from volunteering and skills-based training should contact Holly Kalra at holly@thefelixproject.org
For more information about Hackney Quest, head to hackneyquest.org.uk