Pembury Estate residents outraged as playground locked for months – to everyone but private owners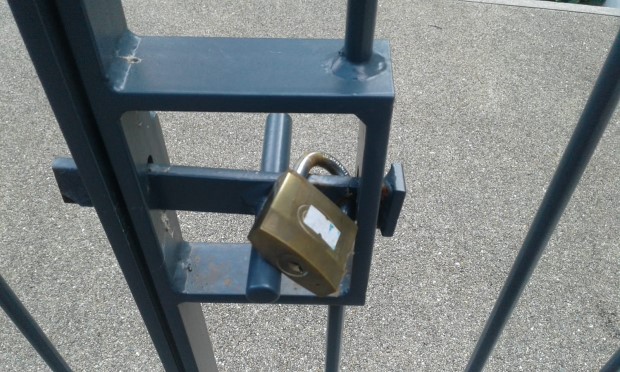 Residents on Hackney's Pembury Estate are voicing their outrage over a communal garden and play area that has been padlocked for months, blocking access to everyone but the private block that fronts directly onto it.
The estate was transferred to Peabody from the council's housing stock around twenty years ago, with one section redeveloped into the modern Pembury Circus block by 2015 as part of the agreement.
However, Jane Hurley, a Pembury resident of long standing, is dismayed at what she calls a "lack of respect" from Peabody after complaints, and even a petition signed by 25 flats in her block, over a lack of access to communal areas have gone unanswered.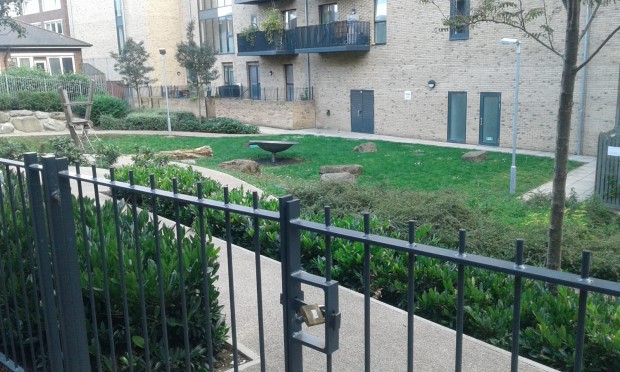 Hurley said: "There are around nine children living at this end of Tolsford  Road who play in a small fenced off pathway, while being able to clearly see an empty playground and a padlock denying them entrance.
"There are also some elderly and disabled residents, who are not very mobile and would like to be able to sit outside in the garden.
 "I cannot believe that this situation is allowed. Where is the equality of access, what has happened to the social aspect of Peabody housing and finally why is Peabody discriminating against the young, old and vulnerable?" 
Hurley added that development of the nearby private block had caused residents difficulties, with dust and noise from construction limiting access to the garden for four years and the final product causing her and her neighbours loss of light.
 Residents have also reportedly being actively discouraged from climbing the fences and using the gardens by the concierges of the private block.
 The former communities minister James Brokenshire has previously vowed to end the practice of segregated play areas.
 When approached for comment on the situation, Peabody swiftly apologised, promising to open up the area as of tomorrow.
 A spokesman from Peabody said: "Thank you for bringing this to our attention. We are sorry this has happened, and will be opening up the communal garden space at Pembury so that it can be enjoyed by all residents."
Hurley first completed an online complaint on 8 July, pointing out that according to her lease she has rights of access to the communal gardens, to which she received no response.
 Peabody residents also presented a petition signed by 25 flats to the estate offices on 11 July, but this also appears to have been ignored. 
Hackney Council runs a Children's Community Partnership with Peabody, which is dedicated to "significantly improving the lives of the 1,000 children and young people on and around the estate".
 The partnership provides early years services, helps young people into employment, education or training, and supports parents, with collective goals for 2025 including creating "a community where people from all backgrounds come together, where everyone matters and there are opportunities for all".
 The news provoked condemnation from Hackney Mayor Philip Glanville (Lab & Co-op), who said that he would be writing to Peabody to ascertain how the situation was allowed to occur. 
He told the Citizen: "I am extremely concerned to hear suggestions that families living in social housing are being denied access to the same facilities enjoyed by residents in private homes on the same estate.
"While we don't fully know the facts in this case, we condemn segregated play areas in the strongest terms – they are divisive, draconian, and they have no place in our communities.
"Hackney prides itself on its inclusive and cohesive communities, and to exclude children from playing in communal areas goes against the core ethos at the heart of our borough.
"Hackney is leading by example in building genuinely tenure-blind new homes, where residents of the hundreds of new council homes we are directly delivering can expect the same standards and facilities as buyers of the new outright sale homes that help pay for them."