Road closure debate rumbles on as campaigners continue to disagree on solutions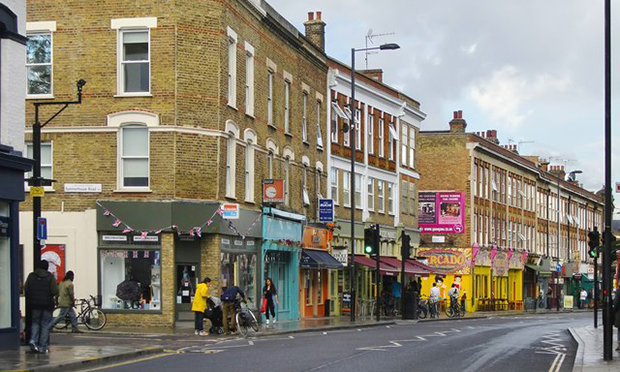 Two groups of Hackney residents concerned over the state of the borough's air and the impact of heavy traffic on their neighbourhoods and schools continue to be at odds over the best solution to the problem.
The CleanAir4Schools (CA4S) campaign has presented alternative compromise proposals to the Town Hall of closing Brighton, Beatty and Walford Roads to through traffic from 6pm until around 7.30am.
However, campaigners for Kids Sleep Safe (KSS), while supporting CA4S' efforts to work on further mitigation plans for the area, pointed out that the plans did not address problems caused by rush hours at either end of the day.
Matthew Dillon, a member of CleanAir4Schools and a transport planning director, said: "Hackney's air quality modelling shows full road closures around Walford Road would increase nitrogen dioxide in some school playgrounds by as much as five per cent.
"Yet we sympathise with the problems associated with rat-running which some residents are experiencing.
"Timed road closures are the perfect solution – it means traffic won't be displaced past already polluted schools during the daytime while little children are playing and learning and it'll be removed from residential streets during the evening, when residents are most at home."
The Town Hall put plans to close roads in the Walford Road area back into reconsultation two months ago, with then-head of transport Cllr Feryal Clark saying this would be an opportunity for residents to make a more informed judgment in light of independent air quality modelling work carried out by the Town Hall.
Out of 14 schools monitored, 10 would see pollution rise under the scheme, with St Marys School on Barn Street and Grasmere Primary School on Albion Road seeing increases described as 'Moderate Adverse'.
Crossway would see a 4.2 per cent rise in pollution from 42.8ug/m3 to 44.6ug/m3, which is considered to be a substantial adverse impact.
Residents of Walford, Beatty, Nevill, Barbauld, Brighton and Allen Roads have described themselves as "desperate" with the impact of ratrunning traffic in their narrow streets, citing the air quality impact in their own areas and warning that speeding cars and commercial vehicles are an accident waiting to happen.
Kids Sleep Safe campaigner Anna Williams, a former teacher and mum of two living on Brighton Road, said: "We sympathise with CA4S and fully support their efforts to work with the council on further mitigation efforts.
"However, the reality is that their proposal would require a further consultation which means it would be unlikely to implemented for another year or two and does nothing to mitigate the real danger to life during the school run from dangerous driving due to the rat runs.
"It feels unlike a compromise, and that the CA4S campaign are just further trying to frustrate the process rather than look for real solutions."
CA4S have said that they are asking for the new proposals to be included in the forthcoming consultation, in order that any new measures "can be pushed forward speedily."
The proposals have been presented to head of transport Cllr Jon Burke (Lab, Woodberry Down) as well as Hackney Mayor Philip Glanville (Lab & Co-op), having been worked up in collaboration with residents in and around Walford Road and Cllr Gilbert Smyth (Lab, Stoke Newington).
A recent study by the Health & Environment Alliance cited by CA4S highlighted the dangers of traffic pollution for children both inside and outside classrooms.
Residents of the neighbourhood currently impacted, however, also spoke up to highlight "huge congestion and angry confrontation between frustrated drivers" from cars racing through the area at 30-40mph, asserting that timed closures would not tackle the dangers to road users.
Dillon added: "[Timed closures] are an innovative, and workable solution that helps residents around Walford Road, and will aid the health of schoolchildren on the other side of the neighbourhood. Almost as importantly, it is a solution that we feel our whole community can support and will help unify us after 18 months of debate."
A Walford Road resident who declined to be named said: "The acknowledgment from CA4S of the issues faced by residents of Walford and its neighbouring roads is welcome. However, the new proposal does not adequately address the jams, congestion and road rage that occur during rush hours at either end of the day, weekends, and during the day as a result of the road closures below Butterfield Green."
Stoke Newington recently received £500k in funding from the Mayor of London, which will be used to promote walking and cycling and restrict polluting traffic in the area, though it is unclear what form these plans will take.
Hackney Council was approached for comment, but had not responded by time of going to press.