Mayor of London unveils £6m in clean air funding during visit to Hackney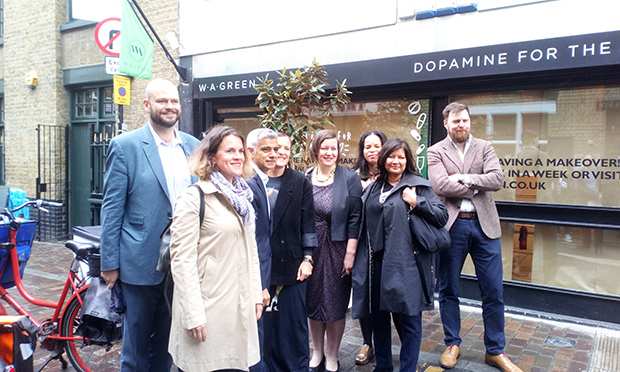 Mayor of London Sadiq Khan has announced £6m in funding for clean air projects during a visit to Hackney's first low emission street.
The borough itself is set to receive £500k of the pot, which will be used to promote walking and cycling and restrict polluting traffic in Stoke Newington, an area which has been at the centre of often bitter debates over Town Hall road closure plans.
According to City Hall, the area's high street is set to receive "ambitious public realm improvements" from the funding, in similar style to those already put in place in 2016 in the City Fringe Low Emission Neighbourhood (LEN) around Rivington Street, which prioritise electric, hydrogen and hybrid vehicles.
Mayor Khan said: "One of the reasons why I was keen to come along here to Hackney is that I am keen for other Londoners to see what a difference it's made here.
"There's some nervousness from businesses, because I'm asking you to change how you do your business. There's some nervousness from residents as I'm asking you to change your behaviour.
"If you're a mum or dad who usually drives your child to school, I'm asking you to change how you behave. If you're a business that usually has big HGV lorries that are running diesel dropping things off, I'm asking you to change your behaviour."
Zoë Anderson, who owns W.A. Green, an independent homeware boutique located in the LEN, added: "Traffic has reduced dramatically, and the street has improved immensely with the trees and cobbles making it a lovely place to wander and explore Shoreditch.
"Having hardly any vehicles during the day makes it so much safer for everybody and obviously fewer polluting vehicles are so much nicer for my staff and customers."
The news comes as residents in Stoke Newington continue to make their feelings known on the poor levels of air quality in the borough, with students at William Patten each creating a pair of lungs from felt, many decorated with drawings of polluted cities and roads.
Hackney Council moved to reconsult on plans to close residential streets in the Walford Road area after concerns were raised over a predicted rise in pollution near schools and businesses as a result.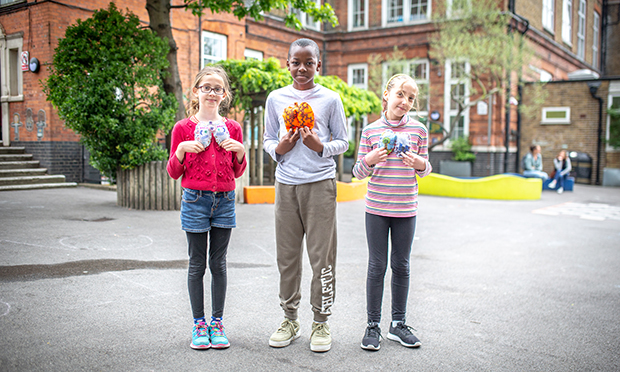 William Patten headteacher Karen Law said: "The project has been wonderful. It has been a fantastic collaboration between our children, staff and parents and it has enabled us to address a topical and relevant issue in an imaginative and creative way, without shying away from the seriousness of the concerns around air quality."
According to Hackney Mayor Philip Glanville (Lab & Co-op), the Town Hall plans to work alongside local businesses in rolling out the changes for the area, as well as to tackle the challenges of cars idling on the A10 on the junction with Church Street.
Mayor Glanville added: "The conversations around Walford Road are ongoing in that area, but what this really does say is that we were never going to stop at Walford Road. This was part of broader incremental interventions in the area to improve air quality for everyone."
Three other new LENS will be established in Dagenham, Southwark and Camden. All the new schemes will receive funding and support to install electric vehicle charge points, expand cycle lanes, establish green walls and investigate traffic reduction schemes, with the £6m in funding matched with almost £3 million from the relevant boroughs.
Cllr Jon Burke, Hackney Council cabinet member for energy, waste, transport and public realm, said: "As a leader in tackling London's poor air quality, we are keen to explore any funding option that helps us to deliver even more to tackle the public health hazard of the capital's toxic air.
"We're thrilled to have been awarded funding for these two projects, which, in addition to our Liveable Neighbourhood work in Hackney Central, will help to tackle poor air quality in two of the borough's town centres.
"We're going to be engaging with people in Hackney Central and Stoke Newington over the summer about their town centres, which will inform our plans for each area."