Road closure campaigns square off as council approves reconsultation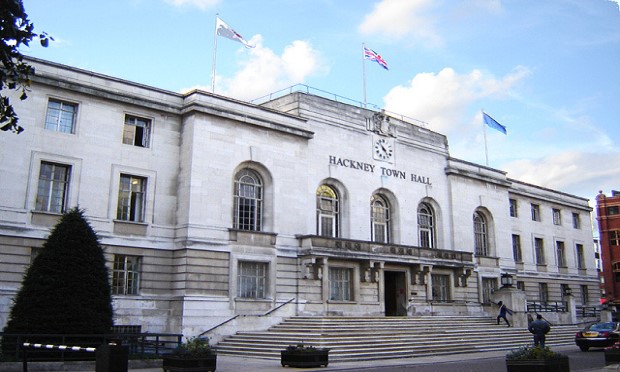 Two campaigns on road closures in Hackney, one for pushing them through as quickly as possible and the other calling for a pause, faced off in an often heated council debate last night.
The Town Hall's top councillors took the decision on 29 April to reconsult on the so-called "Option B", permanent closure of Nevill Road between Osterley and Walford Roads, as well as Clonbrock and Allen Roads at their junction with Nevill Road.
The choice to throw the scheme back out to residents, with a decision on whether to go ahead or not to be subsequently delegated to a council officer, was met with heckling from CleanAir4Schools (CA4S) campaigners opposing the closures, which in its turn caused friction with Kids Sleep Safe campaigners asking the council to push them through.
Cllr Feryal Demirci (Lab, Hoxton East & Shoreditch), deputy mayor and cabinet member for transport, said: "The residents of the Walford Road area need us to act, and that's why we are going out to consult on Option B. I don't think pausing at this point benefits anyone.
"We are not pausing on anything, whether it's the Zero Emissions, green walls or school streets, we are continuing to deliver schemes across this borough that will have an impact on the air quality, road safety and livability of this borough.
"Not doing anything and staying where we are at this moment does not help anyone, the schools or the Walford Road area.
"Throughout this process we have engaged with all residents in the area, and have spent a lot of time in people's front rooms in Stoke Newington discussing this. I understand Walford Road residents want a solution now, but we have to ensure that everyone in the affected area gets an opportunity to review the data that's available."
Hackney Mayor Philip Glanville (Lab & Co-op) pledged to move 'full steam ahead' on other mitigation measures to improve air quality in the borough in the meantime, adding: " With the greatest respect to the residents in the area, this is going to be effectively a pause whilst that consultation allows us to continue the mitigation work as set out in the cabinet report."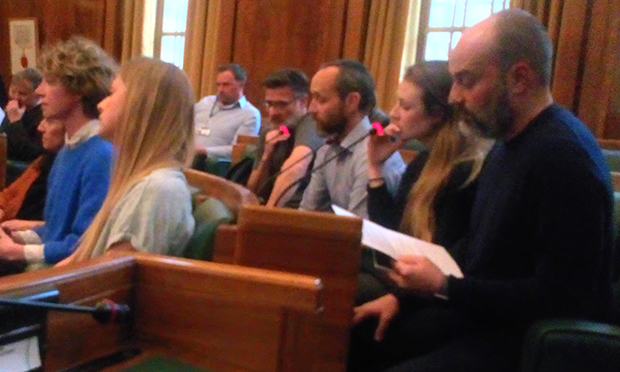 The meeting saw councillors faced with conflicting calls for action from the two campaigns.
CA4S, whose hundreds-strong demonstration in Clissold Park on Friday highlighted concerns over a predicted increase in pollution for a number of schools and businesses that the closures would bring about, used their time to call for the scheme to be 'paused' whilst measures were put in place to protect residents.
Grasmere parent Nicola Sinclair said: "Hackney Council's air quality modelling reports reveal the closures will tip the pollution at our primary schools over the annual legal limits.
"They would worsen the pollution at an already illegally polluted school. Pollution levels on Albion Road, Church Street and Crossway are already harmful to health, and children are particularly vulnerable.
"Tonight, cabinet are being asked to delegate a decision for a single officer to make with no reason for approach. We ask cabinet members to not give away their vote. This would be viewed as a dereliction of duty and erode local people's trust in democracy."
CleanAir4Schools Protest March, 29 April.
A spokesperson for CA4S added: "We think Walford Road residents have very legitimate concerns about road safety on their streets, which is why we don't think doing nothing is an option.
"We are proposing a compromise solution which would be pressing pause on the closures until the mitigation strategies that the council has discussed have been implemented and until pollution levels at schools have been brought down to much safer levels."
Kids Sleep Safe (KSS), a campaign of Walford Road-area residents pushing for the closures to be implemented as soon as possible, countered that they had waited two years for action to be taken over antisocial behaviour and pollution on their congested streets, and called on the Town Hall to implement the scheme immediately.
KSS campaigner Anna Williams said: "Our narrow residential streets, unlike Church Street and Albion Road, are not designed for this. It's not fair on us. As a mum with really young children, we worry about the impact of toxic fumes we will be subjected to 24 hours a day.
"You can taste it in the air, and worry about opening the windows when you sleep, because you don't want children to breathe it in.
"You just want your baby to be safe and healthy, and you don't have to be a doctor to know that our streets are not healthy. We can't wait another long summer – this situation needs to be sorted."
Walford Road congestion (footage supplied by Kids Sleep Safe).
KSS campaigner Ian Hardwick added: "My ten-year-old cycles to school but is not allowed to use his bike on his own road, because it is simply too dangerous.
"Pollution is a concern, yes, but unpredictable traffic, vehicles reversing rapidly, mopeds and delivery vans regularly mounting the pavement are far more immediate worries. Will it take a fatal accident to force the council to deliver the changes that we need?"
The council accepts that nitrogen dioxide pollution, under the more stringent 'annual mean objective' of 40 µg/m3, would, under Option B, increase at:
William Patten School by 1 per cent
St Mary's School by 1.5 per cent
Grasmere School by 1 per cent
Out of 14 schools monitored, 10 would see pollution rise under the scheme, with St Marys School on Barn Street and Grasmere Primary School on Albion Road seeing increases described as 'Moderate Adverse'.
Crossway would see a 4.2 per cent rise in pollution from 42.8ug/m3 to 44.6ug/m3, which is considered to be a substantial adverse impact.
It is understood the Town Hall will now look at additional measures to mitigate the impact of air pollution on Church Street and Crossway, including the potential introduction of a Zero Emission Zone in which only zero or ultralow emission vehicles would pass through Church Street at defined times, and widening footpaths and planting trees on Crossway.
Green walls will also be installed at St Mary's, Grasmere and William Patten, and the Town Hall will be demanding that TfL move a bus stop further away from the latter school.
The Deputy Mayor also faced probing questions from other members of the cabinet, with energy, sustainability and community services chief Cllr Jon Burke (Lab, Woodberry Down) asking how the scheme would be monitored if approved.
Cllr Burke said: "There is an extensive body of literature in support of filtering as a mechanism by which to reduce car usage and improve air quality. Notwithstanding that, I think it's important in all political administrations that, when the facts change, that we are able and willing to do so.
"Could you explain a bit more what might happen subsequent to this process being undertaken, what would happen in terms of monitoring air quality in realtime and monitoring the programme as it was wound out in the area?"
The Deputy Mayor responded that both traffic flow and air quality would be monitored under the scheme, and that the council would "continue to engage with residents in the Walford Road area", with amendments on the table after 18 months "if issues arose".
Questioning from Cllr Sem Moema (Lab, Hackney Downs) also revealed that the air quality modelling report did not take into account the Mayor of London's recently-implemented Ultra Low Emission Zone (ULEZ), which she claims will significantly improve the borough's air quality by 2020.