Danse Macabre protesters condemn Silvertown Tunnel plans as councillors warn of 'impact all over North London'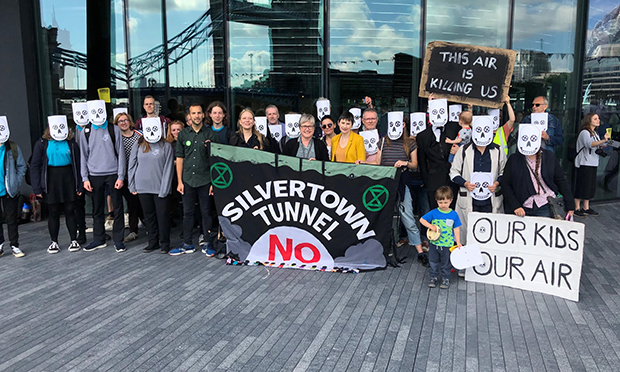 Extinction Rebellion activists have condemned Mayor of London Sadiq Khan's plans to build the Silvertown Tunnel by performing a 'danse macabre' before and during Mayor's Question Time on Thursday morning at City Hall.
Mayor Khan has said that "doing nothing is not an option", pointing to the problems caused by congestion around the Blackwall Tunnel.
However, local councillors present at the meeting characterised the existing river crossing's bottleneck as holding back a tide of traffic which a large new piece of infrastructure would unleash.
Cllr Richard Lufkin (Lab, Shacklewell), who has a master's degree in transport planning, said: "I fully support this campaign, which I've supported for about five years. The building of this tunnel, a large road-building project such as this, is absolutely incompatible with the Mayor of London's air quality agenda.
"It's great that Hackney, which takes these kinds of things seriously, is opposing it.
"The Blackwall Tunnel at the moment acts as a stone in the stream in the flow of traffic north. Building another tunnel effectively removes that stone, and more traffic will flow north of the river, and we will see the impact all over North London."
In reaction to the recent cancellation of the Rotherhithe walking and cycling bridge, Cllr Jon Burke (Lab, Woodberry Down), cabinet member for transport, wrote: "£1 billion for a Silvertown Tunnel that will worsen air quality, congestion, and greenhouse gas emissions, while cancelling the Rotherhithe walking and cycling bridge. Another massive backwards step. Fuming."
The new river crossing between Royal Docks and Greenwich Peninsula, is planned for opening in 2025, with Transport for London recently nominating international consortium RiverLinx to build the project.
A cross-party coalition of Labour and Liberal Democrat Hackney councillors formally opposed the construction of the tunnel in 2015, a position the council continues to hold.
Speaking at the launch of a £6m round of clean air funding on 7 June, Mayor of London Sadiq Khan said: "One of the things that we've seen around that part of London is that there's massive amounts of congestion, really atrocious air quality, but also few people using public transport because there are so few river crossings.
"The Blackwall Tunnel when it's blocked leads to a real problem. The solution to ease congestion is to make sure there's a green option of a river crossing. The Silvertown Tunnel will be a world first in that there will be one lane reserved for buses, 37 going through every hour.
"Also the Silvertown Tunnel will be tolled, which means less congestion and less bad quality air. Doing nothing is not an option. Anyone who goes to that part of London now will realise that, so the scheme that we're devising is the cleanest and greenest scheme possible, bearing in mind the status quo is not an option."