Bird of play: Winged wonder lands at Clapton Pond as children's area gets a preening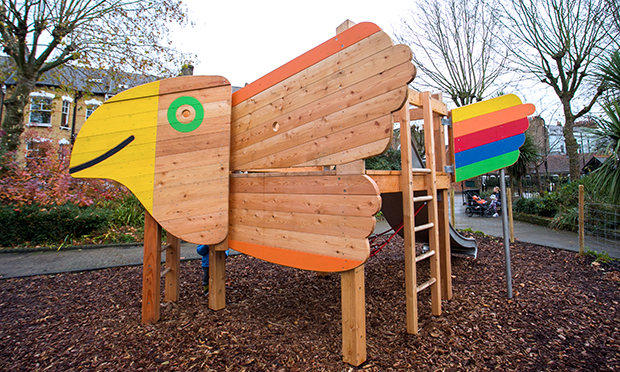 A huge wooden bird is the centrepiece of a brand new £60,000 play area in Clapton Pond.
The investment from Hackney Council has introduced the avian climbing frame, replete with ladder, slide and rope, alongside stumps, boulders and a tunnel for active play.
Parents and guardians will be pleased to hear there are now more places to take a seat.
The design is the result of a three-month consultation last year involving children, residents, and the Clapton Pond Neighbourhood Action Group, which had campaigned for an upgraded play space for years – and came up with the idea to feature a bird.
Cllr Caroline Woodley, cabinet member for families, early years, parks and play, said: "It's been a real joy to see the outcome of such a positive collaboration in Clapton Pond and to engage in improvements we're making to other play areas across the borough.
"Outdoor play remains vital for children's physical, mental and emotional health. This is a great new play area for the local community and I hope that it becomes a much-loved and well-used part of Clapton Pond.
"I'm proud that as part of our mission to make Hackney a child-friendly borough, we are investing in play facilities like this so that children and families can have excellent local facilities on their doorstep – regardless of their income or background."
The improvements are part of the council's wider £2 million investment in making play more fun for children, with further work set to start on Butterfield Green, Clapton Square, Haggerston Park and Stoke Newington Common this spring.
Consultations on the next phase are now open, with people invited to have their say on plans for Clapton Common, Hackney Downs, Well Street Common and Stonebridge Gardens by 31 March.
Find out more at the council's playgrounds page.