Blue by Caridad Svich, Fizzy Sherbet, podcast review: 'Immersion that pushes the boundaries of traditional theatre'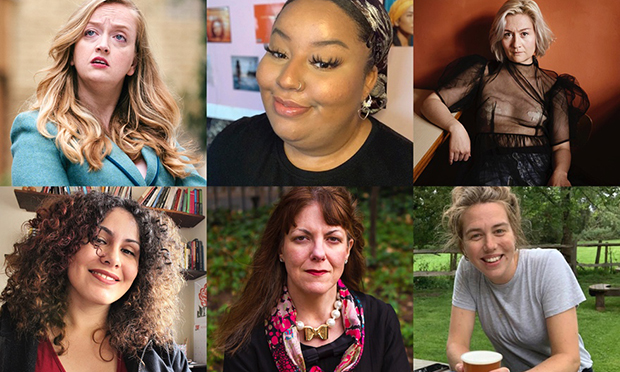 Locally-founded women's theatre podcast Fizzy Sherbet released the third episode of its first series this week, showcasing Blue by American-born playwright Caridad Svich.
Svich is an award-winning writer born to Cuban-Argentine-Spanish-Croatian parents, and draws a great amount of inspiration from her experience as the child of immigrants.
Her work is written in both English and Spanish, and she is also the founder of theatre alliance NoPassport.
Blue takes place in the French-English channel, drawing inspiration from the playwright's love of swimming to explore the relationship between the body and mind, and the politics of that relationship.
Of the play, Svich said: "There's a journal called How Round, which is a lovely journal. They asked writers to write about watching their favourite sport for the summer Olympics.
"I was like, 'Oh great! I can write about swimming'. As I was writing [Blue], that piece came up and I had totally forgotten about it.
"I read it and [said], 'I love that piece I wrote about swimmers at the Olympics', and suddenly all those pieces came together to make Blue."
She describes the play as a "story of personal reckoning, private grief, vulnerability, and trying to move on".
"At a time of great fracture globally, my thoughts turned to this story of a swimmer crossing the Channel for what may be the last time," said Svich. "In the flow of water, its its ebbs and tides, marked by multiple crossings historically.
"Finding strength, re-locating memory, re-connecting to ancestry, and being connected to the natural world is what the swimmer is going through in this play."
Blue is one example of Svich's exploration of 'modular' plays – theatrical pieces that can be performed in a multitude of ways, including oral, as installations, or on stage – which present directors with a series of challenges in choosing how to portray them.
In the case of Fizzy Sherbet, the play becomes a purely aural experience, with soundscapes and voice manipulation by sound designer Julian Starr creating an incredible, immersive experience – even without the visuals.
The production goes to show how powerful sound can be in engrossing listeners, pushing the boundaries of what might be considered 'theatre' in the traditional sense.
The episode, like all Fizzy Sherbet episodes, not only features the play, but also a discussion between the playwright, podcast hosts, and listeners.
The dialogue, while engaging, can be overly-academic at times – if you, like me, loved English at school, this won't be a problem. And there's still something to be gained even for those who may not be as up-to-speed on their critical theory.
As part of these post-play panels, guests are asked to name the women, both inside and outside the world of theatre, who inspire them, and the names reeled off range from the incredibly familiar to the lesser-known.
This, as I understand it, is the purpose of Fizzy Sherbet – to spotlight and amplify the work and voices of female-identifying artists who have something exciting to say.
And to the Caridad Svich fans who've always wondered what her favourite sweet is – you'll have to listen to the episode to find out.
The first series of Fizzy Sherbet is available on all major podcast platforms, and is currently releasing a new episode every fortnight.
For more information, visit fizzysherbetplays.com.