Jock McFadyen: Tourist without a Guidebook, Royal Academy: 'Even if you think you know them, these paintings invite you to reflect anew'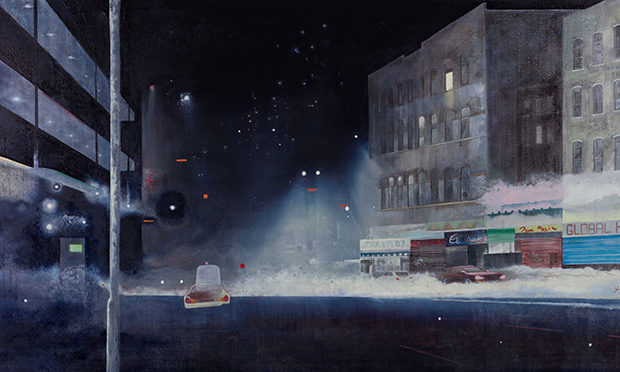 Petrol stations rarely find themselves depicted in oils. Perhaps it was the lurid green BP 'welcome' tacked gracelessly on an evening sky that drew Jock McFadyen's attention.
If not the most scenic structure in the Cambridge Heath neighbourhood where the painter lives, the lowly garage is still very much at home in his oeuvre.
McFadyen has for over 30 years been figuring East London's admixture of bleakness and vibrance.
The bright turquoise door adorning an otherwise grey canalside warehouse in Tate Moss, richly-hued graffiti on the wall that cut us off from the 2012 Games in Olympia 2 and the bright skyscrapers of Canary Wharf atop muddled vegetation in From the Greenway all scream juxtaposition and transience.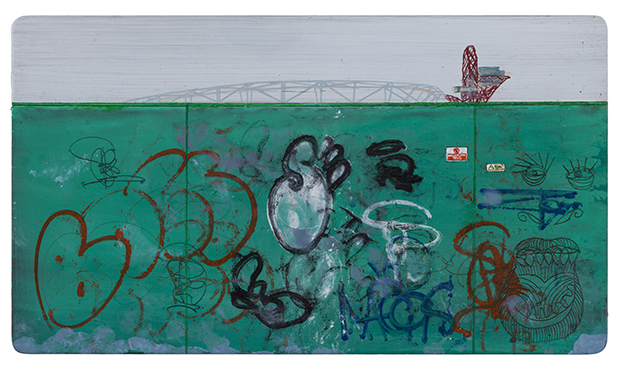 Fitting, then, that the artist should paint portions of a scene with realist detail that would put a camera to shame, while filling in other parts of the same canvass with abstract splashes of light, darkness and colour.
In an exhibition entitled Jock McFadyen: Tourist without a Guidebook, the Royal Academy has drawn together 20 of his London-based works.
The show is one of four held around the UK to celebrate the Scottish-born artist's 70th birthday. Its title is a riff on a phrase used by art critic Tom Lubbock in the 1990s to describe McFadyen's take on his subject matter.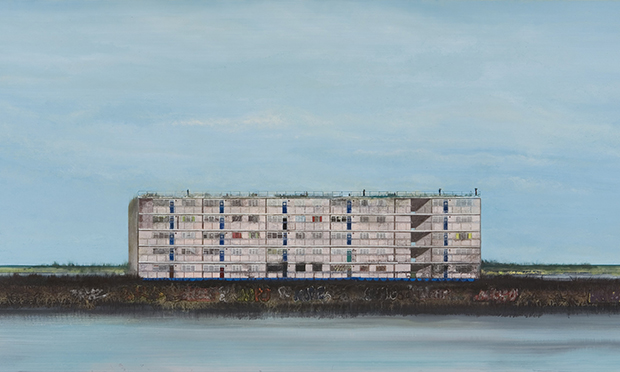 This is the East End that tourists get lost in. But locals will immediately recognise night scenes such as an empty Roman Road or the drink-distorted figures on nights out in Nightbus and Nightsters.
More mind-bending substances come to mind when gazing at the surreal transposition of a 1960s housing block onto a grassy plain in Pink Flats.
McFadyen's beguiling artworks will no doubt sear a certain era of East London history onto the memories of millions. But even if you think you already know them, these paintings work together in ways that will invite you to reflect anew on the social flux around us.
Jock McFadyen: Tourist without a Guidebook runs until 10 April at the Royal Academy, Piccadilly, W1J 0BD.