Local rowing club issues apology after man caught removing canalside safety bars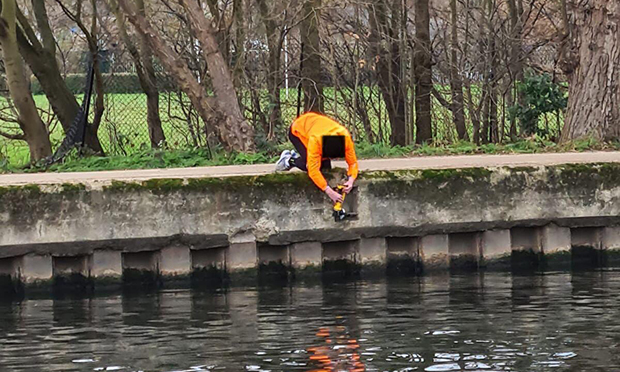 Lea Rowing Club has apologised after a man wearing its colours was spotted removing canalside safety rails that are there for people to grab if they fall into the water.
The man was pictured using what appears to be an angle grinder to cut away four grab bars from the wall of the quay adjacent to the rowing club's premises.
The club said it believed at the time of the removal that the bars were intended for mooring purposes, but admitted to having taken the action without seeking permission from the Canal and River Trust.
In a statement, the club said: "We regret that we had not sought formal permission of the Canal and River Trust before doing so.
"We apologise for this unilateral act on our part and are fully co-operating with the Canal and River Trust in their investigation."
The issue came to light when the National Bargee Travellers Association (NBTA) posted an image on its Instagram page. It described the act on Twitter as "absolutely disgusting".
A number of deaths over the winter have been associated with or attributed to people falling into canals and rivers across London, with the safety bars in place to prevent as many life-threatening incidents as possible.
The Canal and River Trust said it is looking into the matter.
A spokesperson said: "We are aware that four grab bars were removed from a section of bank on the Lea. This was done without our knowledge or authority and we have informed the Rowing Club that such actions are unacceptable.
"Safety is our first priority, and we will ensure that any safety measures required to help people exit the water in an emergency at this location are reinstated as soon as possible.
"The Trust puts equal weight on the safety of all river users and will continue to manage the waterways to ensure all users can enjoy the benefit of being on the water safely."