'Chance to shine': Children asked to dream up badge designs for national walk-to-school challenge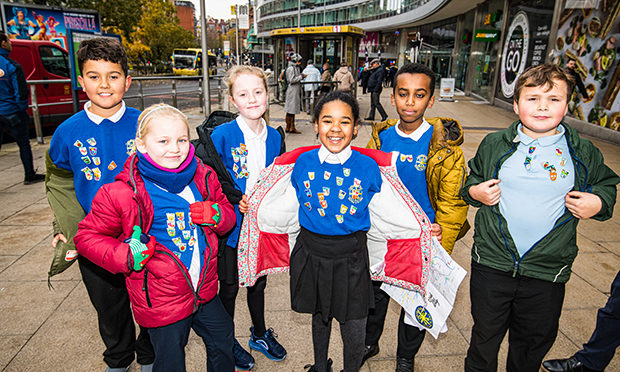 A national charity is asking primary school pupils to design a series of badges that will be worn by children across the UK as rewards for walking to school.
Living Streets, whose Hackney branch is behind the introduction of community parklets, is on the hunt for the best young designers to create 11 collectible pins for its year-round walking challenge, known as WOW.
The initiative sees children awarded a badge every month if they walk to school at least once a week.
Over 1,300 schools take part in WOW, so winning designers will see their work turned into more than 300,000 badges – made in the UK from repurposed plastic like used yoghurt pots and old fridge trays.
Schools involved in WOW see walking rates increase on average by 23 per cent and car journeys to the school gates reduce by 30 per cent. 
Living Streets' interim chief executive Stephen Edwards said: "Walking to school is an easy way for children to stay healthy and happy, all while helping to reduce congestion outside their school gates.   
"Pupils love taking part in WOW and collecting the badges. The winning designers will enjoy the extra pride of seeing their creations worn by pupils across England, Scotland and Wales."
This year's theme is 'Walk Through Time', with children invited to explore the history of earth in their designs, and to use bold colours to portray what they might see if they were able to travel back in time.
Edwards added: "This is an opportunity for originality and diversity to shine!" 
As well as seeing their designs worn by pupils across the UK, winners will also receive prizes for themselves and their school.  
An additional 11 highly commended designers will receive runners-up trophies, and every school that enters will qualify for a draw to win WOW resources. 
Last year, the competition had 90,000 entries, making it one of the UK's biggest design contests for children. 
The WOW badge design competition closes on Friday 18 March 2022.  
Entry forms can be downloaded now from the Living Streets website at livingstreets.org.uk/badgecompetition2022.