Maxim Vengerov & Simon Trpčeski, Barbican, stage review: 'Sweet, sweet music'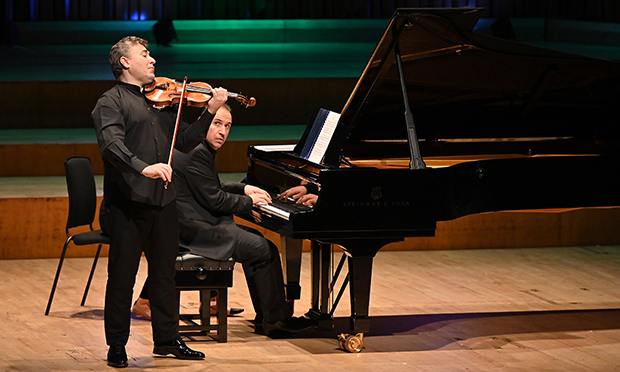 Two prodigious talents brought together for an evening dedicated to love of the violin. Four composers exhibiting their different visions for the instrument as Maxim Vengerov's fingers dance along the strings and Simon Trpčeski's glide over the keys.
The crowd pulled in by the amassed talent is predictably large, and the muffled (masks) chatter feels comforting after the past year of turmoil.
The stage is bare, lit with simple lights throughout, a black grand piano, and the two behemoths dressed in simple monochrome and shiny, beetle black shoes.
I am a classical music lover, but controversially a violin sceptic. Maybe years of my brother's failed attempts to learn it or over-ambitious school recitals have ground me down? But if anyone can make me change my tune (haha) it's Vengerov, hailed the greatest living string player.
Starting with Wolfgang Amadeus Mozart's Violin Sonata No 21 in E minor. This is a crowd-pleaser, easily pulling us in with the composers' rushing and gliding sweeps. Familiar refrains wash over the audience, as Vengerov's digits fly across the strings, aware and keeping the audience within the palm of this darting hands.
The piano provides the structure yet softness for the second movement, fitting considering the composer's state of mind when writing the sonata, grieving from the loss of his mother – it's his only sonata in a minor key. A rousing yet delicate start and a high point of the evening.
The concert's conclusion is another undeniable success: Maurice Ravel's Tzigane. Abrupt explosions of fluttering notes burst from Vengerov's ex-Kreutzer Stradivari, with cavernous silences in between. Klezmer-like jigs weave a spell on the hall as we are spun into the dancing mass of bodies spinning around the bonfire in our minds. Playful and flirtatious, this piece entices you deeper into the music before ending with a ferocious crescendo.
Sergei Prokofiev's Sonata No 1 in F minor is an ominous and tense affair. The minor key, almost atonal at points, sounds like cries in the rain. It almost raising Vengerov off his feet with exertion. He slashes at the strings with almost beastly savagery. The final movement relaxes into a more lurid, mournful experience with cascades of sound.
Similarly, César Franck's Violin Sonata is deeply expressive, with unfolding scales and a quick pace, peaking and troughing like a boat in a storm.
There are some unexpected encores: Ravel's Violin Sonata No. 2 gives the jazziness missing in Tzigane, and the well-known sounds of Fritz Kreisler's Liebesleil and Liebesfreud produce wry smiles from the audience.
Far be it from me to ever whinge about getting any extra, but ending with Tzigane made sense, like leaving a party just after you've delivered your funniest zinger and haven't polished off too many cocktails. Perhaps the encores could have been moved to break up the rather demanding middle section and allow the show to end with a bang?
Despite this, Vengerov's affinity for his instrument and his ability to showcase its unlimited facets have made me a believer.
Simon Trpčeski's enigmatic piano keeps the evening racing along and the pair make sweet, sweet music together.
It's amazing what some bits of wood/metal/wire/ivory stuck together in the right configuration can create, and the transportive effect they can have on the human heart.
Maxim Vengerov and Simon Trpčeski performed at the Barbican for one night in January 2022.
To find out more about upcoming shows, visit barbican.org.uk.